Back to the Cutting Board
Tomato Noodle Soup
adapted from Food.com [1]
Soup | Servings: 4
Prep time: 5 min | Cook time: 20 | Total time: 30 min
Ingredients
30 oz.

(2 cans)

tomato sauce

3 cups

water

2 tsp.

sugar

1/2 tsp.

garlic powder

1/2 tsp.

garlic salt

(or substitute garlic powder and add extra salt at the end)
8 to

10 oz.

pasta

*

1 cup

packed freshly shredded

sharp cheddar cheese

(about 5 oz.)

2 tbsp.

milk

1 tbsp.

butter

Salt

, to taste
*I used 3 oz. Stelline (little stars) and 5 oz. Ditalini (short tubes). I couldn't find actual "O"-shaped pasta at my grocery store. If you're using large, thin pasta (like Os), 10 oz. should work. If you have small, thick pasta like I used, stick to about 8 oz. You may need to experiment with different amounts to find the right pasta to tomato soup ratio for you.
Process
In a large pot, stir together the tomato sauce, water, sugar, garlic powder and garlic salt. Bring to a boil.
Add pasta and turn down to medium-low heat. Cover partially and simmer, stirring frequently, for 15-20 minutes or until the pasta is cooked. You especially need to pay attention in the first 5-10 minutes because the pasta will stick to the bottom of the pot if you don't stir every minute or so.
Turn the heat to low and stir in the shredded cheese until melted.
Stir in milk and butter. Taste and add salt if desired. Remove from heat and serve immediately.
Store in a covered container in the fridge for up to 3 days. Reheat in the microwave or over low heat on the stove. You may need to add in little more water or milk.
Tomato Noodle Soup (Homemade Spaghetti-Os!)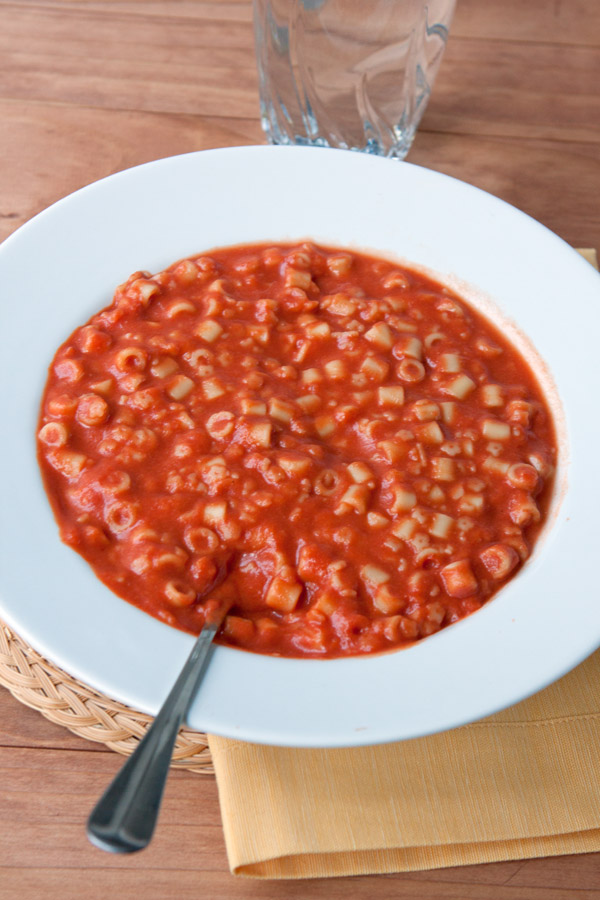 Ingredients
Process