Back to the Cutting Board
Strawberry Cheesecake Smoothie
from Back to the Cutting Board
Drink | Servings: 2 small glasses (a little over 1 cup each) or 1 extra large glass
Prep time: 5 min | Total time: 10 min
Ingredients
4 oz.

(about 1/2 cup) sliced, frozen

bananas

8 to

10 oz.

(1 to 1 1/2 cups) sliced, frozen

strawberries

3 oz.

low fat cream cheese

or Greek cream cheese [1]

1 tbsp.

honey

, or more to taste

1/2 cup

low fat milk
Nutella Fudge Sauce (2 servings)
2 tbsp.

nutella

2 tsp.

chocolate syrup

2 to

3 tsp.

low fat milk
Process
In a small bowl, stir together nutella and chocolate syrup. Add milk, a teaspoon at a time, until the mixture is a thinner, pourable sauce. Set aside.
Add frozen fruit, cream cheese, honey and milk to a food processor or blender. Process until smooth. Add more milk if you want a thinner consistency.
Pour into glasses and top with fudge sauce. Serve immediately.
Other Smoothie Variations
Strawberry-Pineapple Smoothie: Replace half of the strawberries with chopped, frozen pineapple. Good with or without the cream cheese.
Pineapple Coconut Green Smoothie: Replace strawberries with chopped, frozen pineapple. Omit cream cheese. Add 1/2 to 3/4 cup baby spinach. Replace milk with low-fat coconut milk. This smoothie is also good with mango, but a little goes a long way, so use 1/4 to 1/2 cup at most.
Recipe Notes
Feel free to use any kind of non-dairy milk. I like coconut milk.
Replace the strawberry with any other fruit or berry of your choice. Don't replace the banana or the smoothie won't have the correct, milk shake-like consistency. As long as you keep a 2:1 ratio of other fruit to banana, you won't taste the banana.
Strawberry Cheesecake Smoothie with Nutella Fudge Sauce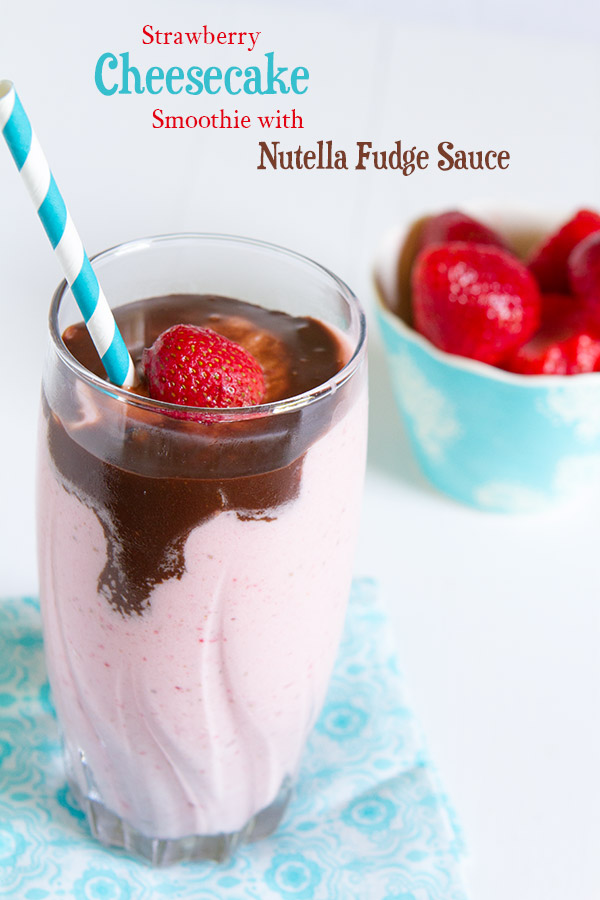 Ingredients
Process