Back to the Cutting Board
Layered Mexican Chicken Casserole
adapted from Weight Watchers [1]
Dinner | Servings: 4 to 6
Prep time: 20 min | Cook time: 30 min | Total time: 50 min
Ingredients
1 lb.

boneless, skinless chicken breast

1 tbsp.

safflower or

canola oil

1

medium

onion

, chopped

3

garlic cloves

, minced

1/2 cup

freshly grated sharp

cheddar cheese

1/2 cup

freshly grated Monterrey Jack or

Pepper Jack cheese

15 oz.

can

black beans

, rinsed and drained

14.5 oz.

can

diced tomatoes

, drained, or 1 large tomato, seeded and chopped

4 oz.

can

chopped green chilies

1 cup

fresh or frozen

corn

(no need to thaw)

1 packet

(about 1 oz.)

taco seasoning

(see recipe notes)

1/2 tsp.

salt

, or to taste

1 cup

low-fat sour cream

3

(8-inch)

flour tortillas

or corn tortillas
Process
Preheat oven to 350 degrees (F). Coat a 8 or 9-inch square baking dish with cooking spray.

Tip: For faster shredding, cut chicken into large chunks and transfer to the bowl your mixer. Using the paddle attachment, mix on low until the chicken is shredded.

Place chicken in a medium saucepan and fill with enough cold water to cover the chicken. Set over high heat and bring to a boil. Reduce heat to medium and simmer, covered, until chicken is cooked through, about 10 or 15 minutes. Transfer chicken to a cutting board to cool for a few minutes. Use two forks to shred chicken. You can make the chicken several days ahead and store it in an air-tight container in the fridge.
While the chicken is cooking, heat oil in a medium skillet over medium heat. Cook onion and garlic until softened, about 5 minutes.
Meanwhile, mix together the grated cheddar and Jack cheese in a small bowl.
Transfer onion mixture to a large bowl. Add the beans, tomatoes, green chilies, corn, taco seasoning, salt and 1/3 of the cheese mixture. Add shredded chicken. Stir in sour cream and mix well.
Using the skillet that you cooked the onions in, place over medium-high heat. Cook one tortilla until lightly browned on both sides. Transfer to baking dish. Repeat with next tortilla. While the tortilla is cooking, spread 1/3 of the chicken mixture in the baking dish. Top with the toasted tortilla and another 1/3 of the chicken mixture. Repeat toasting remaining tortilla and top it with the remaining chicken mixture. Sprinkle remaining cheese on top.
Bake for 30 minutes or until the filling is bubbly and the cheese is melted. Let stand for 5 minutes before serving. Serve with sour cream and salsa if desired.
Recipe Notes
If you don't have a packet of taco seasoning or would rather make it from scratch, here is an easy recipe [2].
Mexican Chicken Casserole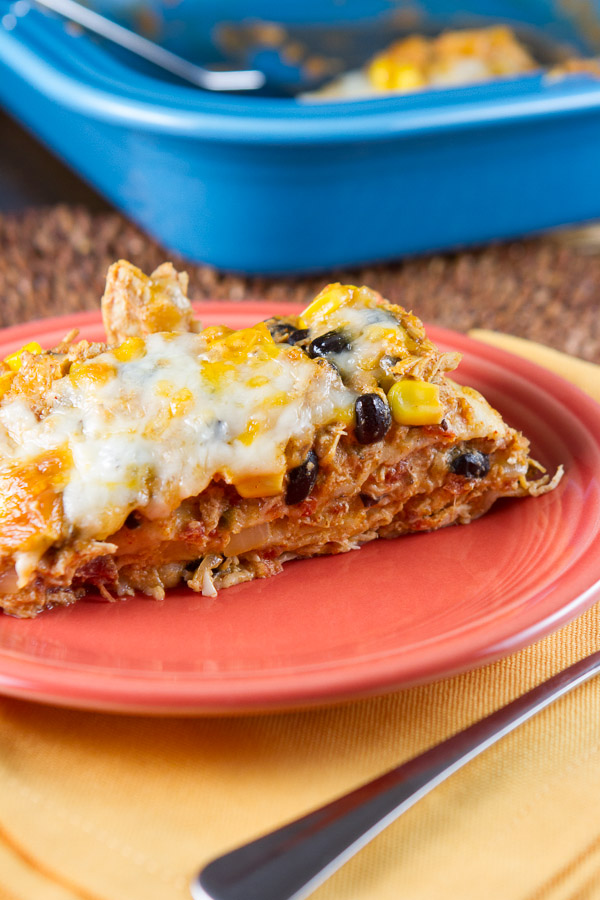 Ingredients
Process