Back to the Cutting Board
Easy Greek Chicken Casserole
adapted from Cooking Light Complete Cookbook [1]
Dinner | Servings: 4
Prep time: 10 min | Cook time: 1 hour | Total time: 1 hour 10 min
Ingredients
1 tbsp.

olive oil

2 cups

chopped

onion

(about 1 large)

2 tbsp.

dried thyme

2 tsp.

pepper

10 cloves

of

garlic

, minced

6 cups

(about 2 lbs.)

red potato

, cubed (1/2 in.)

2 cups

(1/2 lb.)

green beans

, trimmed and cut (1 inch)

1/4 cup

water

2 tbsp.

anchovy paste

or finely chopped olives

2 (14.5 oz.) cans

diced tomatoes

, undrained

8

skinless, boneless

chicken

thighs or 4 skinless, boneless chicken breasts

1/2 cup

crumbled

feta cheese
Process
Preheat oven to 375 degrees (F).
Heat oil in a large Dutch oven over medium heat. Add onion and saute for 3 minutes.
Add thyme, pepper and garlic and saute for 1 minute.

Increase heat to medium-high. Add potatoes and saute for 8 minutes or until they begin to brown.*

*Note – Instead of my potatoes browning, what happened was that the inside of my dutch oven got really burnt, even after I added more oil. It's probably my fault (I think my burners get too hot), but I thought I'd mention it. Next time I think I'm going to saute everything in a non-stick skillet and then transfer to my Dutch oven after the potatoes are browned.

Stir in beans, water, anchovy paste and tomatoes.
Remove from heat. Nestle the chicken into the potato mixture, sprinkle with salt and pepper and top with feta. Cover and bake for 45 minutes. Lightly stir around the potato mixture about halfway through or the potatoes on top will wind up being undercooked.
Spoon out a few cups of the potato mixture onto a plate, underneath or beside the chicken.
Easy Greek Chicken Casserole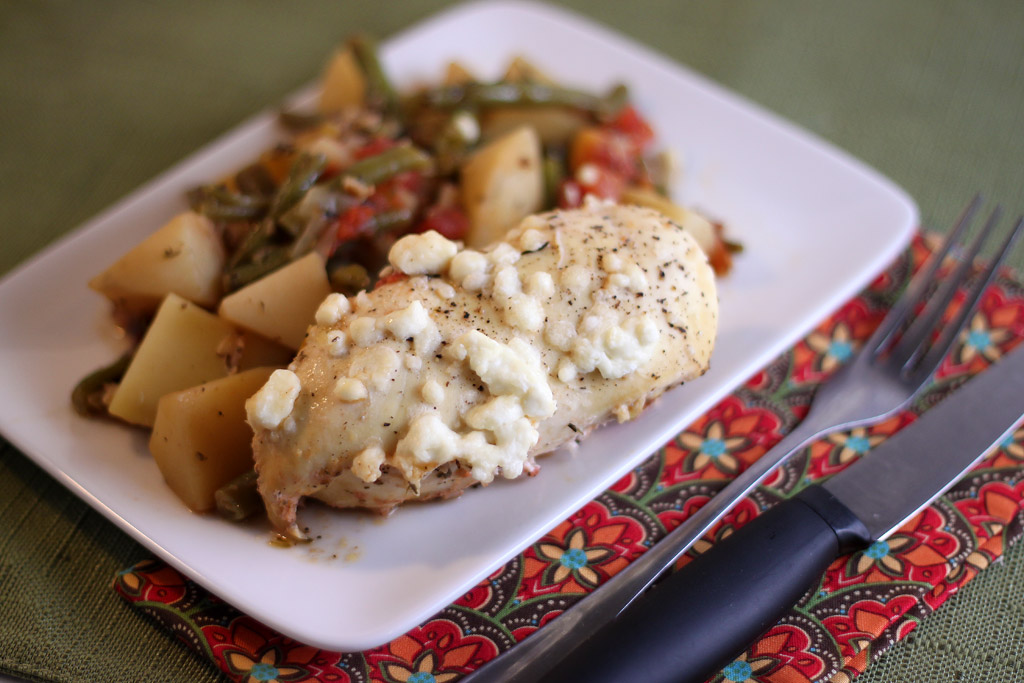 Ingredients
Process