Back to the Cutting Board
Chicken Dinner Pie
adapted from Betty Crocker's Cookbook
Dinner | Yield: 1 9″ pie (8 servings)
Prep time: 35 min | Cook time: 35 min | Total time: 1 hour 10 min
Ingredients
Pie crust
2 cups

flour

1 tsp.

salt

2/3 cup

unsalted

butter

4 to

5 tsp.

ice water
Filling
2 tbsp.

butter

2 tbsp.

flour

1 tsp.

salt

1/4 tsp.

pepper

1/4 tsp.

thyme

1/2 cup

chicken broth

1/4 cup

milk

1/4 cup

heavy cream

2 cups

cubed cooked chicken or turkey*

1

small onion, diced

8 oz. can

carrots

or corn, drained**

8 oz. can

peas

or green beans, drained**
*For a shortcut, use pre-cooked chicken or turkey.
**I used canned just because that's less stuff I have to cook, but frozen is fine as long as you cook according to package directions beforehand.
Process
Preheat oven to 425 degrees (F). Mix flour and salt in a bowl. Cut in the butter with a dough blender [1] until mixture is crumbly. Sprinkle in water, 1 tbsp. at a time, mixing until all flour is moistened and dough forms.
Separate 2/3 of the dough and gather it into a ball. Roll it out on a floured surface so that it's about an inch larger than a 9 inch pie pan. Fit into pan. You can trim the extra off the edge now or you can just wait until later and fold the extra over the top layer. Set aside.
Roll out the remaining dough into a rectangle about 10×6 inches and cut into about twelve strips.
Saute diced onions in a few teaspoons oil or butter until transparent, about 5 minutes.
Melt butter in large saucepan over low heat. Blend in flour, salt, pepper, and thyme. Cook over low heat, stirring until mixture is smooth and bubbly. Remove from heat. Stir in chicken broth, milk and cream. Heat to boiling, stirring constantly. Boil and stir 1 minute. Stir in chicken and vegetables.
Pour into pastry-lined pie pan. Place half the strips across filling, then the remaining half in the other direction to make a lattice top. Trim the edges and turn the bottom crust edges over the top if you haven't already trimmed it off.

Use a pie crust protector if you have one. I don't, so I wrapped the dish with two pieces of foil tented over the edges of crust. Place dish on a baking sheet. Bake 25 minutes and remove the foil, then bake 10-15 minutes more until golden brown.
Chicken Dinner Pie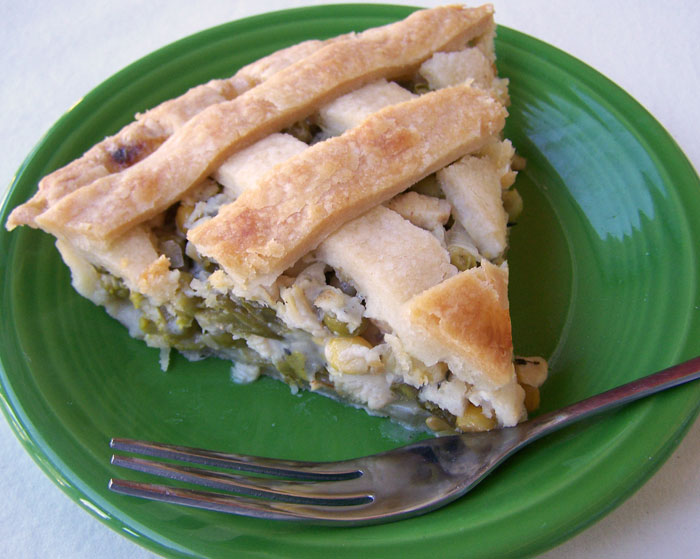 Ingredients
Process