Back to the Cutting Board
Pink Grapefruit and Strawberry Granita
adapted from Weight Watchers New Complete Cookbook [1]
Dessert | Servings: 6
Prep time: 20 min | Total time: 6 hour 20 min
Notes:
Superfine sugar (AKA baker's sugar or castor sugar) is just regular sugar that has been ground up more finely, so if you don't have this on hand (I didn't), just take regular sugar and put it in the blender until it looks lighter and finer, about 30 secs to a minute. I recommend you do this before anything else because you need to do it in a completely dry blender.
The amount of sugar you use in this recipe depends on how sweet you want it to be. If you are using store bought grapefruit juice as opposed to fresh, that will probably have sugar added already so you won't need as much. I used about 1 cup of sugar with my fresh squeezed (and tart) grapefruits. I'd just add the sugar about 1/4 – 1/2 cup at a time to the juice mixture until it's sweet enough for you.
Ingredients
2 cups

pink grapefruit juice

(I used fresh squeezed, but store bought is probably fine)

2 cups

fresh or thawed frozen

strawberries

(or raspberries)
1/2 to

1 cup

superfine sugar

(NOT powdered sugar. See above note.)
Process
First, use the blender to make your superfine sugar if you need to. Pour all the sugar out into a medium bowl (preferably one with a cover).
Wash and hull your strawberries and put in your blender (doesn't matter if there's still sugar residue left). Blend until smooth.
Pour strawberries into the bowl with the sugar, add in the grapefruit juice. Stir well. Pour the the whole bowl back into the blender and blend again, just to make sure the sugar is completely dissolved into the juice.
Put a superfine strainer over your bowl and pour the juice through the strainer. This will strain out any last seeds or clumps.
Cover bowl with plastic wrap or a top if it has one and place in the freezer. Freeze for 4 hours. After 4 hours, take out the freezer and stir well with a fork (this is to break up the ice and give it the grainy texture). Place it back in the freezer and stir it again with a fork every 30 minutes for the next two hours. It should be ready after about 6 hours total freezing time, but keep stirring it regularly until you are ready to serve it.
If it gets too hard (like from sitting in the freezer overnight), just set it out and let it melt for a bit, then put it back in the freezer and fork-stir regularly until you are ready to serve it again.
Pink Grapefruit and Strawberry Granita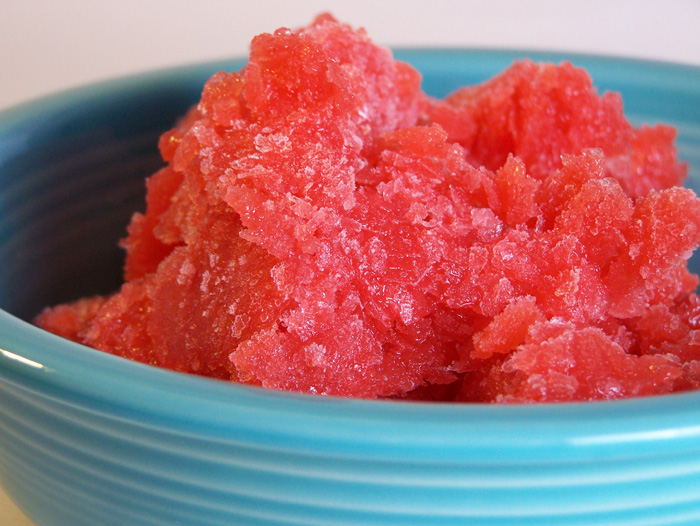 Ingredients
Process