Back to the Cutting Board
Peach Semifreddo with Blackberry Glaze
adapted from The Vegetarian Times [1]
Dessert | Servings: 10
Prep time: 25 min | Cook time: 10 min | Total time: 4 hour 35 min
Ingredients
2

large

eggs

, separated

1/2 cup

sugar

, separated

1 1/2 cups

low-fat

milk

*

3 cups

sliced fresh

peaches

1/3 cup

low-fat

sour cream

*

1/8 tsp.

almond extract

** (optional)

1 pint

blackberries

, fresh or frozen (no need to thaw)
* If you don't care so much about the extra calories you can use whole milk and/or full fat sour cream to increase the creaminess of this dessert.
** I found this to be overpowering and would leave it out next time, but I'm not a huge fan of almond flavor in the first place.
Blackberry Glaze
1/2 pint

blackberries

, fresh or frozen (thawed)

2 tbsp.

sugar

*** (or to taste)

1 tsp.

lemon juice
*** I recommend superfine sugar since it will dissolve easier. If you don't have any, you can put regular sugar in a blender for a few seconds.
Process
Line a 9×5″ loaf pan with plastic wrap.
Separate your eggs putting the yolks into a medium bowl and the whites into a small bowl. Set aside the whites and let them come to room temperature.
Add 1/4 cup sugar to the bowl with the yolks and whisk until thick and light yellow, about 1 minute.
Bring milk to boil in a medium saucepan. Slowly pour the milk into the egg mixture, whisking constantly.
Pour the milk mixture back into the saucepan and cook over medium-low heat (so it won't boil), stirring often, 5-10 minutes. You'll know it's ready when the custard is thick enough to coat the back of spoon. Strain the custard through a fine-mesh strainer and cool.
Place the peach slices into a food processor or blender and puree until smooth. Transfer to a large bowl. Add the cooled custard, sour cream and almond extract (if using).
Put egg whites into a mixer bowl and beat until soft peaks form. Add remaining 1/4 cup sugar and continue beating until stiff peaks form. Gently fold the egg whites into the the peach mixture.

Pour half of the mixture into the prepared pan. Place three rows of blackberries on their sides into the pan. Top with the remaining mixture. Optional: I placed 2 more rows of blackberries in between the previous rows and used a spatula to gently press them down and cover them up.

Cover and gently transfer to a flat surface in your freezer. Freeze for about 4 hours.
Meanwhile, make the blackberry glaze by using a spatula to crush the blackberries through a fine-mesh strainer. Stir in sugar and lemon juice. Chill.

When ready to serve, remove the semifreddo from the freezer and let stand for 10 minutes. Lift it out the pan and place on a flat surface. Drizzle with blackberry sauce. Slice and serve.

To turn into a soft serve, slice off as many servings as you would like and pulse in a food processor or blender until smooth. Top with blackberry sauce.
Nutrition info:

Serving size: 1 slice (1/10th)
Calories: 129
Fat: 2g
Carbohydrates: 25g
Fiber: 2g
Protein: 4g

Peach Semifreddo with Blackberry Glaze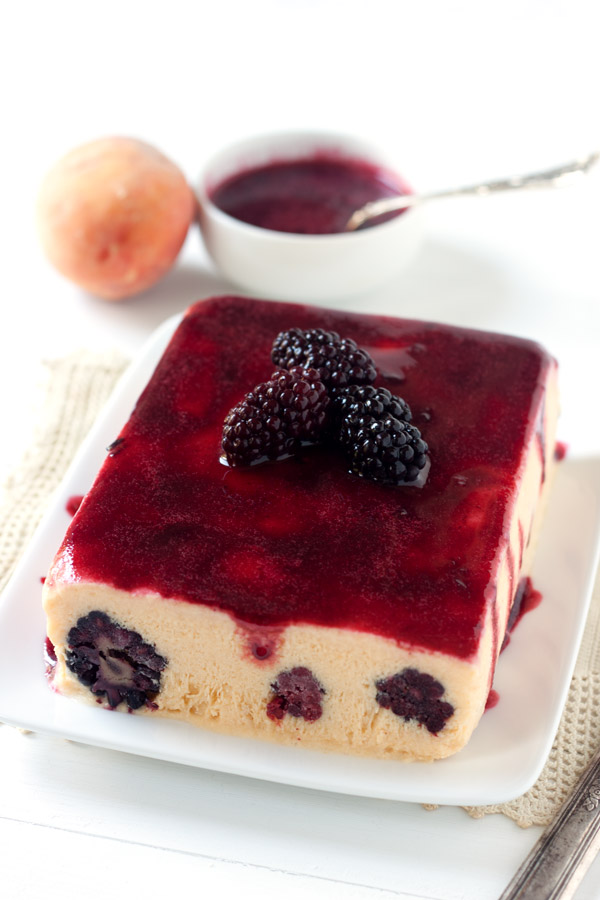 Ingredients
Process