Back to the Cutting Board
Peach Dumplings with Vanilla Cream Sauce
adapted from The Prepared Pantry [1]
Dessert | Servings: 8
Prep time: 40 min | Cook time: 50 minutes | Total time: 1 hour 30 min
Ingredients
Crust:
4 cups

all-purpose or pastry

flour

1/2 tsp.

salt

3/4 cup

very cold

butter

3/4 cup

shortening

, chilled

1/2 tsp.

almond extract

3/4 cup

very cold

water

, more or less
Filling:
4

large

peaches

, peeled [2] and cut in half, pits discarded

1 cup

dark

brown sugar

, divided

1/4 cup

(1/2 stick)

butter

, divided into 8 slices (1/2 tbsp. each)

Nutmeg
2 tbsp.

cream

or evaporated milk
Course

sugar

like turbinado or demerara
Vanilla Cream Sauce:
1 cup

brown sugar

2 tsp.

corn starch

1 cup

cream

or half and half

3 tbsp.

butter

1

dash of

cinnamon

1/2 tbsp.

vanilla
Process
Mix together flour and sugar in a large bowl. Cut the butter and shortening into smaller cubes and use a pastry blender to cut them into the flour until the mixture has a consistency of kernels. Alternately, you could do this in a food processor, but be careful about mixing it up too finely.
Mix the almond extract into the water and drizzle most of the water onto the flour. Use a fork to stir the water into the flour until it begins to hold together. Use your hands to form the flour into a ball, adding more water as necessary or more flour if it's too sticky. Knead the dough a few times until the dough is more uniform, but don't overdo it. Divide the dough into two balls and place them in your refrigerator to chill for 15-30 minutes. The dough could be stored in the fridge overnight or up to 24 hours, but it must be wrapped tightly in plastic wrap first.
Preheat your oven to 350 degrees (F).

Remove one ball of dough from the fridge and press into a square. On a lightly floured surface, roll the dough into a 12 in. by 12 in. square.* Cut the dough into fourths so that you have four 6 in. by 6 in. squares. Chill the dough squares stacked between sheets of waxed paper while you repeat the process with your other ball of dough. Let those dough squares chill while you start the next step with the already chilled squares.

*Tips: I found the easiest way to get it perfectly square was to roll it out about halfway and fold the edges to make a square and then roll the rest of the way flattening the edges. Also, if your kitchen is hot like mine, I found it helpful to lightly sprinkle the dough with flour and flip it over a few times while I was rolling it out. That kept it from sticking to the counter.

To assemble the dumplings you can work one at at time or prepare 4 squares at the same time. Place half a peach in the middle of a square. Sprinkle on 2 tbsp. brown sugar and a dash of nutmeg, top with a slice of butter.

Fold the corners of the pastry square over the peach, bringing all the corners together to make a four-sided pyramid. Make sure to press the edges together well, fold over and press again.** Brush with cream and sprinkle with course sugar. Repeat with remaining pastry squares.

**Note: Some of the dumplings that I didn't press together well came apart while cooking. They still mostly kept their shape but some of the sugar mixture leaked out. It's not the end of the world if that happens to you, just keep cooking them.

Use a spatula to transfer each dumpling into a buttered or sprayed baking dish or high-rimmed baking sheet. Use two if you don't have a large enough dish/sheet. Bake for 40-50 minutes or until the pastries are gently browned. Remove the dumplings from the pan immediately and transfer to a wire rack (with some wax paper underneath if any of the sugar mixture leaked out) and let cool for 20-30 minutes.
While the dumplings cook (or while they cool) make the sauce: Whisk the brown sugar and cornstarch in a heavy saucepan until the cornstarch is incorporated into the sugar. Stir in the cream.
Heat until the sauce boils and cook for another minute or two to let it thicken, stirring with a whisk.
Remove from heat and stir in the butter until melted. Stir in the vanilla and cinnamon.
When you're ready to serve the dumplings, drizzle the sauce on top (warm it up if it's been sitting for while). Also great with a scoop of vanilla ice cream.
Don't add sauce to any leftover dumplings. They can wrapped in plastic or stored in an air tight container for 2-3 days. Store leftover sauce in a sealed container in the fridge. To serve, warm up the dumplings and sauce (separately) in the microwave for about 30-40 seconds and drizzle the warmed sauce on top.
Peach Dumplings with Vanilla Cream Sauce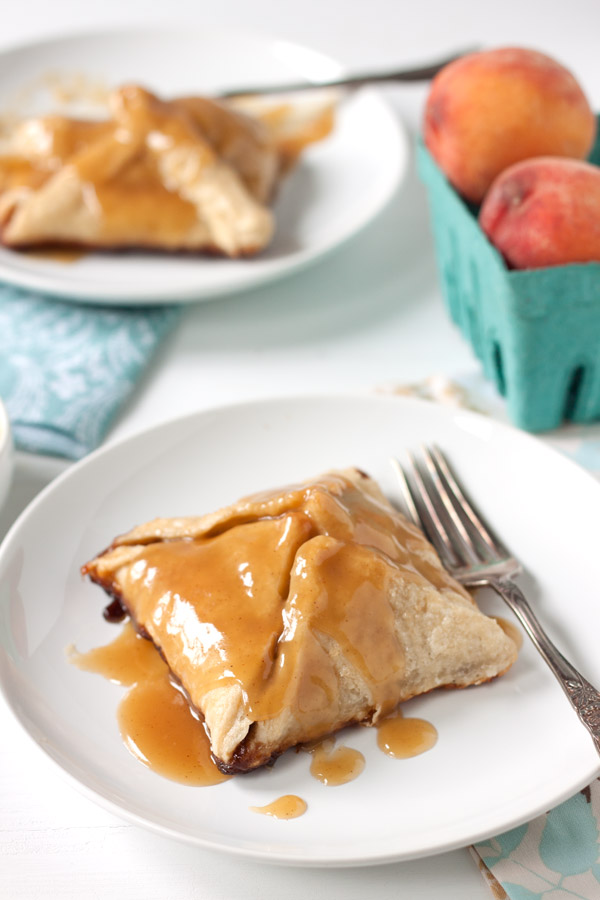 Ingredients
Process