Back to the Cutting Board
Oatmeal Cream Pies
adapted from Food.com [1] via The Craving Chronicles [2]
Dessert | Yield: 1 1/2 – 2 dozen
Prep time: 20 min | Cook time: 12 min | Total time: 40 min
Ingredients
1 cup

butter

3/4 cup

dark brown sugar

1/2 cup

sugar

1 tbsp

molasses

1 tsp

vanilla

2

eggs

1 3/4 cups

flour

(1 1/2 cups for silpat bakers)

1/2 tsp.

salt

1 tsp.

baking soda

1/8 tsp.

cinnamon

1 1/2 cups

quick oats

(The original recipe said quick oats but I don't think it matters that much, my research just said that quick oats are mushier. The general consensus was that you shouldn't ever use quick oats in baking because they are too soft.)*
*UPDATE 9/17/2010: After some comments and additional tests I've determined that you should use quick oats instead of rolled. You definitely get much a thicker and fluffier cookie with them.
Cream Filling
2 tsp.

very hot water

1/8 tsp.

salt

1 (7 ounce) jar

marshmallow cream

1/2 cup

shortening

(Yuck, I know. I rarely use this stuff. I tried to substitute butter once and it was a giant failure, so you pretty much have to use shortening.)

1/3 cup

powdered sugar

1/2 tsp.

vanilla
Process
Preheat oven to 350 degrees (F). Line at least 2 baking sheets with parchment paper.
Combine flour, salt, baking soda, and cinnamon in a bowl.
In a large mixer bowl with the paddle attachment, cream butter and sugars until light and fluffy. Add in eggs, beating after each. Finally beat in molasses and vanilla.
Add the flour mixture to the creamed mixture and beat until just blended; stir in the oats with a wooden spoon. The dough will be thick.
Measure out rounded tablespoons of dough (see recipe notes below for more info) on baking sheet, about 2 inches apart. (I fit three across on my commercial sized baking sheet, two for a smaller baking sheet.)
Place baking sheet in the freezer for 3 minutes. This helps to prevent the cookies from spreading out too much in the oven.
Transfer to oven and bake for 9-11 minutes, or until just starting to brown around the edges. They will look moist; don't overcook (10 minutes is perfect for me). Let sit on cookie sheet for about 5 minutes and then transfer to wire racks to cool completely.
While the cookies bake, prepare the filling. In small bowl, dissolve the salt in the hot water. Set aside and allow this to cool.
Combine marshmallow cream, shortening, powdered sugar, and vanilla in a bowl; mix on high until fluffy (about 3-4 minutes).
Add the cooled salt water and mix well.
Spread about 1 heaping tablespoon of filling on the flat side of one cookie. Lightly press a 2nd cookie on top. Repeat with remaining cookies.
Recipe Notes
For more consistently sized cookies, I recommend using a cookie scoop [3]. Mine holds about 1.5 tablespoons which is the perfect size for this recipe.
Oatmeal Cream Pies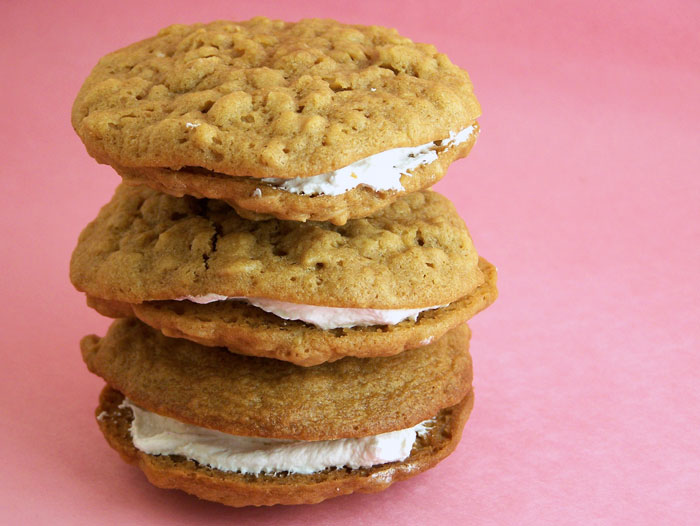 Ingredients
Process