Back to the Cutting Board
Lemon Glazed Blackberry Cake
adapted from allrecipes.com [1],
glaze adapted from Everyday Food: Great Food Fast from the kitchens of Martha Stewart Living [2]
Dessert | Servings: 1 9″ pie (8 servings)
Prep time: 30 min | Cook time: 1 hour | Total time: 1 hour 30 min
Ingredients
1 cup

buttermilk

(or add a tablespoon of lemon juice or vinegar to a cup of regular milk and let sit for about 10 minutes)

1 tsp.

baking soda

2 cups

flour

1 tsp.

cinnamon

1/8 tsp.

nutmeg

1/8 tsp.

ground cloves

1/4 cup

butter

, softened

1 cup

sugar

2 cups

fresh or thawed, frozen

blackberries

, cut in half if large (I think the more, the better, so if you have more left, use them)
Lemon Glaze
2 cups

powdered sugar

3-

4 tbsp.

lemon juice
Process
Preheat oven to 350 degrees (F). Grease and flour a 9 in round cake pan or cupcake tins (or use cupcake liners – this should make about 12-15 cupcakes).
Dissolve the baking soda in the buttermilk. Set aside.
Combine flour, cinnamon, nutmeg, and cloves in a medium bowl and set aside.
In a large mixing bowl, cream together butter and sugar until light.
Add the flour and buttermilk mixtures alternately in two additions.
Toss the blackberries with the remaining 1/2 cup of flour to coat. Mix in the blackberries into the batter and stir until evenly distributed (the batter should start looking purple, but you still want chunks of blackberries in there). Pour into the prepared pan (for cupcakes fill about 3/4 full).
Bake for 25-35 minutes (15-20 for cupcakes) or until a toothpick inserted near the center of the cakes comes out clean. Cool completely.
In a small bowl, stir sugar and lemon juice until smooth. Start with 3 tbsp. of lemon juice, but it'll probably still be too thick so add a little more until it's easier to pour. Pour on glaze and spread around (or not, I think it looks pretty letting the glaze drip down the sides).
Wrap well in plastic wrap or store in an air-tight container to keep it moist. This cake also freezes well.
Lemon Glazed Blackberry Cake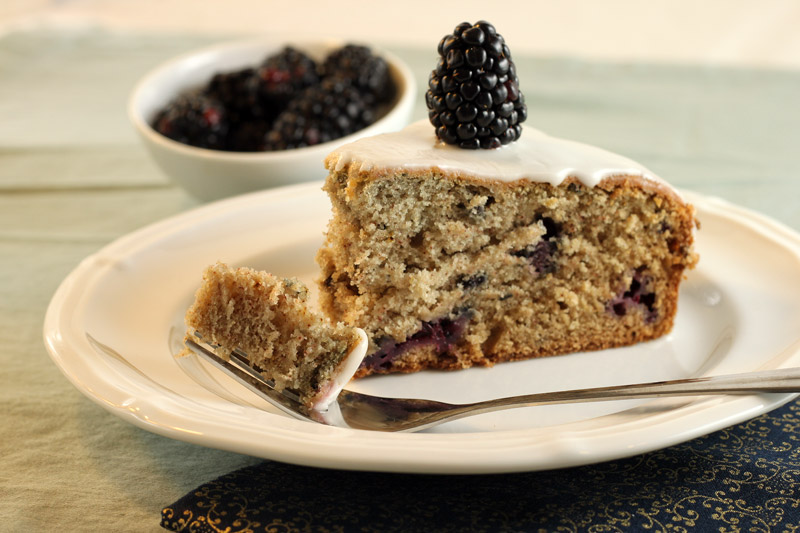 Ingredients
Process