Back to the Cutting Board
Dulce de Leche Peach Tart
adapted from About.com [1]
Dessert | Servings: 1 9″ tart (8 servings)
Prep time: 30 min | Cook time: 40 min | Total time: 1 hour 10 min
Ingredients
Crust:
1 stick

unsalted butter

1 cup

sugar

1 1/4 cup

flour

1/2 tsp.

salt

1/2 tsp.

cinnamon

1/2 tsp.

baking powder
Filling:
3 tbsp.

unsalted butter

2 tbsp.

dark brown sugar

1/4 cup

dulce de leche [2]

1 egg

yolk

1 tsp.

vanilla

Pinch

salt

1 cup

pecan halves

(optional)
Topping:
4-

5

large ripe

peaches

2 tbsp.

dulce de leche

1 tbsp.

butter

1 tbsp.

sugar
Process
Preheat oven to 350 degrees (F).
Start making the crust: Cream butter and sugar for a minute or two until well mixed, but still stiff.
Sift together flour, salt, cinnamon and baking powder. Add to the butter mixture and briefly mix with your hands until crumbly and moist enough to hold together when pressed.
Press into an 8 or 9 inch tart pan, making sure all sides are even and strong.
Bake for about 10 minutes or just until the sides of the crust start to brown. Remove and let cool.
Make the filling: In a mixer or food processor add the butter, brown sugar, dulce de leche, egg yolk, vanilla, salt and pecans (if using). Mix until light colored and smooth (might still be slightly lumpy from the butter, that's ok).
Spread the filling into the crust.
Blanch and peel [3] the peaches and cut into thin (1/8 – 1/4 inch), even slices. Put the slices in a colander to drain excess juices for a minute or two.

Place the peach slices on top of the tart, overlapping each other so that they are very close together. Make circles of peach slices until the entire tart is covered. If you still have slices left, stuff them in there! This tart looks and tastes better the more peaches it has on it, otherwise the filling puffs out covers up all the beautiful peaches. I used 4 large peaches for my 9 inch tart.

Add 2 tbsp. of dulce de leche and 1 tsbp. butter in a small saucepan over low heat. Stir until better it melted. Brush mixture evenly over the peaches. Sprinkle with 1 tsp. sugar.
Baking from 25-30 minutes or until peaches are caramel colored and the tart is heated through. Remove and let cool.
Serve warm or at room temperature.
Dulce de Leche Peach Tart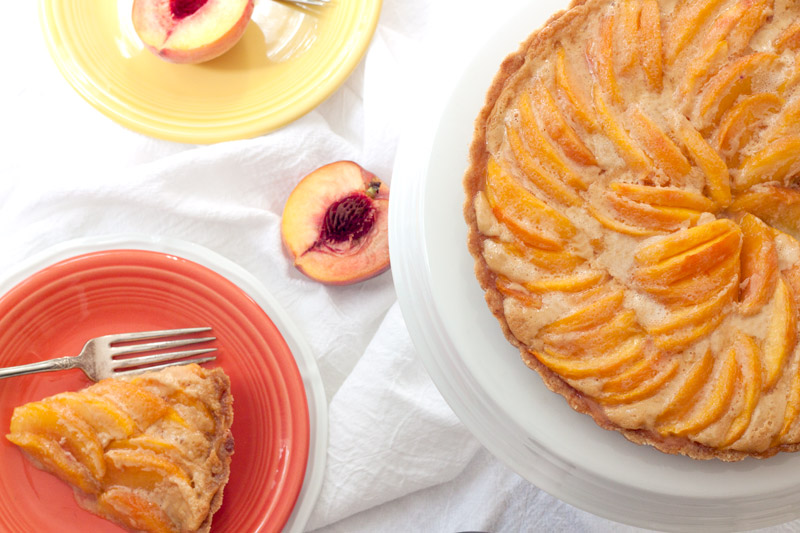 Ingredients
Process