Back to the Cutting Board
Chocolate Angel Food Cake
adapted from allrecipes.com [1]
Dessert, Cake | Servings: 8-10
Prep time: 25 min | Cook time: 1 hour | Total time: 1 hour 25 min
Ingredients
3/4 cup

cake flour

1/4 cup

unsweetened cocoa powder

1 1/2 cups

sugar

3 (1 oz.) squares

semisweet or

bittersweet chocolate

, grated

12

egg whites

1 tsp.

cream of tartar

1/4 tsp.

salt

1/4 tsp.

vanilla extract

1 1/2 tsp.

lemon juice

Powdered sugar

for dusting
Process
Preheat oven to 325 degrees (F). If it does not have a removable bottom, line a 9 or 10 inch tube pan with parchment paper.
Sift together the flour, cocoa and 3/4 cup of the sugar. Set aside.
Grate the chocolate (my beloved microplane grater [2] really came in handy for that) into a small bowl. Stir in 3 tbsp. of the flour mixture.
Using an electric mixer set at low speed, beat egg whites until foamy. Increase mixer speed to medium, stir in cream of tartar and salt, and continue to beat until egg whites form soft peaks. (The eggs should look soft and still fold over on themselves when you remove the beater.) Gradually mix in the remaining 3/4 cup sugar and beat until stiff peaks form. (The eggs will have a sheen, and they won't fold over anymore). Don't overbeat! I don't think this should take more than 5-10 minutes with a stand mixer. (I always had problems whipping egg whites with my hand mixer, so it might take longer if you're using one of those. Just make sure to stop and test the thickness of the whites every few minutes.)
Gently stir in the vanilla and lemon juice.
Very gently fold the flour mixture into the beaten egg whites, then fold in the grated chocolate, stirring just until blended. (I had problems with it not being mixed well at the bottom of the bowl, so I found it helpful to transfer about half of the mixture to the pan and then finish folding the rest.)
Gently scrape the batter into the prepared pan. Smooth the surface of the batter and tap the pan lightly to remove any air bubbles. Bake in center of the preheated oven for 45-60 minutes, or until the surface springs back when touched.
Cool completely and remove from pan. Sprinkle with confectioners' sugar and top with strawberries (below) before serving. If you have leftovers, it stores best in an airtight container to help keep it moist and fluffy.
Macerated Strawberries
adapted from Weight Watchers: Simply Delicious Cookbook [3]
Fruit | Servings: 5-6
Prep time: 10 min | Total time: 1 hour 10 min
Ingredients
6 cups

(2 pints)

strawberries

, hulled and sliced

1/4 cup

sugar

1/4 cup

orange juice

1 tsp.

orange zest
Process
Combine all ingredients in a bowl.
Refrigerate at least one hour or overnight, stirring occasionally.
Chocolate Angel Food Cake with Strawberries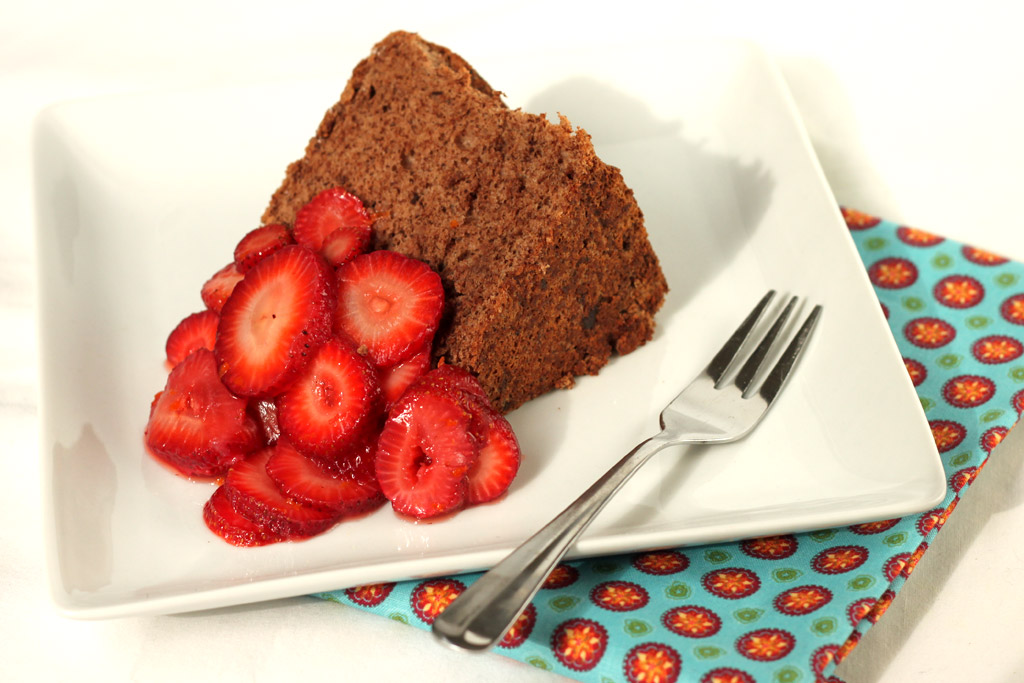 Ingredients
Process