Back to the Cutting Board
Cheesecake Brownies
adapted from David Lebovitz [1]
Dessert | Servings: 9 servings
Prep time: 25 min | Cook time: 35 min | Total time: 1 hour
Ingredients
6 tbsp.

unsalted

butter

4 oz.

bittersweet chocolate

or semisweet chocolate, chopped

2/3 cup

sugar

2

large

eggs

, room temperature

1/2 cup

flour

1 tbsp.

unsweetened

cocoa powder

1/8 tsp.

salt

1 tsp.

vanilla

1/2 cup

chocolate chips

(optional)
Cream Cheese Mixture
8 oz.

cream cheese

, room temperature

1

large

egg yolk

5 tbsp.

sugar

1/8 tsp.

vanilla
Process
Preheat oven to 350 degrees (F). Grease a 8 or 9-inch square pan or line it with foil, making sure it goes up all four sides and grease lightly.
In a saucepan, melt the butter and chocolate over low heat, stirring until smooth. Remove from heat and beat in the sugar, then the eggs.
In a bowl, mix flour, cocoa powder and salt.
Stir in chocolate mixture, then add 1 tsp. vanilla and chocolate chips. Spread evenly in the pan.
In a separate bowl, beat together the cream cheese, the yolk, 5 tbsp. of sugar, and 1/8 tsp. vanilla until smooth.
Distribute the cream cheese mixture in eight or nine dollops across the top of the brownie mixture, then take a dull knife or spatula and gently swirl the cream cheese mixture with the chocolate batter.
Bake for 35 minutes, or until the batter in the center of the pan feels just set. Let cool and cut into squares.
Cheesecake Brownies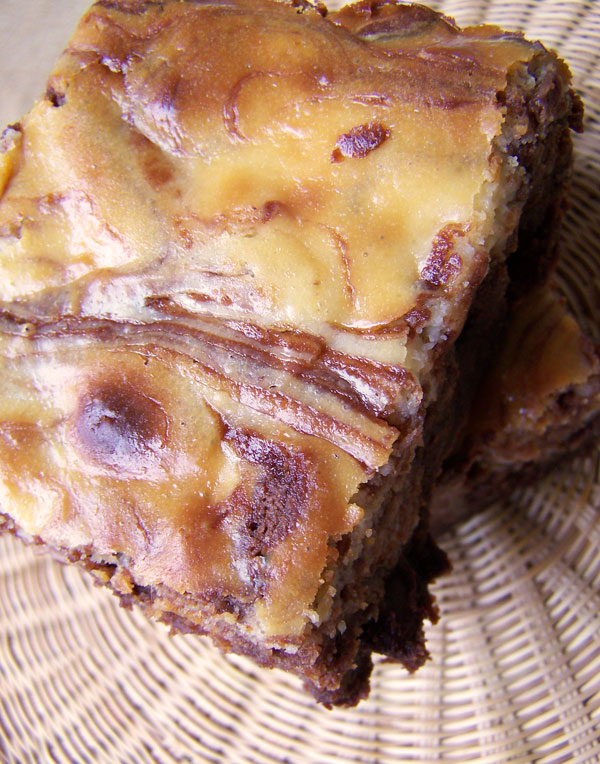 Ingredients
Process