Back to the Cutting Board
Blueberry-Rhubarb Tarts
adapted from Good to the Grain [1] by Kim Boyce
Dessert | Servings: 10 tarts
Prep time: 40 min | Cook time: 1 hour 5 minutes | Total time: 2 hour 45 min
Ingredients
Blueberry-Rhubarb filling
1 lb.

rhubarb stalks

, cut on the diagonal into 3/4 inch pieces (about 3 cups)

3 heaping cups

blueberries

1 1/4 cups

muscovado sugar

or dark brown sugar
Zest of

1

medium

orange

(about 1/2 tbsp.)
Tart
1 cup

corn flour [2]

1 cup

all-purpose flour

1/2 cup

fine cornmeal [3]

1/4 cup plus 2 tbsp.

sugar

1 tsp.

kosher salt

4 oz.

(1 stick) cold unsalted

butter

, cut into 1/2 inch pieces

1/4 cup cup plus 2 tbsp.

heavy cream

2

egg yolks
Process
Set aside 1 cup of chopped rhubarb and 1 cup of blueberries. Add the remaining 2 cups each of rhubarb and blueberries to a large heavy-bottomed pot.
Stir in the brown sugar and orange zest. Cover and turn the heat to medium-low. (You must start slowly so the rhubarb will release it's juice as it warms up.) Cook for about 15 minutes until the mixture is saucy.
Remove the cover and increase the heat to medium. Cook for 15-17 minutes, stirring regularly until the rhubarb and blueberries are completely broken down. You'll know it's ready when you can drag a spoon through the mixture and it leaves a trail on the bottom of the pan.
Stir in the the remaining rhubarb and blueberries. Pour the compote onto a large baking dish to cool.
Sift the corn flour, flour, cornmeal, sugar and salt into a mixer bowl (but pour any chunky leftover bits back in).
Add in the butter and mix on low speed using the paddle attachment for about a minute to break up the butter. Increase the speed to medium and mix until the dough is course and pebble-y.
Add the heavy cream and egg yolks and mix until combined. The dough should be crumbly but come together when squeezed.
Divide the dough into 10 equal pieces (using a scale helps a lot!).

On a lightly floured surface, take one piece and use the heel of your hand to flatten it evenly into a circle about 5 inches across. Make sure you can easily lift the dough from the counter and it's not sticking. My dough was a bit sticky, so I had to scrape it off and flip the round a few times to get both sides sufficiently floured.
Spoon 1/4 cup of the blueberry-rhubarb filling into the the center of the dough. Gently fold the edges of the dough in toward the filling to create an ruffled/rustic looking edge. Slide a scraper or metal spatula underneath and transfer to a baking sheet. Repeat with remaining pieces of dough.
Put the tarts in to the freezer to harder for a least an hour. At that point you can take them out to bake or wrap them tightly in plastic and store in the freezer for up to two weeks.
Preheat the oven 375 degrees (F). Line two baking sheets with parchment and place the tarts on them. Bake for 35 minutes or until the tarts are brown and filling is bubbling and thick.
Eat warm or at room temperature. You can heat them up in the microwave for 30 seconds. Great with a dollop of fresh whipped cream or a scoop of ice cream.
Store wrapped tightly in plastic or in a sealed container for up to 3 days.
Blueberry-Rhubarb Tarts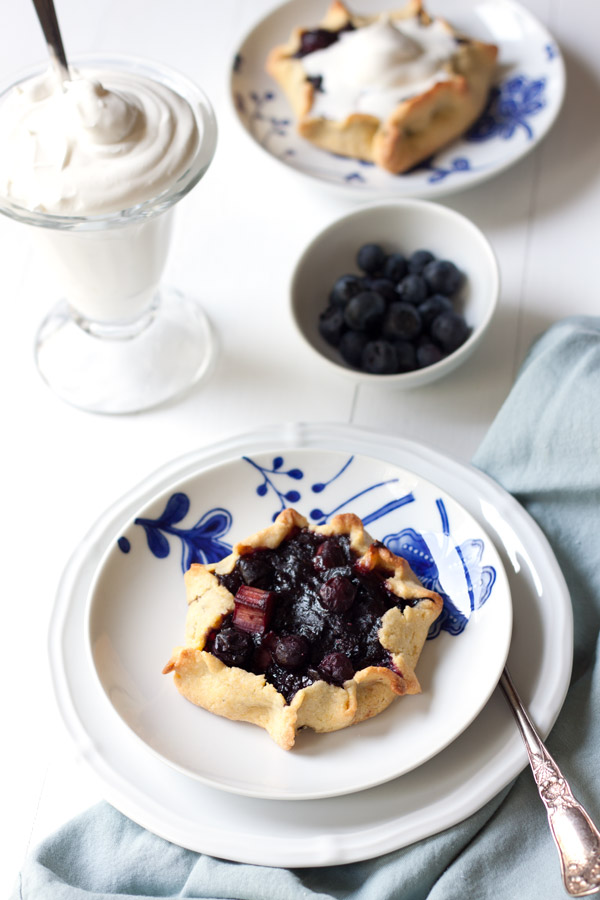 Ingredients
Process