Back to the Cutting Board
Caramel & Cinnamon Banana Oat Bars
adapted from Delish.com [1]
Dessert, Snack | Servings: 9 to 12
Prep time: 15 min | Cook time: 30 | Total time: 45 min
Ingredients
1/2 cup

whole wheat pastry flour

(or twice-sifted whole-wheat flour)

1/2 cup

all-purpose

flour

1/2 cup

sugar

1/2 tsp.

baking powder

1/2 tsp.

cinnamon

1/8 tsp.

cardamom

or nutmeg

1/4 tsp.

salt

1/8 tsp.

baking soda

1/2 cup

refined

coconut oil

, chilled

2/3 cup

(about 2) mashed overripe

bananas

1

egg

1 cup

rolled oats

1/4 to

1/3 cup

cinnamon chips

1/4 to

1/3 cup

caramel bits
Process
Preheat oven to 375 degrees (F). Line a 8×8 baking pan with foil; lightly coat it with cooking spray.
Whisk together the flours, sugar, baking power and soda, spices and salt.
In a mixing bowl, beat coconut oil until smooth. Add mashed bananas and the egg and mix well.
Add the dry ingredients and mix until incorporated. Fold in the rolled oats, caramel bits and cinnamon chips.
Spread the batter evenly into the prepared baking pan. Bake on the center rack of your oven for 25 to 30 minutes or until golden brown. Cool on a wire rack. Lift the foil out of the pan and cut into bars.
Store, wrapped in plastic or foil, for up to 5 days.
Recipe Notes
If you don't have coconut oil, use softened unsalted butter instead. I used refined coconut oil because it has a neutral flavor. There are also virgin/extra-virgin unrefined coconut oils which have a more pronounced coconut flavor. I think it would be fine to use either in this recipe but if you don't want the coconut flavor coming through look for a refined coconut oil.
I found Caramel Bits (from Kraft) at Target in the baking aisle along with the chocolate chips. (I've also seen them at Walmart and several grocery stores.) King Arthur also sells caramel bits [2] if you want to get some online. I got my cinnamon chips [3] from King Arthur, but I've seen them at grocery stores or Walmart, too. That said, any kind of chips would work well in these bars so feel free to substitute chocolate, peanut butter, butterscotch or any combination of your favorites.
You can easily double this recipe and bake it in a 9×13 baking pan.
Caramel & Cinnamon Banana Oat Bars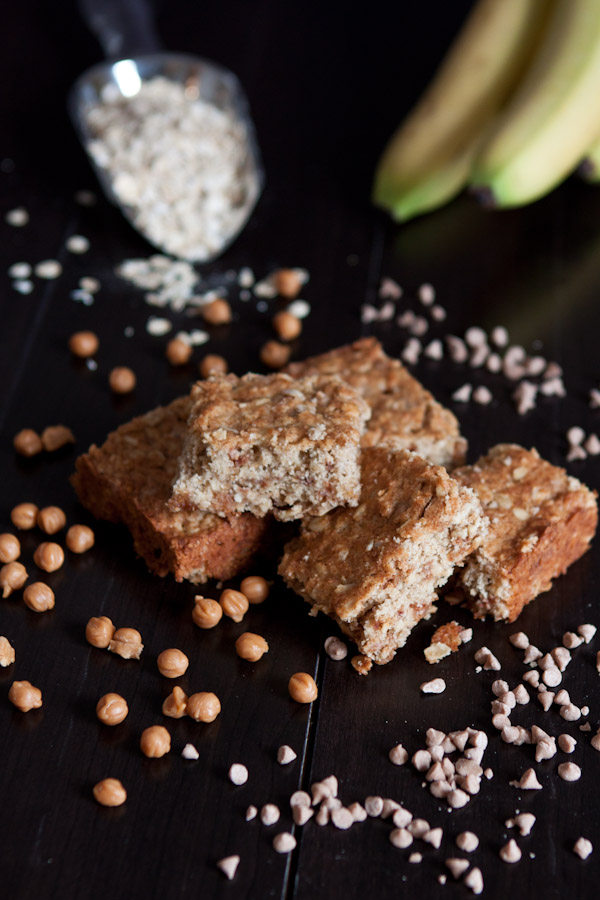 Ingredients
Process