Back to the Cutting Board
Pumpkin Cinnamon Streusal Buns
adapted from Cooking Light Complete Cookbook [1]
Breakfast | Servings: 12
Prep time: 30 min | Cook time: 20 min | Total time: 1 hour 25 min
Ingredients
1 package (2 1/4 tsp.)

active dry yeast

1/4 cup

warm water

(100-110 degrees)

3 cups

flour

, divided (4 cups if using canned pumpkin)

3/4 cup

canned pumpkin or fresh

pumpkin puree

(recipe below)

1/2 cup

1% low-fat milk

(I used nonfat milk with about a tablespoon of half and half)

1/4 cup

unsalted butter

, melted

1 tbsp.

sugar

1 1/4 tsp.

salt

1/4 tsp.

nutmeg
Streusal:
5 tbsp.

sugar

5 tbsp.

brown sugar

3 tbsp.

flour

2 1/2 tsp.

cinnamon

3 tbsp.

chilled

butter

, cut into small pieces
Glaze:
3/4 cup

powdered sugar

1 tbsp.

milk

(doesn't matter which kind)

1/4 tsp.

vanilla
Process
Dissolve yeast in warm water in a large bowl; let stand for 5 minutes.
In the bowl, add 2 cups flour (3 cups if using canned pumpkin), pumpkin, milk, butter, sugar, salt and nutmeg. Beat with a mixer at medium speed until smooth.
Turn dough out onto a floured surface. Knead* for about 10 minutes or until the dough is smooth and elastic, adding enough of the remaining cup of flour, a little at a time, until it is tacky but not sticky [2]. You can test the elasticity by cutting off a golf ball-sized piece and use your fingers to stretch it into a very thin sheet which looks almost translucent when held up to the light. If it won't stretch and/or tears too easily, then you need to keep kneading until the dough passes the windowpane test. It's also helpful to have an instant read thermometer because the dough should be ready when it's between 77-81 degrees.
*Note: If you're lazy like me, you could just switch your mixer to the dough hook. But it's hard to tell if the dough is still too sticky in a mixer, so what I did is add about 1/4 cup flour and mixed with the hook on medium speed for 4-5 minutes. Then I turned it onto a floured surface and kneaded for 3-4 more minutes incorporating a little bit more flour as necessary.
Place the dough inside a large bowl that has been sprayed lightly with cooking spray or oil. Roll the dough around to lightly coat it in oil. Cover the bowl with plastic wrap and let rise in a warm, draft free, place* (85 degrees) for 45 minutes or until doubled in size. You'll know it's risen enough if you press two fingers into the dough and an indentation remains.
*Note: I don't have a place that warm in my house, so I turn on the oven for 30 seconds to a minute and immediately turn it off. Then I place the bowl in the warm oven and close the door.
Punch dough down; cover and let rest for 5 minutes.
Meanwhile, in a small bowl combine granulated sugar, brown sugar, 1/4 cup flour, and cinnamon. Cut in butter with a pastry blender or your fingers until mixture resembles coarse meal.
On a floured surface, roll the dough into a 12×10 inch rectangle. Sprinkle with brown sugar mixture. Starting with a long edge, roll up tightly, pressing firmly to eliminate air pockets; pinch seam and ends to seal. Cut the roll into 12 (1 inch) slices. Place slices in a 9-inch square baking pan coated with cooking spray. Cover and let rise 25 minutes or until doubled in size.
Note: After the second rise you could put the rolls in your fridge overnight. In the morning, take them out and let sit an hour to come back to room temperature.
Preheat oven to 375 degrees (F). Bake for 20 minutes or until golden brown. Cool for 15 minutes in pan on a wire rack.
In a small bowl, stir the powdered sugar, milk, and vanilla until smooth. Drizzle glaze over buns.
Serve warm. These are best eaten within 1-3 days (they get stale faster due to the lower fat content). Store in an air tight container.
Pumpkin Puree
adapted from Cooking Light Complete Cookbook [1]
Breakfast | Servings: 12
Prep time: 5 min | Cook time: 10 min | Total time: 15 min
Ingredients
Process
Cut the pumpkin in half lengthwise, discarding seeds and membranes.
Place pumpkin halves, cut sides down, in a baking dish, and add 1/4 cup water to the dish. Cover with heavy-duty plastic wrap, and vent.
Microwave on high for 10 minutes (or about 5 minutes per pound) until pumpkin is tender when pierced with a fork. Cool slightly, and scoop out filling.
Pumpkin-Cinnamon Streusel Buns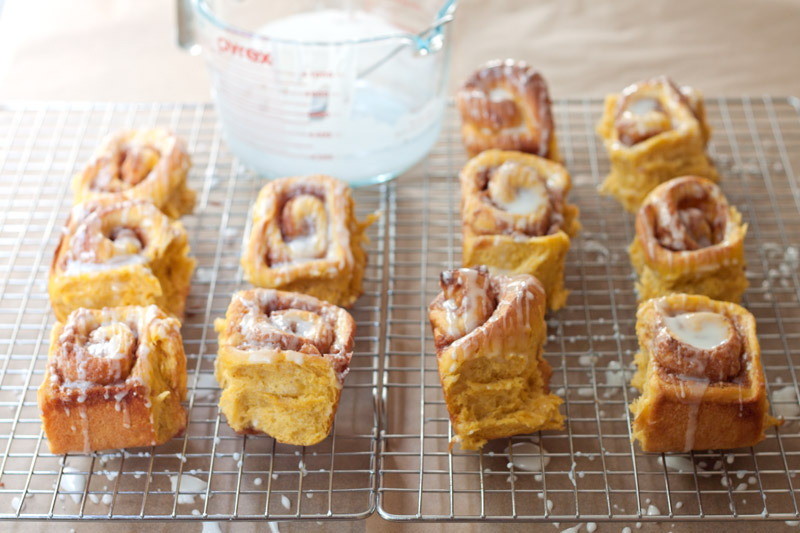 Ingredients
Process