Back to the Cutting Board
Pear-Cranberry Streusal Kuchen
adapted from Cooking Light
Breakfast, Dessert | Servings: 8-10
Prep time: 25 min | Cook time: 50 min | Total time: 1 hour 15 min
Ingredients
5 cups

(about 4 large) chopped Anjou (or whatever is in season/your favorite)

pears

(substitute: Golden Delicious or Rome apples)

2 tbsp.

sugar

, divided

1 1/2 cups

flour

1/3 cup

sugar

1 1/4 tsp.

baking powder

1/4 tsp.

baking soda

1/4 tsp.

salt

1/4 tsp.

cinnamon

1/8 tsp.

ginger

or nutmeg

3/4 cup

low-fat

buttermilk

1/4 cup

egg substitute

(or 1 egg)

2 1/2 tbsp.

canola or

vegetable oil

1 1/2 tsp.

grated

lemon rind

1/2 cup

dried cranberries

(substitute: raisins)
Streusal:
Note: if you're like me and you really like streusal, you may want to double this.
1/2 cup

packed

brown sugar

3 tbsp.

AP or whole wheat

flour

3 tbsp.

rolled oats

(optional)

1/2 tsp.

cinnamon

1/4 tsp.

ginger

or nutmeg

2 1/2 tbsp.

cold

butter

or margarine

2 tsp.

light corn syrup
Process
Preheat oven to 475 degrees (F).
Arrange chopped pears in a single layer on a jelly-roll pan coated with cooking spray, and sprinkle with 1 tbsp. sugar. Bake for 8 minutes, stirring well. Sprinkle with 1 tbsp. sugar and bake an 7 more minutes or until pears are slightly soft. Set aside to cool. Reduce the oven temperature to 375 degrees.
While pears are baking, make the streusal: combine brown sugar, oats, flour, and spices in a small bowl. Using your fingers or a pastry blender cut in margarine and corn syrup until the mixture resembles coarse meal. Set aside.
In a large bowl, combine with next flour, sugar, baking powder, baking soda, salt, and spices.
In a smaller bowl, stir together buttermilk, egg substitute, oil, and lemon rind. Add to flour mixture, stirring just until moist.
Gently fold in pears and cranberries.
Spoon mixture into a 10-inch springform pan coated with cooking spray; place pan on a baking sheet.
Sprinkle streusal evenly over batter in pan. Bake at 375 degrees for 50 minutes (20-25 minutes in mini springform pans) or until a wooden pick inserted in center comes out clean. Cool on a wire rack. Serve slightly warm or room temperature.
Pear-Cranberry Streusal Kuchen (Coffee Cake)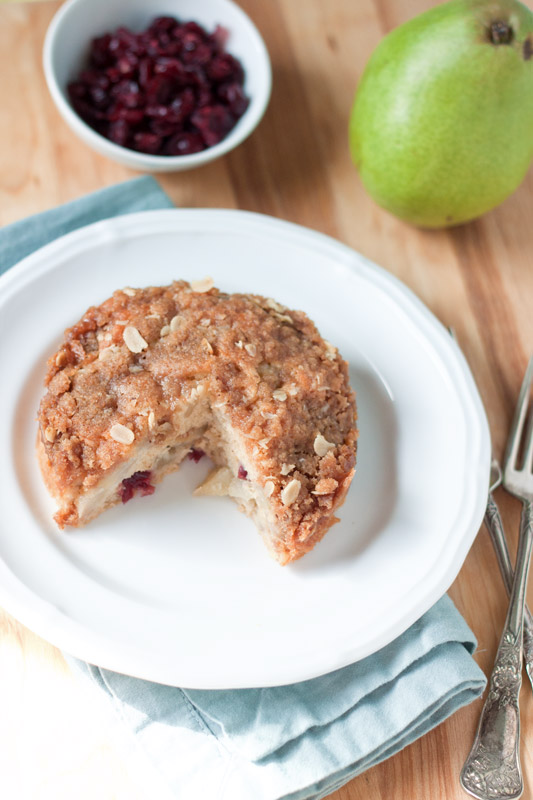 Ingredients
Process