Back to the Cutting Board
Homemade Maple-Cinnamon Oat Pop Tarts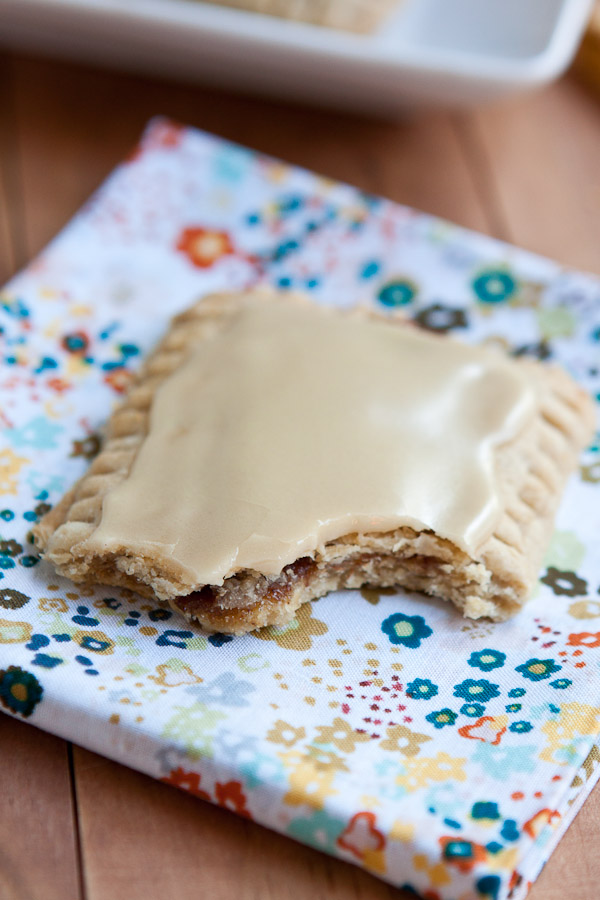 Ingredients
Pastry
2 cups unbleached all-purpose flour
1 cup oat flour* (See recipes notes below)
1/2 tsp. salt
6 tbsp. unsalted butter, cut into small cubes and chilled
3 tbsp. coconut oil or shortening, chilled (measure out each tablespoon separately and chill along with the butter)
2 tbsp. maple syrup
6 to 8 tbsp. ice water
1 egg
Maple-Cinnamon Filling
1/2 cup maple sugar or brown sugar
1 1/2 tsp. cinnamon
Maple Icing
1/3 cup powdered sugar
2 to 3 tbsp. maple syrup
Process
Make the dough: Combine both flours and salt in a large bowl. Cut in pieces of chilled butter and coconut oil until the mixture is crumbly. You can do this in a food processor or with a pastry blender. Stir in the maple syrup.

Add 1/4 cup of ice water, then add one tablespoon of water at a time until the mixture comes together into a ball. Knead lightly a few times until the dough is combined. Shape into a rectangle and cover with plastic wrap. Chill in the fridge for 15 to 30 minutes. (This can be made the night before. Let dough soften up slightly before rolling it out.)

While the dough is chilling, mix together the maple sugar and cinnamon in a small bowl. Set aside.

Separate the egg white into a small bowl and discard the yolk or save it for another use. Beat the egg white until frothy.

Preheat oven to 350 degrees (F). Line a large baking sheet with parchment.

Shape and fill tarts: Remove the dough from the fridge and place it on a lightly floured surface. If you have a small work surface, cut the dough in half and store the remaining half in the fridge until you need it. Roll the dough out in a large rectangle to about 1/8-inch thick. Cut into 3×4-inch rectangles. Tip: Use a small food container as a make-shift dough cutter.

(The dough sticks together pretty easily, so if you have lots of dough remnants you should be able to piece enough together to get a few more tarts.)

Transfer one rectangle to the baking sheet. Brush egg white around the top edge of the dough, about 1/2 inch all around. The egg white will help seal the two pieces of dough together. Add about two teaspoons of the cinnamon-sugar mixture in the middle. Brush egg white around the bottom edge of another rectangle and place it directly on top, pressing the edges together tightly. Use a fork to mark the edges of the tart on both sides. Then poke a few holes in the top piece of the tart to let steam escape. Repeat with remaining rectangles.

Bake for 25-30 minutes or until the top and edges start to brown. Cool for about 5 minutes on the pan on a rack.

While the tarts are cooling, mix up the powdered sugar and maple syrup until smooth. The icing will be thick. When the tarts are still warm but not hot to the touch, spread a tablespoon or so of icing on top. Set aside for a minute and let the icing set.

Serve tarts warm or at room temperature. These are best right out of the oven, but they can be heated up the next day, about 10 minutes in a 350-degree oven (no need to preheat). Tarts that haven't been iced can be toasted.