Back to the Cutting Board
Chocolate-filled Beignets with Chocolate Dipping Sauce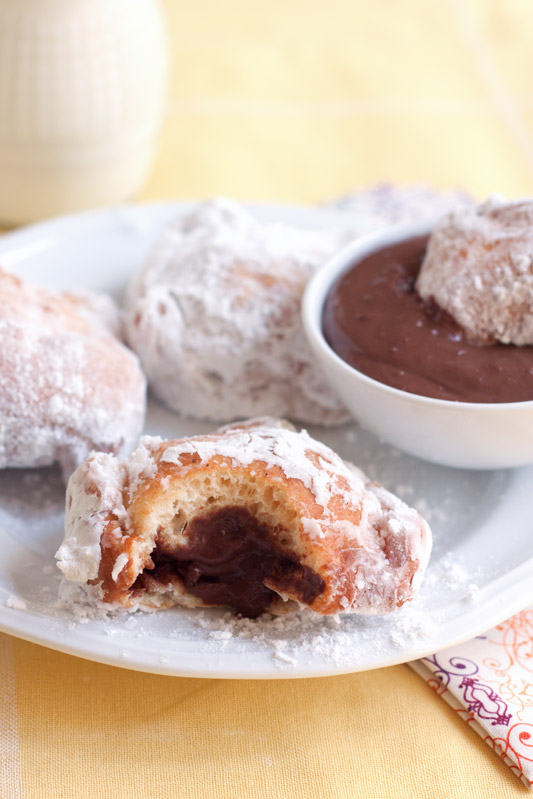 Ingredients
1 envelope (2 1/4 tsp.) active dry yeast (I used rapid-rise yeast)
1/2 cup sugar
1 1/2 cups lukewarm water
2 eggs, slightly beaten
1 1/4 tsp. salt
1 cup evaporated milk
7 cups bread flour
1/4 cup shortening or butter
Oil, for deep-frying (I like peanut or canola)
3 cups powdered sugar
Filling
6 tbsp. butter, cut into small pieces
12 oz. good-quality bittersweet chocolate, chopped
1 1/2 cups half and half
Process
Mix the Dough: Mix the yeast, sugar, and water in a large mixer bowl. Let sit for 10 minutes.

You don't need a stand mixer to make this recipe, but it will make things easier. Start with the standard paddle hook, but you'll need the dough hook later.

In another bowl, beat together eggs, salt, and evaporated milk. Pour egg mixture into the yeast mixture and stir well.

Add 3 cups of flour and mix on low or stir until combined. Add shortening or butter and continue adding the remaining 4 cups of flour slowly until it's all incorporated. The dough will be sticky.

Knead the dough and let it rise: At this point, you can switch your mixer to the dough hook and beat on medium, adding more flour about a tablespoon at a time until the dough pulls away from the sides and forms a smooth ball (about 4-6 minutes). If you don't have a mixer or would rather knead, place the dough on a floured surface and knead until smooth, adding a little more flour as needed (about 8-10 minutes). The dough may still be a bit sticky, but shouldn't be overly so.

Spray a bowl with cooking spray and place the dough inside. If the bowl doesn't have a cover, lightly place some plastic wrap on top. Let rise for 2 hours in a warm spot. I like to turn my oven on to the lowest temperature for about a minute and then immediately turn it off again. Then I place the bowl in the warm oven.

Make the Filling/Dipping sauce: In a saucepan over low heat, mix together butter, chocolate, and half and half. Stir frequently until all the chocolate and butter are melted and the mixture is smooth. Remove from heat. Pour into a bowl and cover.

For filling: place in the freezer to harden.

For dipping sauce: either store in the fridge or let sit out until beignets are ready. Warm it back up on the stove or in the microwave.

Heat up the oil: When the dough has risen, place a deep pot like a dutch oven on the stove and add enough oil to fill the pot about 1 to 1 1/2 inches deep. If you are making filled beignets, you may want to skip ahead and start making them before you heat up the oil. They take longer to prepare and it's really important to watch your oil to make sure it doesn't overheat.

Turn the burner to medium and heat the oil to 350 degrees. I would recommend using an instant-read thermometer so you know the exact temperature at all times. It will take about 10-15 minutes to heat up. If you don't have a thermometer, you'll know it's ready when you sprinkle some flour in the pot and it sizzles. If it gets hotter than 350 or starts smoking, remove the pot from the burner immediately and let it cool down to the correct temperature.

Shape the dough: While the oil is heating up, place the dough on a lightly floured surface and roll out into a square or rectangle:

For plain beignets: roll to 1/4 inch thick. Use a knife or pastry cutter to cut into 2x2 inch squares.

For filled beignets: roll to 1/8 inch thick. Use a knife or pastry cutter to cut into 3x3 inch squares.

Add the Filling: Remove your filling from the freezer. Scoop out a heaping 1/2 tsp. and place in the middle of the square. Gently place another square on top and pinch the sides together. Fold each side in about 1/4 inch and pinch again. It is VERY important that the beignet is well sealed. If not, it could pop open while it fries and all the filling will spill out!


Your mantra: pinch and fold, pinch and fold

If your beignet pops open during frying and filling starts to pour out, don't panic! If it's almost done frying you can leave it in there for a few more seconds, but otherwise, remove it. You can keep on frying even with chocolate bits in there. They will just burn up and settle down in the bottom of the pot.


Oops! This is what happens if you don't pinch the dough together very well.

Fry the dough: Set several layers of paper towels near your pot. Fill a paper or plastic bag with powdered sugar and place that near the paper towels.

When the oil is at the correct temperature, add a dough square, one a time, to the pot with a slotted spoon. Fry 4-6 at a time depending on the size of your pot. Be careful: if you add too many at once or you may wind up burning them. Use the slotted spoon to flip them over every 30 seconds. Fry for 2-3 minutes or until golden brown on both sides. If they are taking longer than 3 minutes to brown you need to turn your burner up and make sure your oil is at the correct temperature. Remove with slotted spoon and place on paper towels to drain.

Let cool for a minute and then transfer to the bag of sugar. Hold the bag closed and toss to coat.

Repeat with remaining squares.