Back to the Cutting Board
Cherry-Rhubarb Fool
adapted from The Simple Art of EatingWell by Jessie Price [1]
Dessert, Breakfast | Servings: 4-6
Prep time: 10 min | Cook time: 10 min | Total time: 2 hour 30 min
Ingredients
1 lb.

rhubarb

, trimmed and cut into 1/2-inch pieces (about 2 cups)

2 heaping cups

pitted and halved dark, sweet

cherries

(thawed if frozen)

1/3 cup

honey

(or to taste)

1/4 cup

water

1/2 tsp.

lemon zest

(I zested half a lemon)

1

cinnamon stick

(optional)

1 cup

nonfat or lowfat

Greek vanilla yogurt

*

1 cup

whipping cream

2 tbsp.

powdered sugar

(or to taste)
*If you don't have Greek yogurt, you can drain [2] normal yogurt through a cheesecloth or coffee filter. It's not absolutely necessary to use Greek/drained yogurt, though. The dessert will be more watery and less fluffy, but it won't affect the taste.
Process
In a large saucepan over medium heat, combine rhubarb, cherries, honey, water, lemon zest and cinnamon stick. Bring to boil and cook until the mixture has the texture of applesauce, about 7-10 minutes. Remove and discard the cinnamon stick. If there are still large chunks of cherries, remove from heat and cool slightly, then transfer to a food processor or blender and process until the mixture is uniform. Taste and add more honey if you want it to be sweeter. Chill in the fridge for at least one hour.
In in chilled bowl, whip the cream and powdered sugar until stiff.
Place Greek yogurt in a medium bowl and whisk or whip until smooth.
Gently swirl in the cherry-rhubarb mixture. Fold in the whipped cream and swirl it around.
Spoon into individual dishes. Cover and chill for at least an hour or up to 6 hours. Alternately, I like to put an individual serving in the freezer for 1-2 hours before I eat it; not long enough to freeze it solid, but freezing makes it bit stiffer almost like soft-serve ice cream.
Cherry-Rhubarb Fool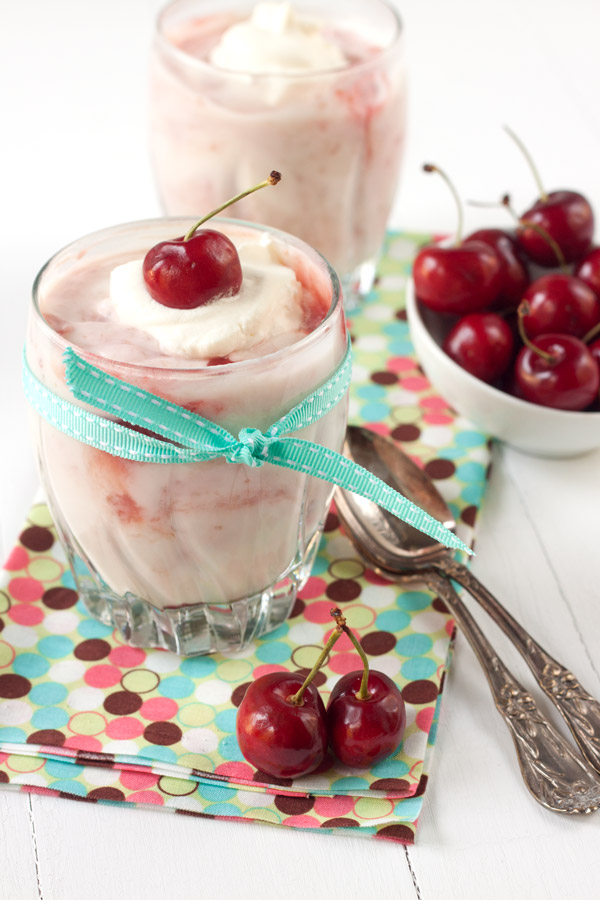 Ingredients
Process