Back to the Cutting Board
Caramelized French Toast
adapted from How to Cook Everything [1]
Breakfast | Servings: 4
Prep time: 10 min | Cook time: 5 min | Total time: 15 min
Ingredients
1/2 cup

sugar

1/2 tsp.

cinnamon

2

eggs

1 cup

milk

, half-and-half or cream (I usually do half skim milk, half heavy cream)

Dash

of

salt

8 slices

of

bread

(raisin bread recipe below)

Butter
Process
In a small bowl mix together sugar and cinnamon, set aside with a spoon.
Heat a large skillet or griddle over medium heat (I set my griddle to 350 degrees).
In a broad bowl (I used a pie pan) beat the eggs lightly and stir in the milk and salt. Set an empty plate beside it.
Add about teaspoon of butter to skillet and spread around as it melts.
Quickly dip each side of bread into the egg mixture (you don't want it too soggy) and then place on the empty plate. Add a heaping spoonful of cinnamon-sugar and spread around until the surface of the bread is completely covered (add more cinnamon-sugar as needed), flip over and repeat on the other side. Place on the skillet. Repeat with remaining slices of bread until the skillet/griddle is full.
Cook for about 4-5 minutes per side, or until each side is nicely browned and the sugar mixture has melted and hardened into slightly crispy coating.
Serve immediately.
Cinnamon Swirl Raisin Bread
adapted from The Bread Baker's Apprentice [2]
Breakfast, Bread | Servings: Two 1 1/2 lb. loaves
Prep time: 40 min | Cook time: 40 min | Total time: 4 hour 20 min
Ingredients
2 1/2 cups

bread flour

1 cup

whole wheat flour

4 tsp.

sugar

1 1/4 tsp.

salt

2 tsp.

instant yeast

1 1/4 tsp.

cinnamon

1

large

egg

, slightly beaten

2 tbsp.

butter

, melted

1/2 cup

buttermilk

or whole milk, room temperature

3/4 cup

water

, room temperature

1 1/2 cups

raisins

, rinsed, drained and patted dry

1/4 cup

sugar

1/4 tsp.

cinnamon
Process
In a large bowl or your electric mixer bowl, mix together flours, sugar, salt, yeast and cinnamon.
Add egg, butter, buttermilk and water. Stir with a large spoon or on low speed with the paddle attachment of your mixer until everything comes together in a ball. If you're using a mixer you'll know it's ready if the dough stops sticking to the sides of the bowl. If it seems too sticky or too dry add a little more flour or water.
If you are using a mixer, switch to the dough hook. Mix on medium speed for about 5 minutes. If you don't have a mixer or want to do all the kneading by hand skip to the next step.

Sprinkle a work surface with flour and transfer the dough over to it. Knead for about 1-2 minutes if you just used the dough hook or 8-10 minutes if not. You'll most likely need to add more bread flour to the dough as you are kneading to keep it from being sticky. The end result should be dough that is soft and pliable, tacky but not sticky. (See this post for the difference between the two. [3])

To test whether the dough is ready, cut off a golf ball-sized piece and use your fingers to stretch it into a very thin sheet which looks almost translucent when held up to the light. If it won't stretch and/or tears too easily, then you need to keep kneading until the dough passes the windowpane test. It's also helpful to have an instant read thermometer because the dough should be ready when it's between 77-81 degrees.

Flatten the dough out with your hands and spread a handful of raisins on top, pressing them into the dough. Fold the dough in half and spread some more raisins on top of that. Keep folding and flattening the dough until you have incorporated all the raisins, then knead lightly for a minute or two until they are evenly mixed throughout the dough.
Place the dough inside a large bowl that has been sprayed lightly with cooking spray or oil. Roll the dough around to lightly coat it in oil. Cover the bowl with plastic wrap and let sit for 2 hours at room temperature or until the dough doubles in size.
Meanwhile, mix together sugar and cinnamon and set aside.
When the dough has risen, remove from bowl and divide into 2 equal pieces (it helps to have a kitchen scale, if you're not good at eyeing it). Roll each piece out into a 5 inch by 8 inch rectangle that is about 1/3 inch thick. Sprinkle half the cinnamon-sugar mixture on top.

Starting at the short end, roll up the dough, pinching the crease down after each rotation to strengthen the surface tension. The loaf will spread out as you roll it up. Pinch the final seam closed with your thumbs and rock gently to even it out. Place in a lightly oiled 8 1/2 by 4 1/2 in. loaf pan, the ends of the loaf should touch the ends of the pan. Repeat with the other piece of dough.
Mist the tops lightly with cooking spray or spray oil and cover with plastic wrap. Proof at room temperature for 1 to 2 hours or until the dough has nearly doubled in size and crests above the top of the pan. My house tends to be a bit cold (I like it that way), so to help the dough rise, I turn my oven on a low temperature for about a minute, then turn it off and open the door for about 30 seconds. While the oven is still slightly warm (but still off), I place the pans inside, close the door and let the dough proof in there.
Remove the pans from your oven if you proofed them in there and preheat to 350 degrees (F), with the oven rack in the middle. Place the loaf pans on a large sheet pan, making sure they are not touching each other.
Bake for 15 minutes. Rotate the sheet pan 180 degrees and continue baking for 15-25 minutes. The loaves should be golden brown on top and lightly golden on the sides. It should register 190 degrees in the center.
Immediately remove from pans (you can also check the bottom of each loaf, which should make a hollow sound when thumped) and cool on a rack for at least 1-2 hours before slicing.
Once completely cooled, you can wrap carefully and freeze one or both of the loaves for later.
Caramelized French Toast (Plus Homemade Raisin Bread!)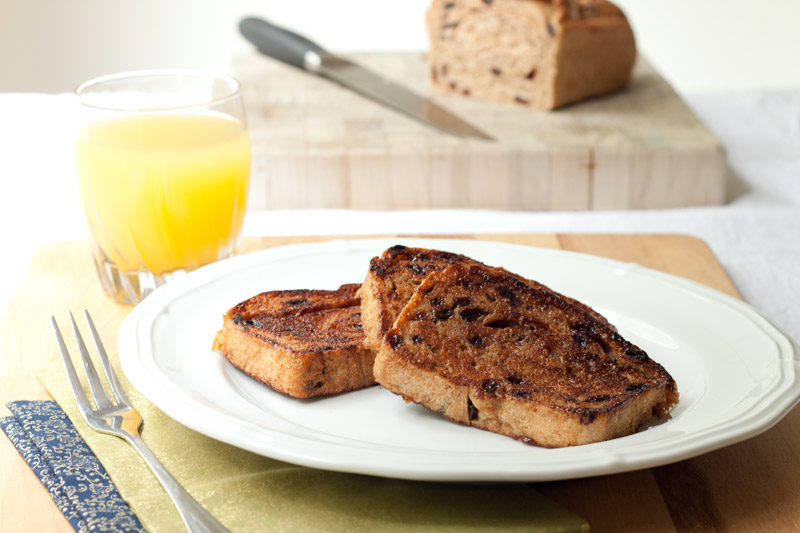 Ingredients
Process