Back to the Cutting Board
Blueberry Cheesecake Yogurt Muffins with Cinnamon Streusel
adapted from The Recipe Critic [1]
Breakfast | Yield: 12 muffins
Prep time: 30 min | Cook time: 25 min | Total time: 1 hour
Ingredients
Cream Cheese Filling
4 oz.

1/3-less fat cream cheese

1/3 cup

sugar

2 tbsp.

well beaten

egg

(reserve remaining egg)

1/2 tsp.

vanilla
Muffin Batter
2 cups

flour

1/2 tsp.

baking powder

1/2 tsp.

salt

1 cup

non-fat or low fat

blueberry yogurt

(I used Chobani)

1/2 tsp.

baking soda

1/2 cup

sugar

1/2 cup

coconut oil or canola oil (melt coconut oil and cool slightly)

1

egg

1 tsp.

vanilla

1 1/2 cups

fresh or frozen

blueberries
Cinnamon Streusel
1/4 cup

flour

1/4 cup

sugar

1 tsp.

cinnamon

3 tbsp.

unsalted butter

, grated or cut into small squares
Process
Preheat oven to 400 degrees (F). Place 12 cupcake liners in a muffin pan. Lightly spray the inside and around the top edges of the liners with nonstick spray.
Make the cream cheese filling: In a mixer bowl, beat together the cream cheese, sugar, 2 tablespoons beaten egg (reserve the remaining egg for later) and vanilla until smooth. Set aside.
Make the muffin batter: In a large bowl sift together the flour, baking soda and salt. In a smaller bowl, stir together the blueberry yogurt and baking soda. Stir the sugar, oil, egg, reserved beaten egg and vanilla into the yogurt until well combined. Add the wet ingredients to the dry ingredients and stir just until combined. Batter will be thick.
Make the streusel: Combine the flour, sugar and cinnamon. Use a fork or your fingers to mix the butter in until the mixture is crumbly. Set aside.
Assemble the muffins: Add 1 rounded tablespoon of muffin batter to each cup in the muffin pan. Add 3 or 4 blueberries to each. Add 1 level tablespoon of the cream cheese mixture on top. Then, sprinkle with about a teaspoon of streusel. Next add another tablespoon of batter, followed by 3 or 4 more blueberries and a final sprinkling of streusel.
Bake for 20 to 25 minutes or until a toothpick comes out clean. Let cool in pan for 5 minutes and then transfer to a wire rack to cool completely.
Store in an airtight container (see notes). Best when eaten within 3 or 4 days.
Recipe Notes
To make these lower fat, use non-fat yogurt and reduce the coconut/canola oil to 1/4 cup. However, with less fat they go stale faster so they're best eaten within 2 days.
I've only tested these with non fat Greek yogurt, but any kind of yogurt should work. If using full fat yogurt, you can reduce the coconut/canola oil to 1/4 cup.
If you don't have blueberry yogurt feel free to substitute plain, vanilla or even lemon yogurt.
Storing Muffins: Due to the berries and cream cheese layer these muffins can become soggy after several days. The best way to store muffins is to line a plastic container with paper towels, place the muffins in the container, then place another layer of paper towels on top and seal the container. The paper towels will help absorb the extra moisture. Thanks to Savy Eats [2] for this tip!
Blueberry Cheesecake Yogurt Muffins with Cinnamon Streusel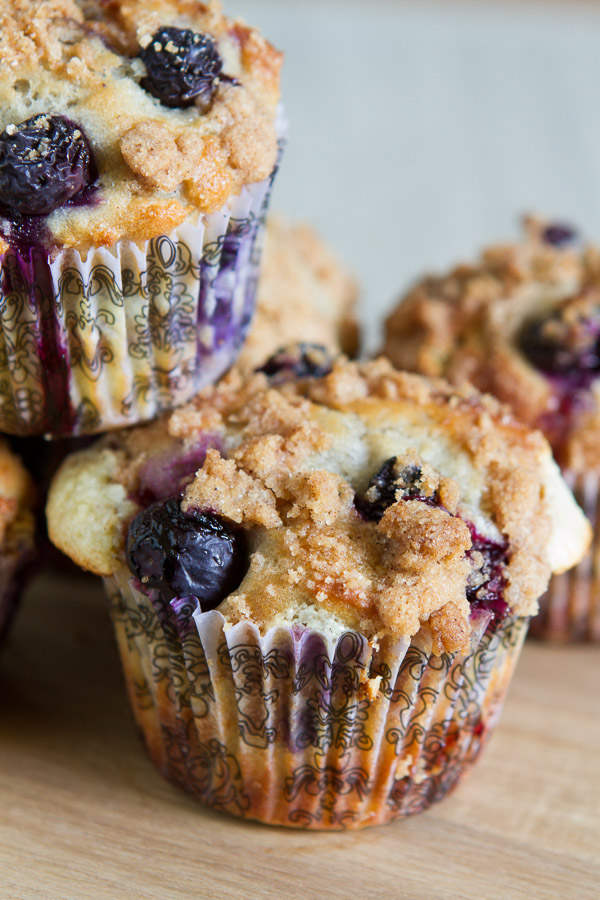 Ingredients
Process