Back to the Cutting Board
Apple Pie Cream Cheese Muffins
from Back to the Cutting Board
Breakfast, Dessert | Yield: 16-18 muffins
Prep time: 45 min | Cook time: 25 min | Total time: 1 hour 10 min
Ingredients
Cinnamon Graham Cracker Crust
1 cup

(5 oz.) finely ground

graham cracker crumbs

(I used low-fat cinnamon graham crackers)

2 tbsp.

(.9 oz)

sugar

1/2 tsp.

(1.4 g)

cinnamon

(optional)

4 tbsp.

(2 oz. – 1/2 stick) unsalted

butter

, melted
Apple Topping
2

large tart

apples

2 tbsp.

(1 oz. – 1/4 stick) unsalted

butter

(softened)

2 tbsp.

(.9 oz)

sugar

1 tsp.

(2.8 g)

cinnamon
Cinnamon Cream Cheese Filling
4 oz.

cream cheese

, softened (I used 1/3 less fat)

1

egg yolk

(optional)

1/4 cup

(1.8 oz)

sugar

1 1/2 tsp.

(4.2 g)

cinnamon

1/4 tsp.

(1 g)

vanilla
Muffins
1/2 cup

(4 oz. – 1 stick) unsalted

butter

(softened)

1/2 cup

(3.5 oz)

sugar

2

eggs

1/2 tsp.

(2 g)

vanilla

1 cup

(5 oz)

all-purpose flour

1 cup

(3.4 oz)

whole wheat pastry flour

(or twice-sifted whole wheat flour)

1 tsp.

(6.7 g)

salt

1 tsp.

(4.9 g)

baking powder

1/2 tsp.

(2.5 g)

baking soda

1/2 tsp.

(1.4 g)

cinnamon

1/2 tsp.

(2 g)

nutmeg

1/8 tsp.

(.2 g)

cardamom

(optional)

1 cup

(8 oz) unsweetened

applesauce

1/3 cup

(3.6 oz)

maple syrup
Process
Preheat oven to 350 degrees (F). Grease two muffin pans (only the top edge of each cup needs to be greased/sprayed) and fill with 18 cupcake liners.
In a medium bowl, mix together the graham cracker crumbs, sugar and cinnamon. Pour in the melted butter and stir until well distributed. Spoon two heaping teaspoons into each muffin cup and evenly press the crumbs into the bottom.

Peel and core the apples. Cut them into quarters and then slice each quarter into thirds. Cut each slice into 1/2-inch pieces. You'll wind up with a bunch of little triangular pieces of apple.

In a large skillet over medium-high heat, melt the butter, sugar, and cinnamon. When the mixture starts to bubble add the apple pieces and toss to coat. Cook for 1 minute without stirring. Stir again and cook for about 6 more minutes, stirring every minute or so, until tender and caramelized. You may need to lower the heat a bit while they cook, stop cooking if the apples look dry or start burning. Set aside to cool.

While the apples are cooking, beat the cream cheese on medium speed until creamy. Add in the egg yolk and mix well. Gradually add the sugar, cinnamon and vanilla and beat until well blended. Set aside. (If you only have one bowl for your mixer (like me) you'll need to transfer this to another bowl and wash the mixer bowl so you can use it to make the muffins.)
In a mixer bowl cream the butter, gradually adding the sugar, until light and fluffy. Add eggs and beat until well combined.
In a separate bowl combine the flours, salt, baking powder, baking soda and spices.
In another bowl mix the applesauce and the maple syrup.
On the lowest speed mix in half the dry mixture with the butter mixture. Then mix in 1/2 of applesauce mixture. Repeat with remaining dry mixture and remaining applesauce, mixing after each.

Fill each muffin cup about halfway. Add a rounded teaspoon of the cream cheese in the middle of each muffin cup. Top with the remaining batter (about two tablespoons).

Gently spoon a few teaspoons of the apples on top of each muffin.

Bake for 25-30 minutes or until the edges start to brown and a toothpick comes out clean. Cool 10 minutes in the pan, then transfer the muffins to a wire rack to cool completely.
Apple Pie Cream Cheese Muffins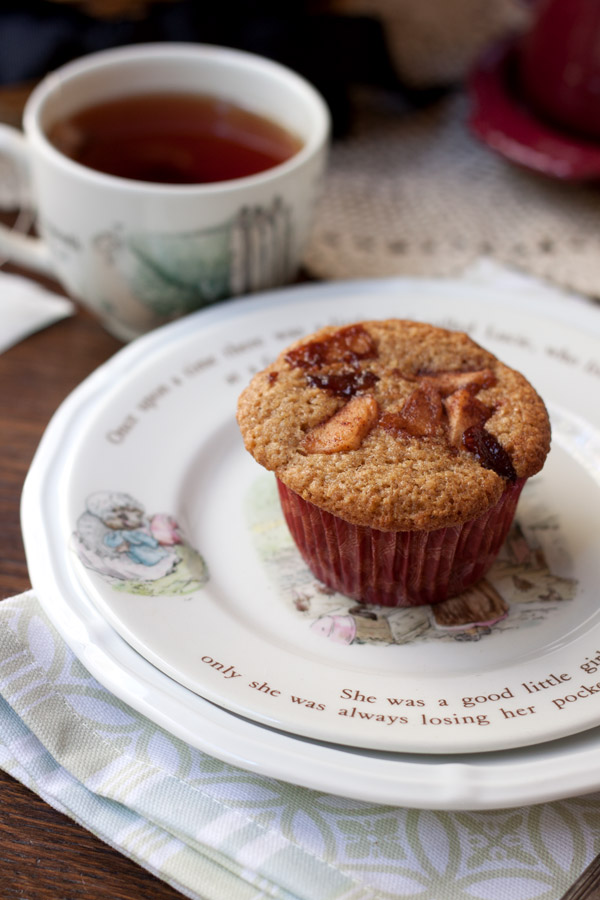 Ingredients
Process