Back to the Cutting Board
Apple-Cinnamon Swirl Pumpkin Yeast Bread
adapted from Taste of Home [1]
Bread | Yield: 2 to 3 loaves
Prep time: 45 min | Cook time: 45 min | Total time: 3 hours
Ingredients
4 1/2 to

5 cups

all-purpose flour

3 cups

whole wheat flour

2 cups

quick-cooking oats

2/3 cup

brown sugar

3 tsp.

pumpkin pie spice

1 1/2 tsp.

salt

1 tsp.

sugar

2 packages

(1/4 oz. each)

active dry yeast

1 1/2 cups

warm

water

(120° to 130°)

1 cup

pumpkin puree

1/3 cup

unsweetened applesauce

1/3 cup

canola oil

2

eggs

, lightly beaten
Filling:
1/4 cup

(4 tbsp.) unsalted

butter

, melted

2 cups

finely chopped

apples

2/3 cup

brown sugar

2 tsp.

cinnamon

, divided

1 1/2 tsp.

pumpkin pie spice
Topping: (Optional)
1/4 cup

turbinado sugar

(AKA Sugar in the Raw) or other course sugar like demerara

1/2 tsp.

cinnamon
Process
Note: You don't need a mixer to make this recipe but it's a lot easier if you have one.
In a large bowl, stir together 2 cups AP flour, all of the whole wheat flour, oats, brown sugar, pumpkin pie spice, salt, sugar and yeast.
Mix in the warm water, pumpkin, applesauce and oil just until moistened. Add eggs and beat until smooth. Stir in 2 more cups of AP flour or enough to form a firm dough.
At this point you can either knead the dough by hand or switch to a dough hook on your mixer and let it do most of the work for you. Using the dough hook: mix on medium for about 5 minutes, adding up to 1/2 cup more flour until the dough forms a smooth ball that isn't sticking to the sides of the bowl. Turn the dough out onto a floured surface and knead by hand for 1 to 2 more minutes. Kneading by hand: Turn the dough onto a floured surface and knead for 6 to 8 minutes. You'll most likely need to add a bit more flour to the dough as you are kneading to keep it from being sticky. The end result should be dough that is soft and pliable, tacky but not sticky. (See this post for the difference between the two. [2])
Place the dough inside a very large bowl (at least 4 qt.) that has been sprayed lightly with cooking spray or oil. Roll the dough around to lightly coat it in oil. Loosely cover with plastic wrap and let rise in a warm place until doubled, about 1 hour.
Grease or spray two 9×5-in. or three 8×4-in. pans. Punch dough down. Turn onto a lightly floured surface and divide in half (or thirds). Roll each portion into an 18-in. x 9-in. rectangle (16-in. x 8-in. for smaller pans).
Combine brown sugar, 1 1/2 tsp. cinnamon and pumpkin pie spice in a small bowl. Sprinkle remaining 1/2 tsp. of cinnamon on the chopped apples and mix well.
Brush dough with melted butter to within 1/2 in. of edges. Set aside remaining melted butter for later. Sprinkle sugar mixture over the dough and then sprinkle the apples on top, lightly pressing them into the dough. Roll up jelly-roll style, starting with the short side. Pinch the final seam closed with your thumbs and rock gently to even it out.
Place seam side down in your prepared loaf pans. Loosely cover with plastic wrap and let rise until doubled, about 30 minutes. Meanwhile, preheat your oven to 350 degrees
Combine course sugar and cinnamon in a small bowl. Re-melt the remaining butter and lightly brush the tops of the loaves. Sprinkle the cinnamon-sugar mixture on top.
Tip: To make rotating multiple pans easier, place all loaf pans on a large baking sheet, making sure they aren't touching each other. Bake on the middle oven rack for 25 minutes, then rotate the pans 180 degrees. Continue baking for 20 to 30 minutes or until golden brown. Cool for 10 minutes in pans and then transfer to a wire rack to cool completely. Don't cut into the loaves for at least 2 hours.
This bread is best within 4 to 5 days. Once completely cooled, you can wrap carefully and freeze one or more of the loaves for later. Great served with pumpkin butter [3] or apple butter [4].
Apple-Cinnamon Swirl Pumpkin Yeast Bread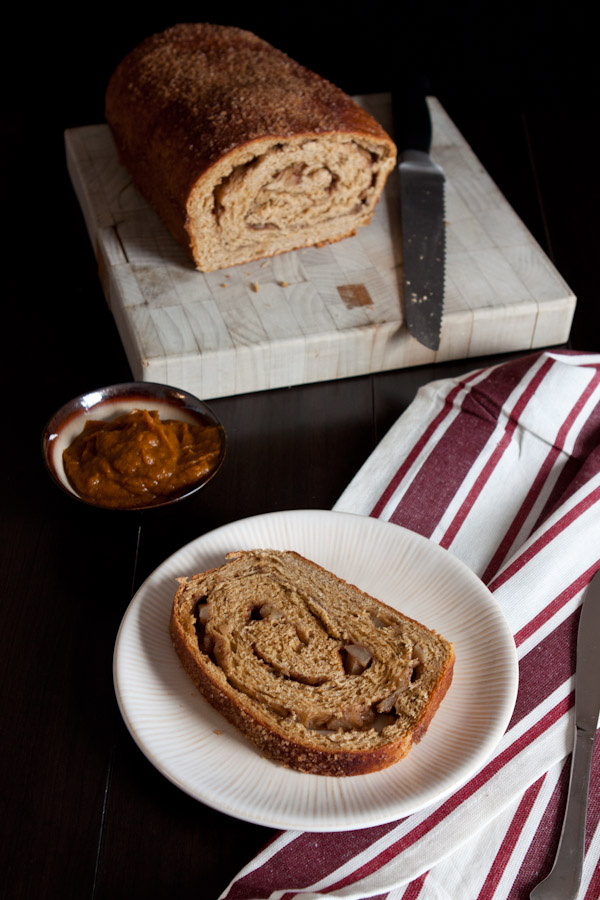 Ingredients
Process