Back to the Cutting Board
Sweet Potato Soup
adapted from Foodnetwork.com [1]
Soup | Servings: 4
Prep time: 5 min | Cook time: 40 min | Total time: 45 min
If you're using leftover sweet potato casserole, you should omit or lessen the amount of sugar and spices you add depending on how much is already in your casserole. This recipe is very easy to adjust to your taste, so after you add the sweet potatoes, just keep tasting it until it has the right amount of sweetness and spice.
Ingredients
1 tbsp.

flour

1 tbsp.

unsalted butter

1 1/2 cups

chicken broth

(or vegetable broth)

1/4 cup

light brown sugar

1 1/2 cups

sweet potatoes

, chopped

2 tbsp.

maple syrup

(optional)

1/8 tsp.

ginger

(increase to 1/4 tsp. if you really love ginger, but I thought 1/4 tsp. was overpowering)

1/8 tsp.

cinnamon

1/8 tsp.

nutmeg

Pinch

of

salt

1/2 cup

skim milk

*

1/2 cup

half and half

*
*Note: You can use any kind of milk, but I would reduce the half and half the creamier it gets, ie use 1 cup whole and no half and half or 3/4 cup 2% and 1/4 cup half and half. In the end you should have one cup of milk in whatever combination you like, but this soup is better the creamier it is.
Process
Add sweet potato chunks to a large pot and cover with water. Bring to a boil and cook, covered, for about 15 minutes or until tender.
In a large, heavy saucepan over medium-low heat, cook the flour and butter, stirring constantly until roux achieves a light caramel color, 5-10 minutes.
Add the broth and brown sugar, bring to a boil, then lower to a simmer.
Stir in the sweet potatoes, syrup and spices, bring to a simmer again and cook for 5 minutes more.
Puree the soup in a blender and return to pot. Add the milk and reheat soup to desired temperature. Serve.
Sweet Potato Rolls
adapted from AllRecipes.com [2]
Bread | Servings: 16-20 rolls
Prep time: 30 min | Cook time: 20 min | Total time: 1 hour 50 min
Ingredients
2 1/4 tsp.

(1 package)

RapidRise yeast

(you can use normal active dry yeast, but this is much faster)

2 tbsp.

sugar

, divided

1/2 cup

warm

water

(110 degrees F)

4 tbsp.

brown sugar

1/2 cup

fresh, cooked and pureed

sweet potatoes

or canned sweet potato puree (I used fresh)

3 tbsp.

butter

, softened

1 tsp.

salt

2

eggs

, slightly beaten

5 cups

flour

, or however much you need (I stopped at about 5, but wound up incorporating more when I was kneading)
Process
Dissolve yeast, warm water, and 1 tbsp. white sugar in a large mixing bowl. Let stand 5 minutes.
Add remaining sugar, sweet potato, butter, salt, and eggs. Mix well. I used my stand mixer, because I think it's easier to mix bread in it, but you can still make this without a mixer.
Add in 4-5 cups of flour. The goal should be to get it form into a ball, but that never really happened for me. I stopped at 5 cups of flour and switched to the dough hook of my mixer and mixed for a few minutes to get it smooth. Turn out on a very floured surface and knead lightly for a few minutes. If you mixed with a dough hook you shouldn't need to do this for too long/at all. The goal is to get smooth dough. Shape into a ball and place in an oiled bowl, turning to coat the surface. Cover and let rise about 1 hour or longer (shouldn't need more than an hour with the RapidRise yeast, but if you have time to let it sit longer, that's better because it will develop more flavor). Alternately, you should be able to make these the night before and let them rise slowly in the fridge. Take them out of the fridge the next day and let stand for an hour before proceeding.
Punch down, and allow dough to rest for 2 minutes. Divide into 16 to 20 balls (it was still sticky, so I had to make sure my hands were covered in flour the whole time), and place on a greased cookie sheet or in a 9×13 inch pan. Allow to rise until doubled.
Bake at 375 degrees (F) for 12 to 20 minutes (depends on how big you made them). Serve warm, topped with butter.
Maple Mashed Sweet Potatoes
from Back to the Cutting Board
Side Dish | Servings: 6-8
Prep time: 10 min | Cook time: 30 min | Total time: 40 min
Ingredients
4 to

5 lbs.

sweet potatoes

1/2 cup

maple syrup

, divided

1 cup

brown sugar

*

1/4 cup

unsalted butter

1/4 cup

heavy cream

or half and half

1/2 tsp.

salt

1/2 tsp.

maple extract

**
*These potatoes are pretty sweet because that's how I like them, but if you don't have big sweet tooth you may want to start with 1/2 cup or 3/4 cup of brown sugar instead of a full cup. At the end, taste the potatoes and stir in a more sugar if necessary.
**This is optional, but the maple extract really pumps up the maple flavor. Vanilla or orange extract also work well.
Process
Peel and cut up sweet potatoes in large chunks. Place in pot and fill with enough water to cover the potatoes. Add 1/4 cup maple syrup and stir. Heat to boiling and cook for 20-30 minutes or until tender.
While the potatoes are boiling, melt the butter, brown sugar, remaining 1/4 cup maple syrup, cream and salt in a small saucepan over medium heat. Bring to boil and cook for about 5 minutes, stirring regularly, until it thickens a little. Set aside.
Once the potatoes are tender, drain all the liquid and return them to the pot. Mash with a potato masher.
Slowly pour in the sugar mixture, a little at a time and stir/mash after each addition. You may not need to use all of the sugar mixture, add enough until it gets to a consistency that you like. Stir in maple extract.
Store leftovers in a sealed container in the fridge for up to a week. Warm up over medium-low heat or in the microwave.
Sweet Potatoes Galore: Soup, rolls and mash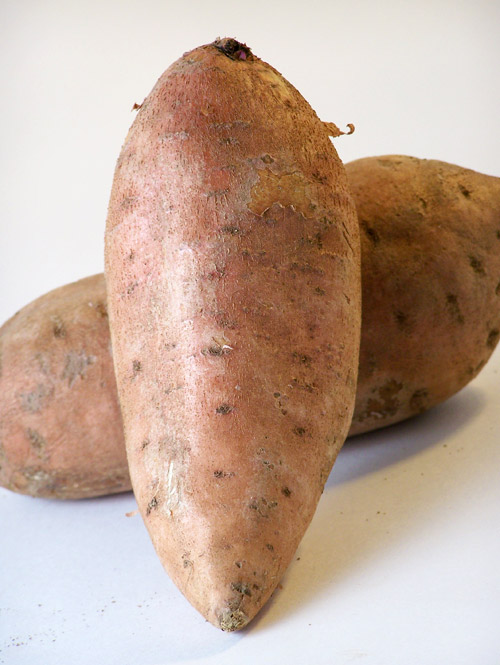 Ingredients
Process