Back to the Cutting Board
Turkey (or Chicken) with Wild Rice Soup
adapted from Cooking Light
Dinner, Soup | Servings: 6-8
Prep time: 15 min | Cook time: 40 min | Total time: 55 min
Ingredients
6-

8 oz.

long-grain and wild rice mix

(like Uncle Ben's)*

1 tbsp.

olive oil

1 1/2 cups

chopped red onion

1 cup

chopped

celery

1 cup

chopped

carrot

1

red or yellow

bell pepper

, chopped

4

garlic cloves

, minced

8 oz.

mushrooms

, halved (I omitted these)

1/4 cup

flour

1/2 tsp.

dried tarragon

2 tsp.

fresh

thyme leaves

or 1/4 tsp. dried thyme

2 cups

water

1/4 cup

dry sherry

4 cups

(2 cans) fat-free, less-sodium

chicken broth

**

1

(12 oz.) can fat-free or regular

evaporated milk

3 cups

shredded roasted turkey or chicken

1/2 tsp.

salt

, or to taste

1/4 tsp.

pepper

, or to taste
* I think some boxes of wild rice come in 6 oz., but I have a big box of it and I make a 1/2 cup serving which is 8 oz. Also, this recipe is referring to a box mix of Uncle Ben's (or a comparable brand) that comes pre-seasoned. You can use plain wild rice instead but it will be a bit blander, so I would recommend increasing the salt and pepper as well as adding in some other spices like garlic and onion powder and anything else you enjoy, like paprika, etc.
** Use your own turkey or chicken stock if you can! My turkey stock was a bit overpowering (and greasy), so I used 2 cups turkey stock plus 2 cups water.
Process
Start cooking rice according to package directions. I subbed some of the water for turkey stock to give the rice even more flavor.
Meanwhile, heat oil in a large pot or Dutch oven over medium-high heat. Add onion, celery, carrot, pepper, garlic and mushrooms. Sauté for 6 minutes or until onion is tender.
Add the flour, tarragon, and thyme into the onion mixture. Cook for 1 minute, stirring frequently.
Pour in the water, sherry, broth, and evaporated milk; bring to a boil. Reduce heat, and simmer for 20 minutes or until slightly thick.
Add in cooked rice, turkey or chicken and salt and pepper. Cook for 10 minutes or until thoroughly heated. Taste and adjust seasoning as necessary.
Note: You can make this ahead of time and reheat but don't add the rice until you are ready to eat since it will absorb a lot of the liquid. If you have leftovers, you can still reheat it the next day, just add in a bit more water or broth.
Roasted Turkey (or Chicken) with Wild Rice Soup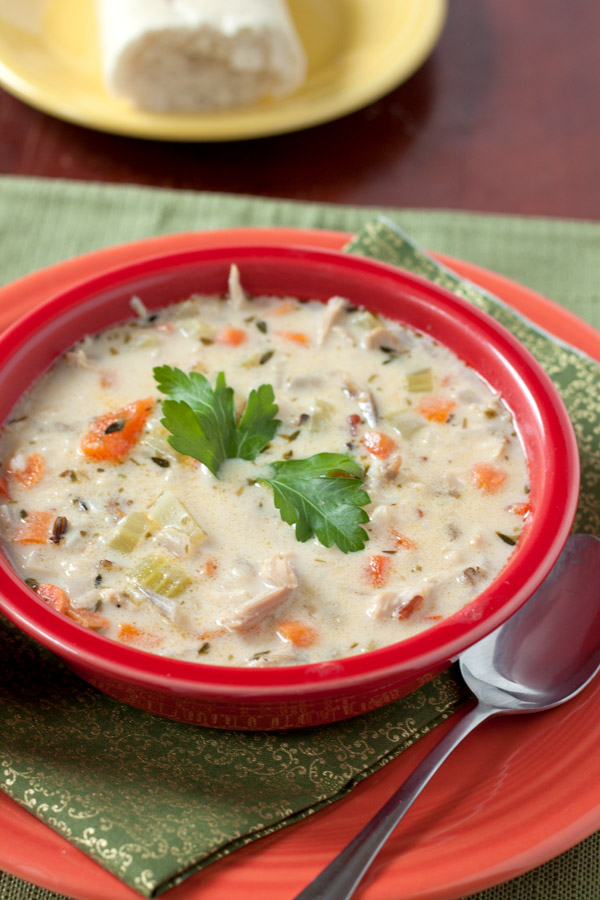 Ingredients
Process