Back to the Cutting Board
Maple Applesauce
adapted from Simply Recipes [1]
This applesauce is very lightly sweetened in order to really let the natural sweetness of the apples shine. You can add some brown sugar if you prefer a sweeter applesauce.
Snack, Dessert | Yield: about 6 cups
Prep time: 10 min | Cook time: 30 min | Total time: 45 min
Ingredients
3 to

4 lbs

peeled, cored, and quartered

apples

*

1 cup

water

1/2 cup

maple syrup

4 strips

of

lemon peel

**
Juice of

1

small/medium

lemon

(about 2-3 tbsp.)

1

cinnamon stick

1/2 tsp.

salt

Optional:

2-4 tbsp.

dark brown sugar
*I started with about 5 lbs. of apples, but it was about 4 lbs. once they were peel and cored. According to this site [2] Fuji and Gala make the best applesauce but other good ones are Golden Delicious, Jonagold, Jonathan or Mcintosh. I've tried it with combinations of Fuji, Gala, Golden Delicious and Granny Smiths. The apples don't have to be peeled, but they'll need to be cooked a bit longer to soften then peels and you'll need to puree the applesauce to break everything up.
**The easiest way to make the strips is to use a vegetable peeler.
Process
Place the apples, water, maple syrup, lemon juice, lemon peel, cinnamon stick and salt in a large pot.
Bring to a boil. Decrease heat and simmer for 20-30 minutes or until apples are tender.
Remove from the stove and fish out the cinnamon stick and lemon peels. (If you're making apple butter right after this, reserve the cinnamon stick for that.) Use a potato masher to mash the apples until chunky.
Taste the applesauce and stir in the additional brown sugar if you want to make it sweeter. Simmer about 10 minutes more to incorporate the sugar.
If you want a smoother consistency (like store-bought), transfer to a blender or food processor to puree. Serve warm or cold. Can be frozen for up to a year.
Maple Apple Butter
adapted from Under the High Chair [3]
Condiment, Sauce | Yield: 1 to 1 1/2 cups
Prep time: 45 min | Cook time: 1 hour | Total time: 2 hours
Ingredients
3 cups

Maple Applesauce

1

cinnamon stick

(optional)

2 tbsp.

maple syrup
Process
Add the maple applesauce and cinnamon stick to a large stainless steel saucepan.
Bring to boil over medium heat. Reduce heat and simmer for 30 minutes, stirring occasionally.
Add maple syrup and cook on low/medium-low heat for another 30-45 minutes or until the the mixture is thick and has darkened in color.
Remove from heat and cool for about 10 minutes. Use a food processor or handheld blender to puree until the apple butter is smooth. It will lighten to a lovely caramel color as you process it.
Spread on bread or toast, mix into yogurt or oatmeal or just eat it by the spoonful! Store in an airtight container in the the fridge for up to a month.
Maple Applesauce & Apple Butter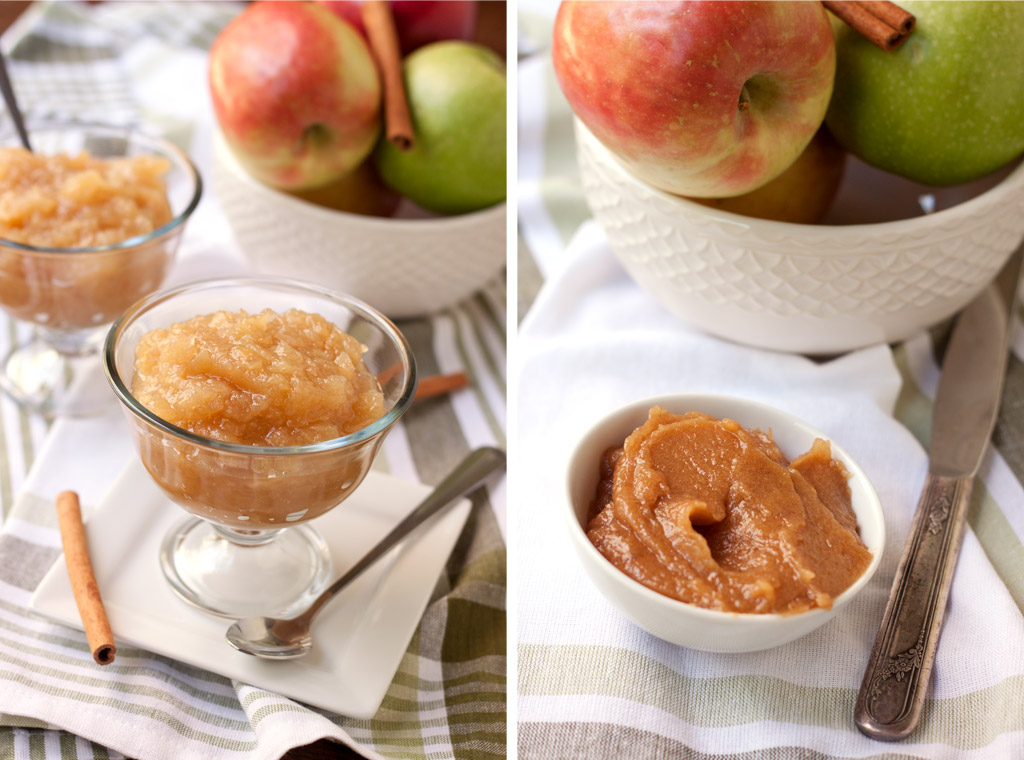 Ingredients
Process