Back to the Cutting Board
Chipotle Chicken Chowder
adapted from Cooking Light
Dinner, Soup | Servings: 8
Prep time: 15 min | Cook time: 1 hour 15 minutes | Total time: 1 hour 30 min
Ingredients
1 can

(7 oz.)

chipotle chiles in adobo sauce

*

1 tbsp.

+ 1 tsp. extra virgin

olive oil

, divided

2 cups

roughly chopped

onion

1 cup

roughly chopped

carrots

1/2 cup

roughly chopped

celery

6

garlic cloves

, crushed

1 tsp.

ground cumin

1/2 tsp.

dried oregano

1/2 tsp.

dried thyme

6 cups

fat-free, less-sodium

chicken broth

1 lb.

skinless,

boneless chicken breast

2

medium

red potatoes

(about 12 ounces), cut into 1/2-inch pieces

1 1/2 cups

frozen

corn

(not thawed)

1/4 cup

heavy cream

3/4 cup

chopped seeded

plum tomato

**

1

chopped red or green

bell pepper

***

1/4 cup

chopped fresh

cilantro

1/2 tsp.

salt

(or more to taste)

8

lime wedges
* If you've never bought these before you can find them with in the same aisle as salsa and other Mexican food.
** Do you know how to seed a tomato? Well, I didn't until recently so don't feel bad if you don't. It's quite easy: Just cut the tomato in half lengthwise and scrape out the insides with a spoon.
*** Feel free to omit the bell pepper, but if you do, double the amount of tomatoes.
Process
Remove one chile (Or two if you like things really spicy. I added an extra half of one the second time I made this recipe and it was almost too spicy for me, but I'll admit to being a wuss with spicy foods.) Finely chop the chile and set aside. Keep the can out because you'll need it later. There will still be a lot of chiles left over, but you can freeze them for another use.
Heat 1 tbsp. oil over medium heat in a large pot (with a lid) or Dutch oven. Add chopped chile, onion, carrots, celery, garlic, cumin, oregano and thyme. Cook 7 minutes or until onion is tender, stirring frequently.
Stir in broth and bring to a boil.
Add chicken; cover, reduce heat to medium-low, and simmer 20-30 minutes or until chicken is tender and cooked through. Remove chicken with a slotted spoon, and cool slightly.
Remove pot from heat to cool for about 5 minutes. Meanwhile, shred chicken with 2 forks. Cover with foil to keep warm.
Place one-third of the cooled broth mixture in a blender; process until smooth. Pour pureed broth mixture into a large bowl. Repeat procedure in two more batches with remaining broth mixture. (This would be much easier if you have one of those handy-dandy hand blenders. I am getting one soon!) Return pureed broth mixture to pan.
Stir in potatoes and corn and bring to a simmer over medium heat. Cook, uncovered, 20 minutes or until potatoes are tender.
Meanwhile, heat 1 tsp. of oil in a small skillet over medium heat. Add chopped bell pepper and cook until tender, about 5 minutes. Remove from heat and set aside.
Stir in chicken and cream, and simmer 5 minutes.
Remove from heat, and stir in 1 tsp. adobo sauce from your can of chipotle chiles (if you don't like things super spicy, start with 1/4 or 1/2 tsp. and taste it). Add in tomato, bell pepper, cilantro, and salt.
Serve with lime wedges. This is also great with cornbread [1].
Chipotle Chicken Chowder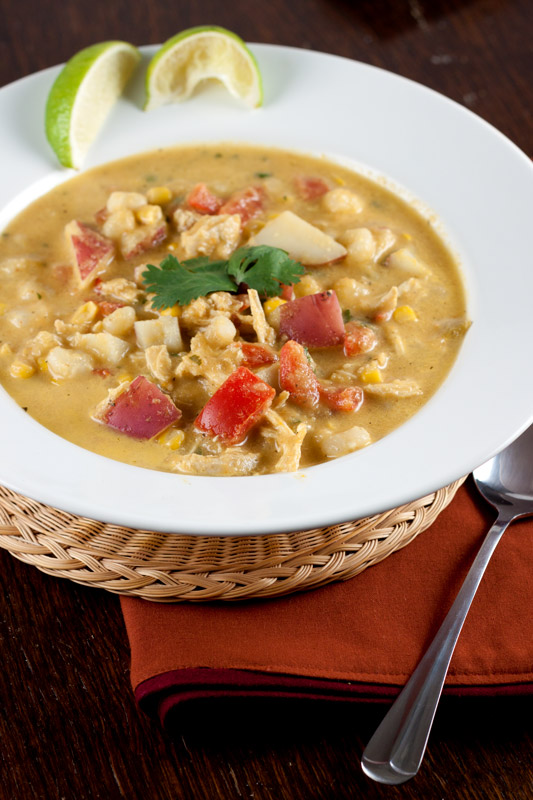 Ingredients
Process