August 14, 2008
When I made my last trek to the grocery store, I was wandering aimlessly around the produce section (as you do) and saw they a large carton of blackberries on sale. I love blackberries and this made me think back to when I was kid living on the Mississippi Gulf Coast. My neighborhood was right across from the beach (I say was because it's not there anymore due to Katrina) and there was house at the front of the street that had been ripped away by one hurricane or another and all that was left was the foundation. Plants and weeds had grown up around the destruction over the years and it was CRAZY with blackberries. I remember riding my bike over there in the summers and picking blackberries and then I brought them home and my mom made a yummy cobbler with them.
August 20, 2009
img class="centered" src="http://farm3.static.flickr.com/2463/3840762246_ddca3e4635.jpg" alt="Light Strawberry-Lemon Muffins" width="500″ height="376″/>
Well, summer is almost over and strawberry season has ended, and every time I go to the grocery store they always seem to be having a sale on their strawberries, obviously trying to get rid of them as fast as possible. But looking closely at the strawberries, many are bruised or mushy and just don't look that great. Definitely not something I'd want to display on a strawberry tart. But I have a hard time passing up such a good deal, so I buy these sad looking strawberries and immediately freeze them when I get home for use in smoothies or granita.
But sometimes this means I'll look in the freezer and see that I have way too many strawberries. I came upon this recipe a while ago when I was looking for a recipe to use up some of these strawberries. It's pretty much the easiest recipe in the world. You mix up the wet ingredients, including the strawberries, in a blender and combine that with the dry ingredients and you're done. It's takes about 5 minutes to make these.
April 6, 2012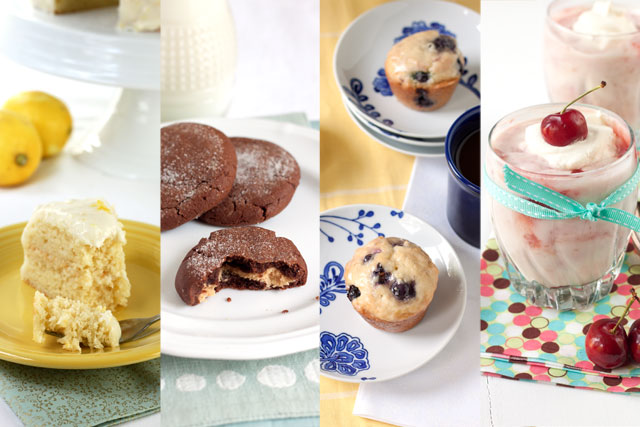 I was hoping to get a new recipe up here this week but several work deadlines haven't left me with much free time. So with Easter coming up I thought it would be a good time to post a round up of my favorite Spring recipes. At the end I also included a few links to fun looking Spring/Easter recipes from some of my favorite food bloggers. Check them out!
I'll be back next week with a new recipe. Hint: it's not very Springy but it'll be great for Cinco de Mayo next month. 🙂
August 28, 2012
The mousse is very simple mixture of lemon curd (which only takes about 15 minutes to make and can be made up to a week in advance) and whipped cream. So simple! I make a big batch of lemon curd at the beginning of the week, then when dessert time rolls around I whip up a little cream and mix in a few heaping spoonfuls of curd. In 5 minutes you have a smooth-silky-light-fluffy-sweet-tart lemony treat. Bonus: the extra lemon curd is fantastic in yogurt, slathered on cake or muffins or just eaten by the spoonful!
And be sure to try this with Meyer Lemons when they're in season again next year. I was lucky enough to find Meyer lemons very late in the season and this was one of the first things I made with them.
August 11, 2011
It's still pretty hot out, but I can't put off posting this recipe anymore. It's worth heating up your kitchen on a hot summer day to make this for dinner. If you've been reading this blog for awhile you may remember last year when I posted a recipe for thyme-roasted chicken and I said it was the best roast chicken I've ever had. I'm not going back on that, in fact I still stand by that statement and I still make it regularly. But. Even the best recipes can get stale if you make them over and over again. That's where this chili-roasted chicken comes in to save the day. Now I alternate between the two recipes so we never get tired of eating either of them!
The thing that attracted me to this recipe in the first place is that the method is really similar to the other recipe but the flavors are completely different. The key in both recipes is to rub the herb/spice mixture underneath the skin, directly onto the meat. That makes the chicken extra tender and flavorful. This recipe uses a spice rub with chili …
October 14, 2008
My boyfriend and I have this inside joke about paprikash and goulash. It makes no sense to anyone but us, but suffice it to say, when I saw a recipe for paprikash, I HAD to save it. I finally got around to making it last week and while I may have made it sort of as joke, it's really good. And easy to make as well.
This recipe is supposed to be made in a dutch oven, but I don't have one (it's on my Christmas list!). I just made it in a skillet and then transferred everything to my 13×9 Pyrex to cook in the oven. Because I was making it in a larger dish, I didn't think there were enough diced tomatoes so I added a second can. But even if I was making it in a smaller dish, I still think I would have doubled it. The picture in the magazine looked like it had WAY more than one can of tomatoes.
November 19, 2010
I tend to stay away from making cakes a lot just because I am not so great with the portion control. But I had been thinking about making a cranberry upside down cake for a while so when I saw it in muffin form I knew I had to try this recipe immediately.
Do you like cranberry sauce? If you do, you'll love these muffins. For the longest time, I absolutely refused to eat cranberry sauce with whole cranberries. I'd only eat the jellied kind that come out of the can…in the shape of a can. I still have that kind at my Thanksgiving, mostly out of tradition, but I make real cranberry sauce, too, and these muffins make me love it even more.
This is a really easy and fast recipe to make and I think the muffins come out so pretty! If you wanted to be a perfectionist, you could cut off the bottoms so they'd sit straight, but it didn't bother me.
September 14, 2010
So I know the actual first day of Fall isn't for a few weeks, but as far as I'm concerned Labor Day is the end of summer. After that it's Fall. Even when it's still 90 degrees outside. A year ago Brandon had just gotten a job here and we were preparing to make the move from Florida to Virginia. I cannot tell you how much happier I am in Virginia and the main reason for that is because of Fall (and Winter, Spring and even Summer). There are actual seasons here! Maybe I'm strange for being so affected by the weather, but I found the static-ness of Florida's temperature and landscape to be utterly depressing (I probably would've felt differently if we had lived closer to the ocean, which I love, but unfortunately we were right in the middle of the state). Since I wasn't here this time last year it's nice to go out and see the beginnings of Fall; leaves are already starting to change color and fall off. In short, I'm really excited about Fall. Probably more excited than …