August 28, 2012
The mousse is very simple mixture of lemon curd (which only takes about 15 minutes to make and can be made up to a week in advance) and whipped cream. So simple! I make a big batch of lemon curd at the beginning of the week, then when dessert time rolls around I whip up a little cream and mix in a few heaping spoonfuls of curd. In 5 minutes you have a smooth-silky-light-fluffy-sweet-tart lemony treat. Bonus: the extra lemon curd is fantastic in yogurt, slathered on cake or muffins or just eaten by the spoonful!
And be sure to try this with Meyer Lemons when they're in season again next year. I was lucky enough to find Meyer lemons very late in the season and this was one of the first things I made with them.
November 23, 2009
By far, the most popular recipe on this site is my Black and White Chocolate Cheesecake Supreme. I actually made it for the first time for Thanksgiving last year and I decided it would be our new Thanksgiving tradition to have cheesecake instead of pie. I'll take cheesecake over pie any day!
But this year, after discovering my love for all things pumpkin flavored, I decided I wanted to attempt a pumpkin cheesecake. But of course, I didn't want to use any other recipes because Brandon and I both think that my Cheesecake Supreme recipe is the best cheesecake we've ever had (other commenters agree, I've had a bunch of people come back after they made it and tell me how much they loved it). I also really like the concept of the black and white chocolate version and wanted to do something like that instead of having just a plain pumpkin cheesecake. In the end, I took my black and white chocolate cheesecake recipe and substituted pumpkin and caramel for the white and dark chocolates, then I topped the whole …
August 6, 2009
I started making a meal plan every week and now that I've been doing it for a little while, I have to wonder why I haven't been doing this all along. It's saving me so much trouble. Here's an example of a typical nightly exchange between me and my boyfriend pre-meal plan:
Me: What do you want for dinner?
Him: I don't know, what do you want for dinner?
Me: Whatever you want.
Him: I want whatever you want.
Me: I forgot to take any meat out of the freezer.
Him: So…pizza or chinese?
It was just unbelievably frustrating and there was no excuse for it other than laziness on our part. Now I've been making a meal plan for the upcoming week on Sunday and then I go to the grocery store and buy only the ingredients I need (so I'm saving some money as well since I'm not buying produce or anything that goes bad before we get a chance to eat it). I have it written out on a big white board in my kitchen, so the night before I'm reminded of what I'm making the …
November 20, 2009
I'll always remember my first Thanksgiving with Brandon when we were living in our first apartment together at the ripe old age of 20 and I didn't really know how to cook anything except brownies. The turkey was the thing I most afraid of. I had always thought that cooking a turkey was so complicated and was surprised to find that it…wasn't. I had much more problems with my stuffing which I completely ruined when instead of using a real actual onion (I think the only vegetables I cooked with back then were potatoes and tomatoes) I put in 1/2 cup (!!) of onion powder. You haven't tasted onion until you put a 1/2 cup onion powder in something. To this day I really can't use onion powder in anything, I think I used up my life quota of it.
But anyway, I think anyone can make a turkey. As long as you keep an eye on it and baste it regularly, there isn't much thought or work involved. And the end product is almost always impressive looking and something that you can feel proud of cooking. …
February 22, 2011
To celebrate Valentine's Day and my birthday, Brandon and I spent a wonderful weekend in a little cottage I rented in the mountains a few hours away. It was such a fun getaway: we did some hiking, we drove around and got lost and we spent a lot of time soaking in the hot tub. When we got back home on Sunday afternoon, I wanted to make myself a birthday cake but after such a relaxing weekend I didn't want to deal with complicated recipes or put time into making something that didn't turn out great. That's why I love the internet and recipe sites with reviews like Epicurious. I mean, if you can find a cake that has 1,400+ mostly raving reviews, that has to be a good cake, right?
I am very glad to have found this recipe because those reviewers were right: I now have my ultimate chocolate cake. I honestly can't imagine another cake being able to surpass it. It's made with coffee and oil which result in an extremely moist and soft, but dense cake. I'm pretty picky about my …
December 15, 2009
Christmas is my favorite time of year and one of the main reasons for that is all the baking I get to do. Even when I didn't cook much, I've always liked to bake and cookies are just about my favorite thing to make. Plus this time of year is the only time besides my birthday and Thanksgiving that I let myself make/eat whatever I want and I don't feel guilty about it. Diets are what January is for. (I've already signed up for Recipe Girl's Ten in '10 challenge!) So expect a bunch of sweet recipes around here for the next few weeks because I'm in the baking mood.
I'm obviously obsessed with black and white desserts, so I knew I had to make these as soon as I saw them. The original recipe isn't very christmas-y, but that was easily remedied with the addition of some peppermint extract to the chocolate cookie dough AND to the fudge frosting in the middle. Don't worry though, these cookies aren't crazy peppermint-y. The vanilla part of the cookie balances out the peppermint …
December 20, 2010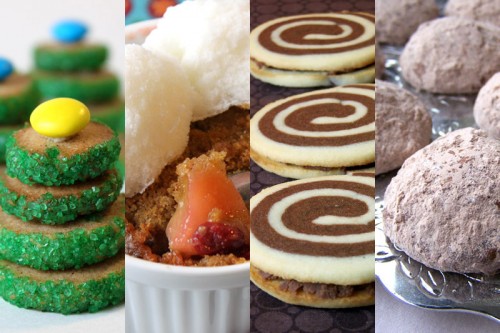 I tried to make a pie for you guys this weekend. I really did. But, it didn't work out. I could post it, but (A) it's really ugly and (B) it's just ok. I think it could be really good, but the recipe needs work and probably a whole different crust (I think it needs to be a tart instead of a pie), so I'll wait to post it until I have it right. But unfortunately, that leaves me with nothing to post this week, so I decided a round up was in order. These are all great choices if you're looking for some last minute cookies or sweets to make. You also may want to check out the Cookies archive as there are a few others I didn't include here.
I have a really awesome dessert I'm planning for Christmas dinner, so I may go ahead and make it early and try to get it posted here, but if I don't, I hope everyone has a lovely weekend! 🙂
December 16, 2010
Finally! I've been looking for this recipe for years and I finally found it. You see, Chicken and Dumplings is my boyfriend's favorite dish and he's always wanted me to make it at home. And I have tried, but the problem is there are lots of different recipes for chicken and dumplings and all the recipes I've tried haven't been "right", according to him.
Here's what the right kind aren't: the kind with actual little round dumplings on top. Because I guess that would just be too easy? I've tried several recipes like that, one from Martha Stewart, and while Brandon agreed that those recipes weren't bad, they still weren't "right".
The right kind of chicken and dumplings are the kind that Brandon's grandmother makes. They are the kind you get at Cracker Barrel. They are true southern style, and they don't actually have dumplings, it's more like slabs of tender and delicious biscuit dough. You could think of them as really big, thick noodles. There are no silly things like vegetables in here, it's just chicken, chicken stock and dumplings. Period. You can eat …