November 21, 2012
November has passed in a flash and here we are, it's almost Thanksgiving! I'm freaking out about this because I just got back from vacation and I'm having a hard time adjusting to normal life again. We spent half the week in a secluded cabin in the Smokey mountains and the other half in Asheville, NC, which is a pretty little town with lots of wonderful restaurants. I had such a good time that I'm already mentally planning a trip back to the same area next year!
I didn't mean to take such a long break from posting but between work deadlines and vacation it didn't leave much time for cooking this month. But thanks to how easy this recipe is, I did have a chance to whip up this delicious drink in my spare time. I wanted to post it before Thanksgiving because it's easy to make ahead of time and would be an excellent addition to any holiday get-together, particularly if you serve a nice piece of pie along with it.
August 1, 2008
I just rediscovered pot roast and I really like it. See what happened was, at some point in my childhood I decided I didn't like beef. I don't know why. There's no rhyme or reason when you're a kid, you just decide things like that. I wasn't a vegetarian and it's not like I never ate beef (I'd never turn down a hamburger), but I just refused to eat most dishes made with beef.
Slowly, I've been adding more beef back into my life. I like steak and I use ground beef for a lot of dishes. When I saw this recipe, it made me remember that my mom used to make Pot Roast all the time and I liked it. So why did I stop eating it? I guess maybe I thought it would be too complicated to make, but it's really not. It's quite easy to put together and then you just let it cook for a few hours. My mom made hers in a crockpot; I don't have one, but it seems just as easy on the stove. I guess Pot Roast …
November 12, 2009
Remember when I said I wanted to try out more things with pumpkin in them. Well, be prepared because I've gone a little pumpkin crazy. I had a giant can of pumpkin pie mix that I used for those cupcakes and still had a bunch left over afterward so I went in search for some muffins to use up the rest. But those cupcakes were decidedly not good for you and I wanted to make something that I wouldn't feel guilty about eating. But it still needs to taste good, you know? Well, this recipe totally satisfies both of those requirements.
Basically, I found a recipe that sounded good and I "healthed" it up. I replaced some of the white flour with wheat flour and I substituted the oil with applesauce. That might make these sound kind of boring, but it's the streusal that makes them awesome. That's the only part that I didn't try to fix. In fact, I doubled the amount of streusal because it's the best part. Even doing that, these are still only about 2 …
April 6, 2012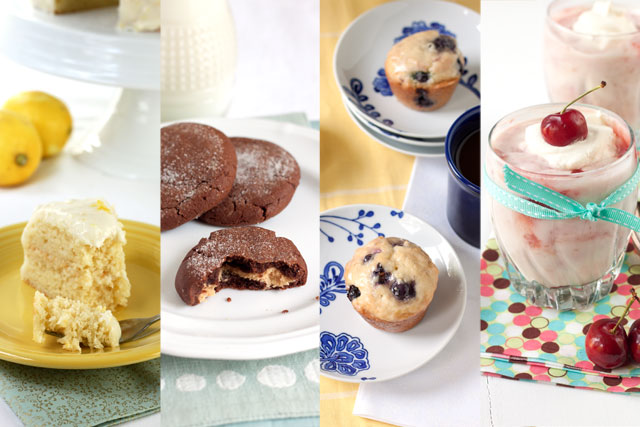 I was hoping to get a new recipe up here this week but several work deadlines haven't left me with much free time. So with Easter coming up I thought it would be a good time to post a round up of my favorite Spring recipes. At the end I also included a few links to fun looking Spring/Easter recipes from some of my favorite food bloggers. Check them out!
I'll be back next week with a new recipe. Hint: it's not very Springy but it'll be great for Cinco de Mayo next month. 🙂
March 21, 2012
Spring is officially here! And in the spirit of spring cleaning I've started going through my packed freezer to finally use up the last of the fruit that I froze last year. I got a ton of blueberries and blackberries from my CSA and have been using them in muffins all winter but after last week's Pop Tart adventure I didn't really want muffins or anything too carb-y. I've been craving a lemon dessert lately and lemons always pair well with berries so this was the perfect opportunity to finally make something.
Even though lemons are technically a summer fruit, there's really nothing else that evokes Spring to me as much as a lemon. It's just so fresh and bright, like the colorful blooms that are popping up all around my neighborhood these days. It's the perfect thing to help transition between the stark coldness of winter and the hot sunniness of summer.
I had bookmarked a recipe for lemon cream a while ago so I finally decided to give it a try. The recipe turned out to be so simple and tasty that I immediately made another …
January 10, 2011
Happy New Year, everyone! It's time for my semi-annual I'm-going-to-get-in-shape-I-really-mean-it-this-time, so you'll have to indulge me while I post some healthier recipes over the next few months. (Don't worry, there will still be treats! I'd never give up dessert, I just find ones that aren't as bad for you.) Honestly, I really overindulged on cheesecake and cookies last month, so I'm ready to get back to eating better and eating less processed food. I've been eating a piece of fruit for dessert every day this past week and it's been perfection.
I'm always looking for easy things to have in the morning with my coffee and muffins are definitely my favorite. Unfortunately, a lot of muffin recipes are not that healthy. And of course, my favorite kinds of muffins have things like streusal on them which make them even worse for you. These muffins surprised me because they contain healthy, but not tasty, sounding things like whole wheat flour, flaxseed and oats and yet they are delicious.
March 29, 2011
It feels weird to be posting a soup recipe when it's almost April, but it actually snowed in Charlottesville this past weekend so Spring isn't quite here yet, at least for many of us in the top half of the country. And you know what? That's kind of okay with me. Spring is beautiful time of year up here, but I actually prefer cold weather. Plus I get to eat more soup! I don't think there's anything I love more than soup (well anything that doesn't have sugar in it, anyway).
During the colder months I make soup at least once a week, but I've been making it less in the past few months. So last week when the temperature dropped and brought rain and snow with it, I knew I had to make some soup. I figure it's my last chance before it gets too warm. I recently had some potato soup at Panera Bread and it made me remember how much I love it, so I decided to improvise my own version at home. I love spicy soup like my favorite Chicken …
March 2, 2011
I generally put a lot of effort into making dinner. I comb through my cookbooks and bookmarks to come up with a meal plan every week and I try to make dinner most nights so that we won't go out to eat instead. Brandon is a good sous chef and helps me prep everything, but sometimes I'm just not in the mood to put in all the effort, so over the past couple of years I have gathered a bunch of go-to recipes just for this occasion. I keep the ingredients in stock so that if I'm tired or I forgot to defrost the meat for my planned recipe or whatever else goes wrong, I can pull them out and have dinner within an hour. This is one such meal and probably the one I default to the most. I realized I had never blogged about it, which felt weird since we eat it so much. But I think it's because these chicken tenders are so good that I've never wanted to bother with photographing them when I could be eating them …