Back to the Cutting Board
Tandoori Chicken with Apple Slaw
Adapted from Everyday Food: Great Food Fast from the kitchens of Martha Stewart Living [1]
Ingredients
1/2 cup plain low-fat yogurt
2 tbsp. lemon juice
1 garlic clove, minced
1 tsp. tumeric
1 tsp. ground ginger
2 tsp. salt
1/4 tsp. pepper
1/8 tsp. cayenne pepper
12 chicken tenderloins or 4 bone-in skinless chicken breast halves
Apple Slaw
2 small granny-smith apples (I've used 1 large golden delicious with success as well, it's sweeter but less tart)
1 tbsp. lemon juice
1/2 cup plain low-fat yogurt
1 tbsp. fresh cilantro (I didn't have any fresh so I omitted it, I think this is mainly for added color)
Process
1. Preheat oven to 450 degrees (F) for tenders or 475 degrees for breasts.
2. In a large bowl, stir together yogurt, garlic, tumeric, ginger, salt and pepper.
3. Add the chicken and coat with mixture.
Note: If you have the extra time, cut some slits into the chicken, cover the bowl or else put everything in a large plastic bag and let marinate for at least an hour or up to a whole day.
4. Place chicken on a baking sheet. For tenders, bake for 12-15 minutes (be careful about overcooking, they'll get dried out). For breasts, 25-30 minutes or until the internal temperature is 160 degrees (F).
5. While chicken is baking, peel the apple and grate (larger/courser is better, so don't use a microplane grater) into a bowl.
6. Add the lemon juice, yogurt and cilantro. Mix well. Keep chilled in fridge until the chicken is ready. If it gets too watery from sitting for too long, put in a strainer and drain some of the liquid out.
Serve with rice and the slaw on the side.
Serves 4
Tandoori Chicken Tenders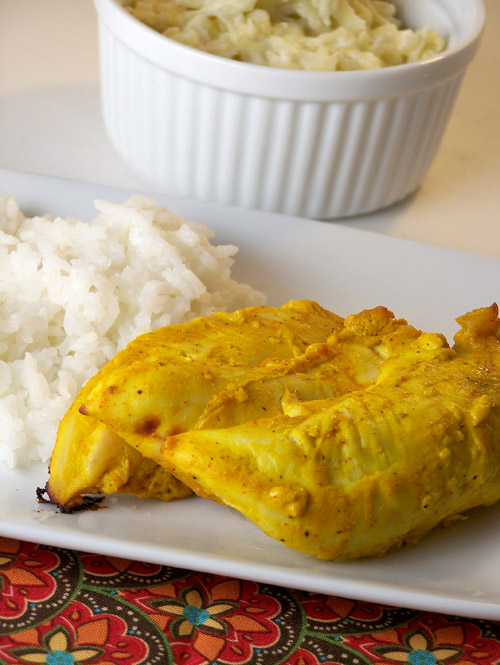 Ingredients
Process