Back to the Cutting Board
Stuffed Poblanos
adapted from Everyday Food: Fresh Flavor Fast [1]
Dinner, Vegetarian | Servings: 4
Prep time: 20 min | Cook time: 1 hour | Total time: 1 hour 30 min
Ingredients
1 can

(28 oz.)

whole tomatoes in puree

1

jalapeno

, minced (remove ribs and seeds for a milder sauce)

2

small

onions

, chopped, divided

3

garlic cloves

(2 whole, 1 minced)

1/2 tsp.

salt

, or to taste

1 can

(19 oz.)

black beans

, rinsed and drained*

1/2 cup

yellow cornmeal

1 cup

shredded

pepper jack cheese

, divided

1 tsp.

cumin

1/4 tsp.

pepper

, or to taste**

1/4 cup

chopped

cilantro

(optional)

3/4 cup

water

4

large

poblano chiles

, halved lengthwise (stems left intact), ribs and seeds removed
*Be sure to check the size of the can. I could only find 15 oz. cans of black beans, so I wound up using two. I love black beans and didn't mind having more, though I had some extra leftover that I couldn't fit into the overstuffed poblanos.
**If you like things really spicy, I'd recommend adding in some of your favorite spices like cayenne pepper, chipotle, etc.
Process
Preheat oven to 425 degrees (F).
In a blender or food processor, puree tomatoes, minced jalapeno, half the onions, and 2 whole garlic cloves. Season with 1/4 tsp. salt; taste and add more if necessary. Pour sauce into a 9×13 in. baking dish. Set aside.
In a medium bowl, combine beans, remaining onions, minced garlic, cornmeal, 1/2 cup cheese, cumin, cilantro and 3/4 cup water. Season with 1/4 tsp. salt and 1/4 tsp. pepper (or more to taste).
Stuff poblano halves with even amounts of the bean mixture. Nestle them side-by-side in the baking dish, over the sauce. Sprinkle the poblanos with remaining 1/2 cup cheese (I used more than that, you can't go wrong with more cheese).
Cover the baking dish tightly with aluminum foil. Bake for 45 minutes or until poblanos are tender. Uncover and continue to cook until sauce is thickened slightly and cheese is browned, about 10 to 15 minutes more. Let cool for 10 minutes.
Nutrition info:

Serving size: 1 poblano
Calories: 327 calories
Fat: 10.2g
Carbohydrates: 35.9g
Fiber: 10.6g
Protein: 8g

Stuffed Poblanos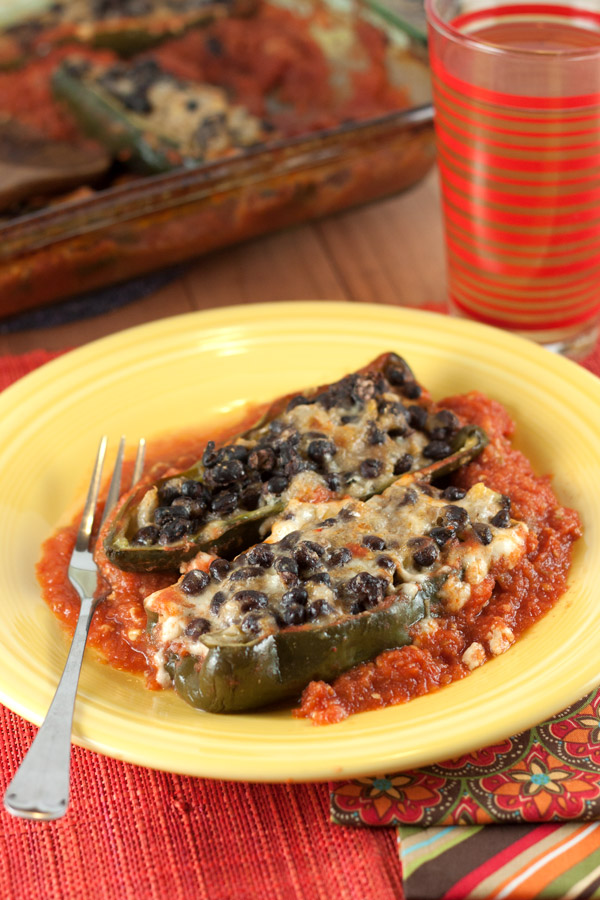 Ingredients
Process