Back to the Cutting Board
Note: If you plan on making these two recipes together, you will notice there is a temperature issue in that the tenders cook at 50 degrees more than the potatoes. What works for me is to set the oven to 425 degrees, which is right in middle. I cook the potatoes for a little less time: about 35 minutes, and the chicken for a little more time: 25-30 minutes.
My strategy:
-Prepare the potatoes
-Prep your buttermilk and panko
-Put the potatoes in the oven
-Prepare tenders so they can stand for the required 10 minutes
-Bake chicken along with the potatoes for the remaining 25 or so minutes
Check regularly (especially near the end) so you can make sure nothing gets over/under cooked. If the potatoes start getting burnt around the edges, remove them from the oven and cover with foil to keep warm.
Spicy "Fried" Chicken Tenders
adapted from Cooking Light: Fresh Food Fast [1]
Dinner | Servings: 3-4 servings
Prep time: 15 min | Cook time: 23 min | Total time: 38 min
Ingredients
1 1/2 cups

panko

(Japanese breadcrumbs)

1/4 tsp.

salt

1/4 tsp.

pepper

2 –

3 tsp.

(depends on how spicy you like things)

chipotle/southwestern/cajun spice mix

(like Ms. Dash)*

3/4 cup

low-fat or nonfat

buttermilk

1 1/2 lbs.

chicken breast tenders

(about 12)
*Note: Feel free to omit the chipotle spice, they are just as good plain.
Process
Preheat oven to 450 degrees (F).
Pour buttermilk into a shallow dish. Pie plates work perfectly for me.
Combine panko, salt, pepper and chipotle spice in another shallow dish.
Dip each tender in the buttermilk and then dredge in the panko mixture, pressing firmly on both sides to cover well. Shake gently to remove excess and place on a wire rack. Let stand for 10 minutes.
Put a jellyroll pan/cookie sheet into your oven to heat up while the chicken stands.
Coat chicken well with cooking spray. Remove the hot pan from the oven and coat that with cooking spray, too. Transfer the chicken to the pan.
Bake for 23 minutes or until chicken is lightly browned. Serve immediately.
Nutrition info:

Serving size: about 3 chicken tenders
Calories: 310 calories
Fat: 3g fat
Carbohydrates: 23.8g carbs
Fiber: .8g fiber
Protein: 44g protein

Glazed Sweet Potato Sticks
adapted from Cooking Light Complete Cookbook [2]
Side Dish | Servings: 4-6 servings
Prep time: 10 min | Cook time: 40 min | Total time: 50 min
Ingredients
2 lbs.

sweet potatoes

, peeled and cut into 1/2 inch square sticks or wedges*

2 tbsp.

butter

, divided

6 rounded tbsp.

brown sugar

, divided
Optional:

cinnamon

, nutmeg, ginger, etc.
*Note: I've found the easiest way to do this is to cut off the ends and sides of the potato so that it's a big rectangular block. Then you can easily slice it in 1/2 thick strips and cut them up into sticks. You can then slice up the remaining potato that you trimmed off or discard it.
Process
Preheat oven to 400 degrees (F).
Place sweet potato sticks in a single layer on a jellyroll pan or baking dish. You may need more than one pan to fit them all, but they can be squished together as long as they stay in a single layer.
Cut 1 tbsp. butter into 6 small squares and place them all around the pan of potatoes. Sprinkle on 3 tbsp. brown sugar and any spices you like.
Bake for 20 minutes. Remove from oven and stir the potatoes to coat well with the melted sugar and butter. Pat them back into a single layer and sprinkle with the remaining butter (cut up into small pieces like before) and brown sugar.
Bake for an additional 15-20 minutes or until the potatoes are tender and are starting to brown on the top and edges. Serve immediately. The glaze will become sticker as they cool and they can become harder to remove from your pan.
Nutrition info:

Serving size: about 2/3 cup
Calories: 182 calories
Fat: 3.9g fat
Carbohydrates: 36.1g carbs
Fiber: 3g fiber
Protein: 1.7g protein

Spicy "Fried" Chicken Tenders with Glazed Sweet Potato Sticks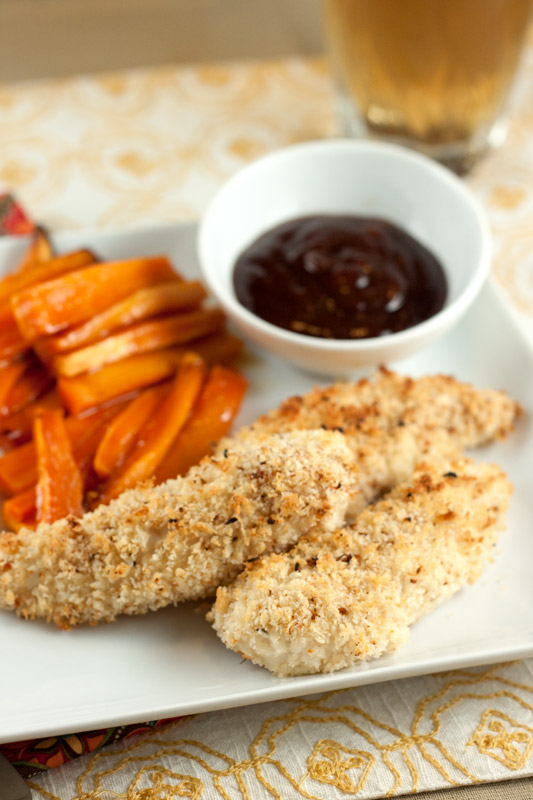 Ingredients
Process