Back to the Cutting Board
Shrimp Etouffee
adapted from Cooking Light Comfort Food [1]
Dinner | Servings: 6
Prep time: 30 min | Cook time: 30 min | Total time: 1 hour
Ingredients
4 cups

fat-free, low-sodium

chicken broth

1 tsp.

dried thyme

1 tsp.

dried basil

1

bay leaf

1/3 cup

unsalted

butter

, divided

1/2 cup

(about 2.25 oz.)

flour

1 1/2 cups

chopped

onion

2/3 cup

diced

celery

1/2 cup

chopped

red bell pepper

1/2 cup

chopped

green bell pepper

3/4 cup

water

1/4 cup

tomato paste

1 tbsp.

salt-free

Cajun seasoning

1 1/2 tsp.

minced

garlic

1/4 tsp.

salt

1/4 tsp.

pepper

1/4 tsp.

cayenne pepper

1 tsp.

Worcestershire sauce

1/2 cup

chopped

green onions

1/2 cup

chopped fresh

flat-leaf parsley

, divided

1 lb.

medium

shrimp

(about 30), peeled and deveined

4 cups

hot cooked

long-grain rice
Process
Add chicken broth, thyme, basil and the bay leaf to a small saucepan over medium heat; bring to simmer. Cover and remove from heat.
Not sure if your roux is done? Check out these photos of a roux from start to finish [2]. Melt 4 tablespoons (1/2 stick) of butter in a heavy-bottom saucepan over medium heat. Stir in flour and cook about 8 to 10 minutes, whisking constantly. The roux should be a very brown mahogany color. Remove from heat. Add 1 cup of the broth mixture and whisk until smooth. Whisk in the remaining broth mixture until smooth. Set aside.
In a large dutch oven or heavy-bottomed pot, melt 1 tablespoon plus 1 teaspoon of butter (I increased this to 2 tbsp.) over medium-high heat. Add onion, celery and peppers and cook, stirring occasionally, for 10 minutes or until the onions are golden brown. Stir in water, scraping the pan to loosen any browned bits.
Add tomato paste, cajun seasoning, garlic, salt and both ground peppers. Cook 1 minute, stirring constantly.
Stir in the reserved roux-broth mixture and Worcestershire sauce; bring to simmer. Cook 10 minutes, stirring occasionally.
Add green onions, 1/4 cup parsley and shrimp. Cook 3 minutes or until shrimp are done. Discard bay leaf.
Serve over cooked rice. Sprinkle with remaining parsley, if desired.
Nutrition info:

Serving size: About 1 1/4 cups étouffée and 2/3 cup rice
Calories: 395
Fat: 12.2g
Carbohydrates: 47.9g
Fiber: 3.6g
Protein: 22.6g

Lighter Shrimp Étouffée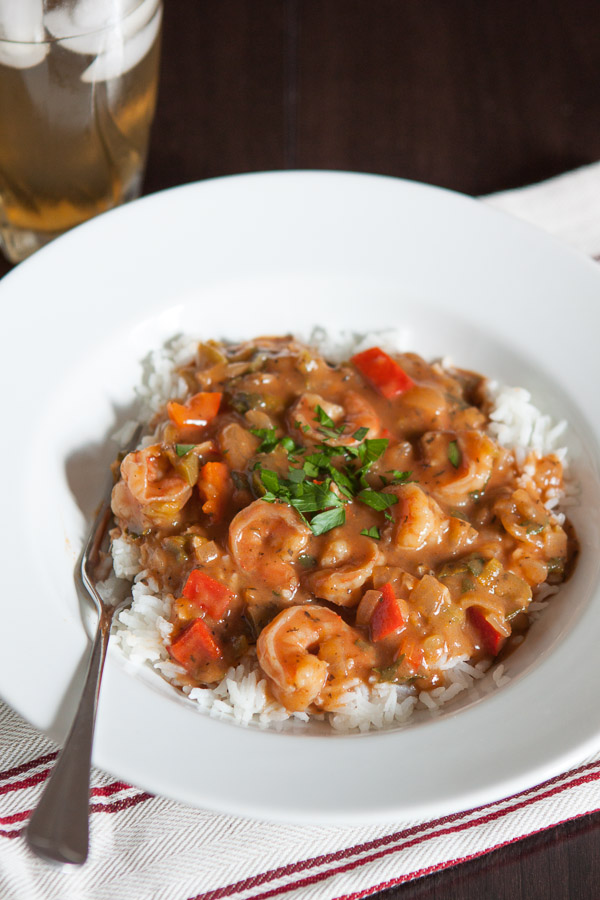 Ingredients
Process