Back to the Cutting Board
Lasagna Rolls with Roasted Red Pepper Sauce
adapted from Cooking Light Complete Cookbook [1]
Dinner | Servings: 4
Prep time: 30 min | Cook time: 5 minutes | Total time: 35 min
Ingredients
8

uncooked

lasagna noodles

4 tsp.

olive oil

1/3 cup

finely chopped

onion

1 (8 oz.) package

sliced

mushrooms

(I left these out)

1 (6 oz.) package

fresh baby spinach

3

garlic cloves

, minced

1/2 cup

mozzarella cheese

, shredded

1/2 cup

part-skim ricotta cheese

4 tbsp.

fresh basil

, minced

1/2 tsp.

salt

1/4 tsp.

crushed red pepper
Roasted Red Pepper Sauce
1 tbsp.

red wine vinegar

1/4 tsp.

salt

1/4 tsp.

pepper

2

garlic cloves

, minced

1 (14.5 oz.) can

diced tomatoes

, undrained

1 (7 oz.) bottle

roasted red bell peppers

, undrained

1/8 tsp.

crushed red pepper
Process
Cook lasagna noodles according to package directions. Drain and gently rinse with cold water.
While the noodles are cooking, prepare the sauce. Put all ingredients for the sauce in a blender and process until smooth. Set aside.
Heat olive oil in a large skillet over medium-high heat. Saute onion, mushrooms, spinach and garlic for 5 minutes.
Remove from heat and stir in cheeses, 2 tbsp. basil, salt and crushed red pepper.
Place the cooked noodles on a flat surface and spread 1/4 cup of the cheese mixture on top of each noodle. Roll up each noodle and place seam side down in a shallow 2 quart microwave-safe dish. Pour 1/4 sauce over each roll.
Cover dish with plastic wrap and microwave for 5 minutes or until thoroughly heated. Sprinkle with remaining 2 tbsp. of basil.
Oven-Roasted Green Beans
adapted from Cooking Light Complete Cookbook [1]
Side Dish, Vegetable | Servings: 4
Prep time: 5 min | Cook time: 10 min | Total time: 15 min
Ingredients
1 lb.

green beans

, trimmed

2 tsp.

olive oil

1/2 tsp.

salt

1/8 tsp.

pepper

2 tsp.

fresh

lemon juice
Process
Preheat oven to 475 degrees (F). (Note: I think this is a bit too hot. I've been doing it it 450, but my oven might run hot.)
In a large bowl, combine beans, olive oil, salt and pepper and toss well to coat.
Arrange in a single layer on a baking sheet coated with cooking spray. Bake for 10-12 minutes or until tender, turning once.
Remove from oven, add lemon juice to beans and toss. (Note: I've made these 4-5 times already and have forgotten to add the lemon EVERY. SINGLE. TIME. I think when they come out of the oven my mind goes blank and all I can think is WANT TO EAT NOW. Anyway, these still taste absolutely wonderful without lemon if you don't have any.)
Lasagna Rolls with Roasted Red Pepper Sauce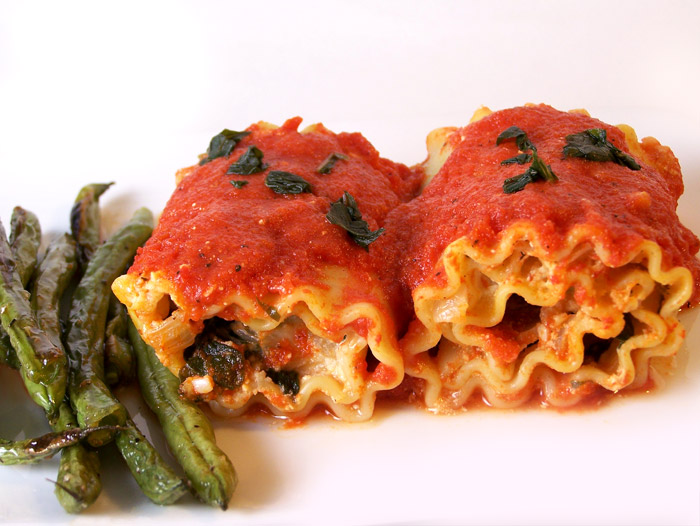 Ingredients
Process