Back to the Cutting Board
Garlic Roasted Chicken with Gravy
adapted from Weight Watchers New Complete Cookbook [1]
Dinner | Servings: 4
Prep time: 10 min | Cook time: 1 hour 30 min | Total time: 1 hour 55 min
Ingredients
3 1/2 lb.

whole chicken

1

lemon

, halved

1

onion

, halved

4 sprigs

fresh

rosemary

6

garlic cloves

, peeled

1/2 tsp.

salt

(kosher/sea is best)

1/4 tsp.

pepper

1 cup

low-sodium

chicken broth

2 tbsp.

fresh

lemon juice

1 tbsp.

cornstarch

or arrowroot

3 tbsp.

white wine

1

shallot

, finely chopped (I omitted this)

1/4 tsp.

dried sage

1/4 cup

water
The Process
Preheat the oven to 400 degrees (F); spray a roasting pan with non-stick spray (if your roasting pan has a rack, spray that as well). Remove the giblets and neck. Rinse chicken inside and out under cold water; pat dry.
Place the lemon, onion, rosemary, thyme, and 5 of the garlic cloves in the body cavity. Place the chicken, breast-side up, in the roasting pan. Sprinkle with 1/4 tsp. of salt and pepper and rub it in a bit. Roast 30 minutes.
Pour the broth and lemon juice over the chicken. Reduce the oven temp to 325 degrees. Roast for about an hour, basting every 10-15 minutes, until cooked through and the juices run clear when the thigh is pierced in the thickest part, and a thermometer inserted in the thigh registers 180 degrees. Transfer chicken to cutting board; let stand 15 minutes.
Meanwhile, mince the remaining garlic clove. Pour the pan juices into a medium saucepan, skimming off any fat (there really wasn't a lot so I didn't bother) and reserving 1 tbsp. of the juices in a small bowl. Dissolve the cornstarch in the small bowl of reserved liquid. Add the wine, minced garlic, shallot, sage, 1/4 tsp. salt, and water to the saucepan; bring to a boil and boil for 5 minutes. Reduce the heat to low and whisk in the dissolved cornstarch; cook, stirring constantly, until the gravy thickens, about 1 minute. Remove the lemon, onion, and herbs from the cavity and discard; carve the chicken and serve with gravy.
Note: Obviously, you'll want to remove/not eat the skin if you're trying to cut the most calories/fat, but otherwise leave it on because it's yummy!
Nutrition info:

Serving size: 1/4 chicken with 1/4 cup gravy
Calories: 311
Fat: 12g
Carbohydrates: 4g
Fiber: 0
Protein: 45g

Garlic Roasted Chicken with Gravy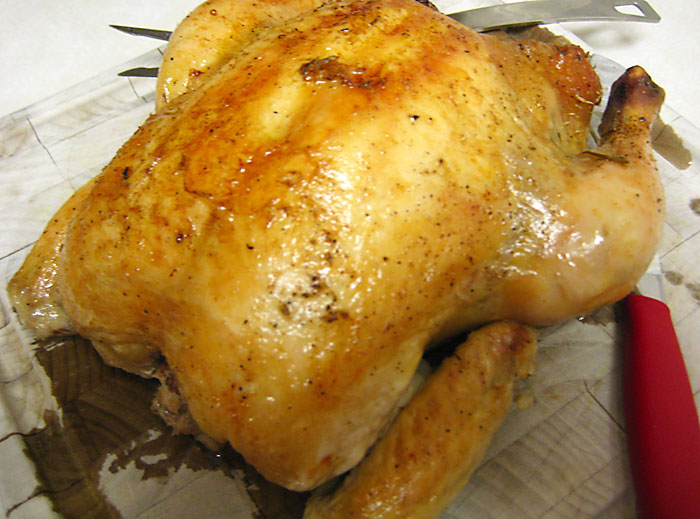 Ingredients
Process