Back to the Cutting Board
Easy Enchiladas
adapted from Weight Watchers New Complete Cookbook [1]
Dinner | Servings: 2-3
Prep time: 30 min | Cook time: 25 | Total time: 55 min
Ingredients
2 tsp.

canola oil

1/2 lb.

boneless, skinless chicken

cut into strips* (about two cups)

1

red bell pepper

, seeded and chopped

1

onion

, finely chopped

1 tsp.

chili powder

**

1/2 tsp.

cumin

**

1 can

diced tomatoes with chiles

, drained

1 can

black beans

(and/or pinto beans if you like those), rinsed and drained

1/8 tsp.

pepper

6

(6-inch)

tortillas

1/2 –

1 1/2 cups

4-cheese Mexican blend

(or Monterey Jack, Cheddar, etc.)
*To make this easier you can use pre-cooked and already flavored chicken.
**Reduce the spices by half if using pre-seasoned chicken or if you want it to be less spicy.
Process
Preheat the oven to 350 degrees, spray a 9×13 casserole dish with nonstick spray. In a large skillet, heat the oil. Saute chicken, bell pepper and onions until browned, 6-8 minutes. Add the chili powder and cumin; cook, stirring, 1 minute. Stir in tomatoes, beans and pepper. Reduce heat and simmer 5 minutes.

Place a tortilla in the dish and spoon in the chicken mixture down the middle. Roll into cylinder, place seam-side down in the dish. Repeat with all tortillas. Depending on how full you like your enchiladas, you may have more chicken mixture left. I always do. No need to waste it! Just spoon it over the top of the enchiladas.

Finally, sprinkle with cheese.

Note: This is obviously where most of the fat comes from. This recipe is from the Weight Watchers cookbook, so they only recommend 1/2 cup of cheese (and the low-fat kind to boot), so if you are counting calories that's an option. If you like cheese as much as I do, then you'll probably just want to sprinkle enough cheese on top to cover the whole dish. More calories, obviously, but I think it's worth it.

Cover with foil. Bake for 15 minutes. Remove the foil and bake until heated through, the edges are crispy and the cheese is melted. I find the less cheese you have, the less time it needs to cook; about 20-25 minutes if using the minimum amount of cheese, 25-35 minutes for more. Let stand 5-10 minutes before eating. Serve with some refried beans. Yum!
Easy Enchiladas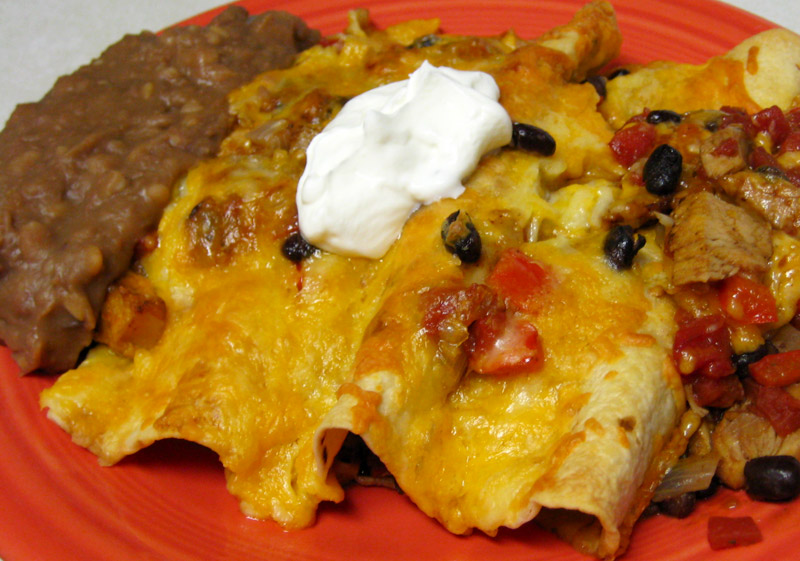 Ingredients
Process
This recipe was published @ https://backtothecuttingboard.com/dinner/easy-enchiladas/
Copyright © 2021 Back to the Cutting Board. All rights reserved.