Back to the Cutting Board
Barbecue Pulled Chicken Sandwiches
adapted from The Kitchn [1]
Dinner | Servings: 8 to 10
Prep time: 15 min | Cook time: 1 hour 30 min | Total time: 1 hour 50 min
Ingredients
3 to

4 lbs.

boneless skinless chicken thighs

2 tsp.

olive oil

1

large yellow or vidalia

onion

, diced

3 cloves

garlic

, minced

2 tsp.

smoked paprika

2 tsp.

salt

1/4 tsp.

pepper

1 1/2 cups

(12 oz.) of your favorite homemade or store-bought

barbecue sauce

(I like Sweet Baby Rays)
Process
Preheat oven to 325 degrees (F).
In a dutch oven or oven-safe pot with a lid, heat oil over medium heat. Add the onion and garlic and cook for 5 minutes or until soft. Stir in the paprika.
Pat the chicken dry and add each piece to the pot, stirring to mix with the onion. Sprinkle with salt and pepper and stir well.
Pour the barbeque sauce into the pot and bring to a simmer. Turn off heat and cover the pot with a lid. Transfer to the oven and bake for 90 minutes or until the chicken is tender and falling apart.
Place the pot back on the stove and use a slotted spoon to transfer the chicken to a large bowl or cutting board. Shred the chicken with two forks.
Meanwhile, bring the remaining sauce in the pot to a boil. Continue cooking, uncovered, until the sauce is reduced by half. The thickened sauce can be stirred into a bowl with the shredded chicken or served separately.
Serve with buns and extra barbecue sauce.
Refrigerate in an air-tight container for up to 3 days or freeze for up to 3 months.
Recipe Notes:
To make this in a slow cooker, follow steps 2 through 4 but put everything in your slow cooker instead of the oven. Cook on Low for 5 to 7 hours. If desired, remove the chicken as directed and transfer the sauce back to a pot on the stove to thicken it.
You can use a mixture of chicken thighs and breasts if you want. I find that the breast meat is less tender than thigh meat so I prefer to use all chicken thighs.
Easy Barbecue Pulled Chicken Sandwiches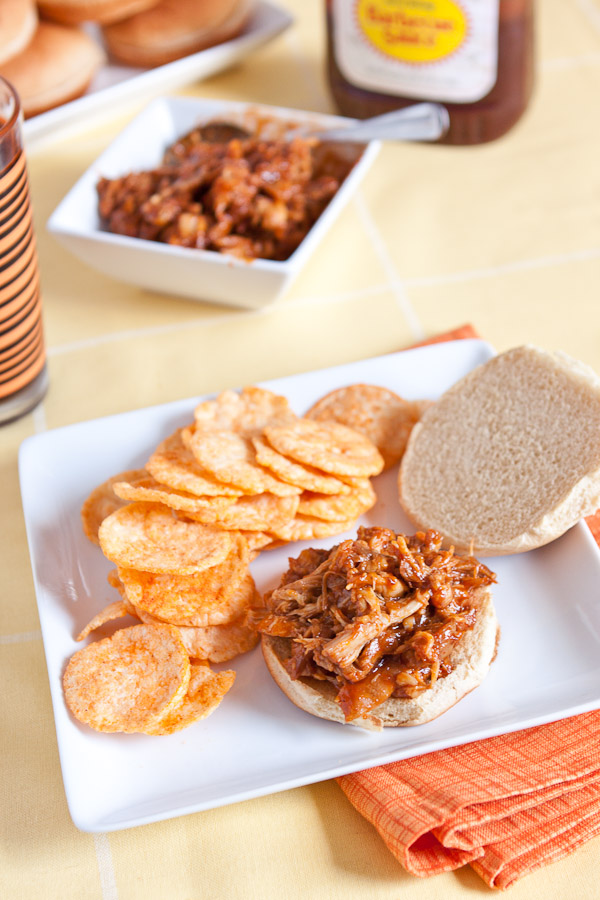 Ingredients
Process