Back to the Cutting Board
Watermelon Lemonade Sorbet or Popsicles
adapted from Eating Well [1]
Dessert | Servings: 6
Prep time: 15 min | Total time: 1 hour 30 min – 6 hours
Ingredients
6 cups

watermelon chunks

(seedless watermelon is best)
1 –

1 1/2 cups

(about 3-5 lemons) fresh

lemon juice

*
3/4 –

1 cup

sugar

**

1 envelope

unflavored gelatin

1 cup

boiling

water
*I started with 1 cup of lemon juice and then added a bit more at a time until I thought it was lemony enough.
**I didn't think the sorbet was that sweet so I'll be bumping it up to 1 cup sugar next time I make this. But I have a major sweet tooth, so your mileage may vary!
Process
Puree watermelon with lemon juice in a food processor or blender. Pour through a fine mesh stainer to strain out any seeds or fibers.
Whisk together sugar and gelatin in a medium bowl.
Pour the boiling water over the sugar mixture and stir well to dissolve the sugar.
Pour the sugar mixture into the bowl of fruit juice and mix well.

For Sorbet: Chill the mixture about 30 minutes or until cold. Pour into an ice cream maker and freeze according to the manufacturer's directions. Alternatively, freeze the mixture in a shallow metal cake pan or ice cube trays until solid, at least 6 hours or overnight. Break into chunks and process in a food processor until smooth.***

For Popsicles: Chill the mixture about 30 minutes or until cold. Pour into popsicle molds or ice cube trays and freeze until solid.
***If you only want 1 or 2 servings of sorbet, break off only as much as you need (1/6 is a serving) and leave the rest in the freezer for another time. The processed sorbet is best served fresh and will get too hard if you try to freeze it afterward.
Watermelon Lemonade Sorbet and Popsicles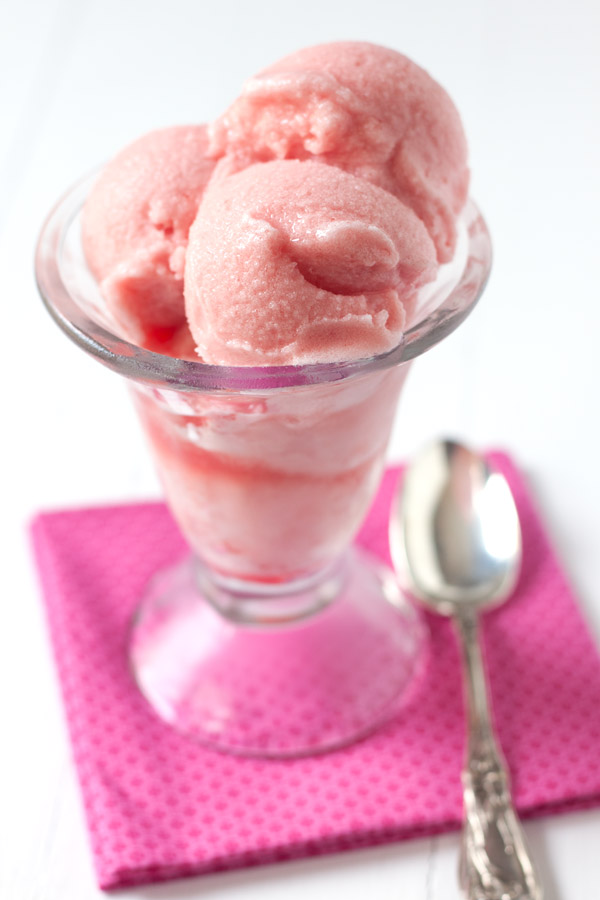 Ingredients
Process