Back to the Cutting Board
Strawberries and Cream Frozen Yogurt
adapted from David Lebovitz [1]
Dessert | Servings: 1 quart
Prep time: 20 min | Total time: 9 hours
These are directions for making this recipe without an ice cream maker. If you do have one, you just need to do Steps 1-3 and then follow your ice cream maker instructions. Then start at Step 7 to add in the cream cheese sauce.
Ingredients
16 oz.

fresh

strawberries

, sliced

2/3 cup

sugar

2 tsp.

vodka

(This is optional, it helps keep the frozen yogurt softer after it's frozen)

1 cup

low-fat

Greek-style vanilla yogurt

(you can use regular instead of low-fat to get an even creamier consistency)

1/2 cup

half and half

(I'd reduce this to 1/4 cup if using regular yogurt)

2 tbsp.

lemon juice
Cream Cheese Sauce
4 oz.

cream cheese

(regular or low-fat, not fat free)

1/4 cup

half and half

1/3 cup

sugar

(or more to taste)
Low-fat or Skim

milk
Process
In a medium bowl, mix together strawberries, sugar and vodka (if using). Cover with plastic wrap and set aside for at least 2 hours (at room temp), stirring a few times.
Pour strawberry mixture into a blender along with the yogurt, half and half and juice. Mix well.
Pour mixture through a fine-mesh strainer into a medium metal or plastic bowl, preferably one with a cover. If you don't have a cover for it, cover with plastic wrap.
Place in freezer to chill. After an hour, take it out and use a hand mixer or a sturdy whisk to whip it vigorously (you'll get the best results with the mixer). Make sure to break up all the frozen sections around the edges. This may seem counter-intuitive, but this helps make it really creamy in the end. Put back in the freeze.
Keep checking every 45-60 minutes and whipping/breaking it up. It should take about 4-6 hours depending on your freezer. You still want it to be soft enough to add in the cream mixture.

When the frozen yogurt gets to a consistency you are happy with, make the cream cheese sauce. Combine cream cheese, half and half, and sugar in a mixer bowl and mix until smooth. The consistency should be similar to a creamy salad dressing: thick, but pourable. If you need to thin it out, add 1 tablespoon of milk at time until it's easier to pour.

There are few different ways you can add the cream cheese sauce:
a. Transfer half of your frozen yogurt to a new bowl and pour half of the cream mixture on top, repeat with the rest of the frozen yogurt and cream cheese. Gently drag a spatula or knife through the mixture to swirl it around.
b. Use a spoon or knife to dig out 2-4 holes down through the frozen yogurt to the bottom of the bowl, then pour the cream mixture into the holes. Gently drag a spatula or knife through the mixture to swirl it around.

I wanted to have big chunks of the cream cheese when I scooped it out, so I chose the second method and didn't really swirl it around too much. I also folded some of the cream cheese sauce into the ice cream first, which gives the frozen yogurt a tart strawberry cheesecake taste. You may also want to mix in some sliced strawberries.

Put back into the freezer to harden for another hour or so. It's really good served with graham cracker crumbs sprinkled on top!
Strawberries and Cream Frozen Yogurt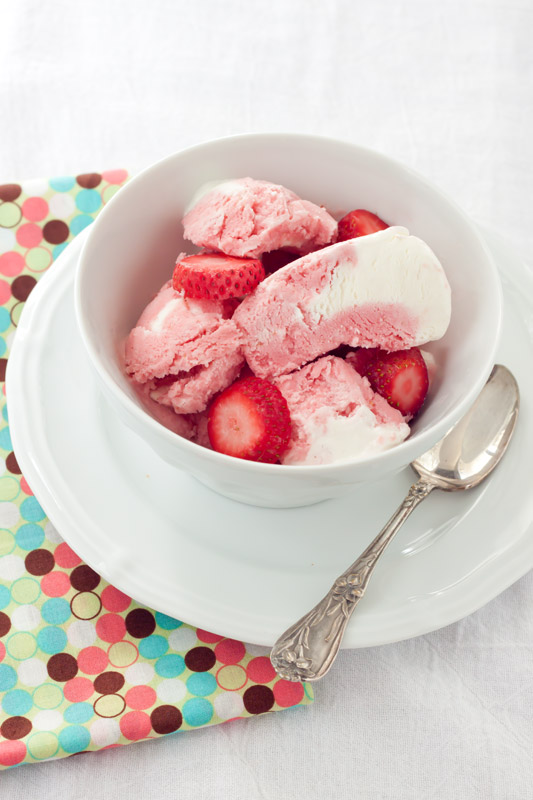 Ingredients
Process