Back to the Cutting Board
Peppermint Fudge Pinwheels
adapted from Betty Crocker's Cookbook
Cookies | Servings: 4 dozen
Prep time: 30 min | Cook time: 1 hour | Total time: 1 hour 30 min
Ingredients
1 1/4 cups

unsalted butter

, softened

1 1/2 cups

powdered sugar

1

egg

1 tsp.

vanilla

3 cups

cake flour

(all purpose is fine if you don't have cake flour)

1/4 tsp.

salt

1/4 cup

cocoa

1 tsp.

peppermint extract
Peppermint Fudge Filling
1/4 cup

shortening

1/3 cup

milk

1 cup

sugar

3 oz.

bittersweet/unsweet

chocolate

1/4 tsp.

salt

1/2 tsp.

peppermint extract
Process
In a large bowl, cream together butter and sugar. Beat in egg and vanilla.
Mix in flour and salt.
Remove half the dough, wrap in plastic or wax paper. Place in refrigerator to chill.
Mix cocoa and peppermint extract into the remaining dough. Wrap in plastic or wax paper. Place in refrigerator to chill with vanilla dough for 1 hour.
On a lightly floured piece of wax paper, roll vanilla dough into a 13×9 inch rectangle about 3/16 inch thick. Carefully lift the wax paper and put it on a cookie sheet. Chill in the freezer or fridge for a few minutes. (You don't have to do this, but I think freezing it for a few minutes makes it easier to roll up.)
Meanwhile, on a lightly floured piece of wax paper roll out the chocolate dough into a 13×8 inch rectangle about 3/16 inch thick. Chill for a couple minutes if necessary.
Place vanilla dough on the counter, carefully flip over the chocolate dough and lay it flat on top of the vanilla dough, leaving about 1/4 inch gap on the right side. Peel the wax paper off the chocolate dough. Trim edges so that they are smooth and even on all sides.
Starting from the right side, carefully roll up the dough. If it starts to crack, unroll and let warm up for a minute, then continue rolling up tightly into a long roll/log. Wrap in plastic or wax paper and refrigerate for 8 hours.

Preheat oven to 400 degrees (F). Cut roll into slices about 1/8 inch thick* and place each slice on a parchment/silpat lined cookie sheet about 1 inch apart. Bake for 6-8 minutes or until they start to brown around the edges. Immediately remove from pan and place on cooling rack.

*Note: These cookies don't rise at all, so the thickness you cut is as thick as they get. I cut mine a bit thicker because I noticed the thinner ones were burning around the edges more easily. But since they are sandwich cookies, you don't want them to be too thick (definitely keep them 1/4″ or less). If you prefer a crispier cookie (I don't), you may want to cut them 1/8″ and just watch them really carefully while baking so that you can take them out as soon as they start browning.

While the cookies are cooling, start the filling: Melt shortening and chocolate in a small pan over medium-low heat.
Add in milk, sugar and salt.
Heat to a rolling boil, stirring occasionally. Boil 1 minute without stirring.
Place pan in a bowl of ice water and beat until frosting is thick. Stir in peppermint extract.
Spread frosting on the inside of a cookie and press another cookie on top to make a sandwich.
Peppermint Fudge Pinwheels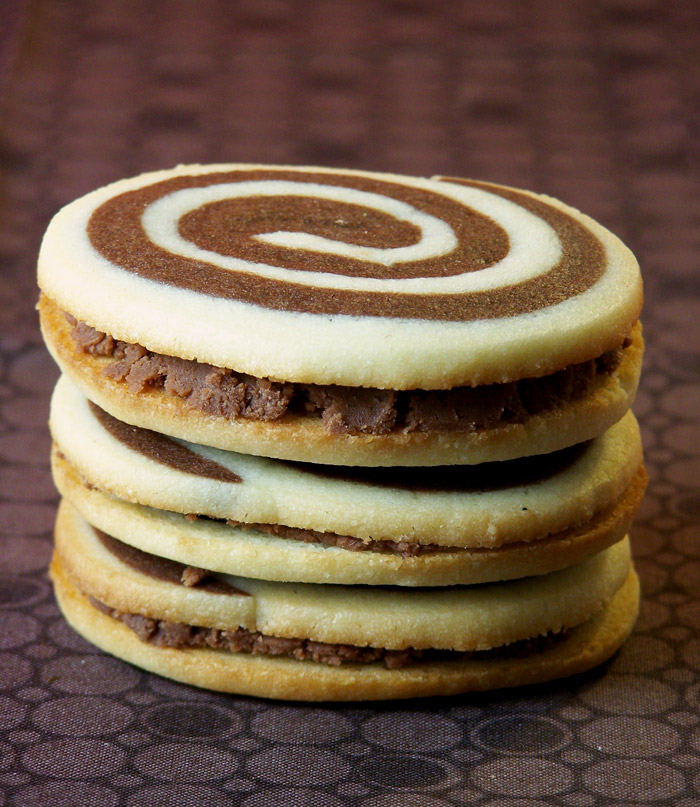 Ingredients
Process