Back to the Cutting Board
Nutella Stuffed Almond Butter Cookies (Gluten free)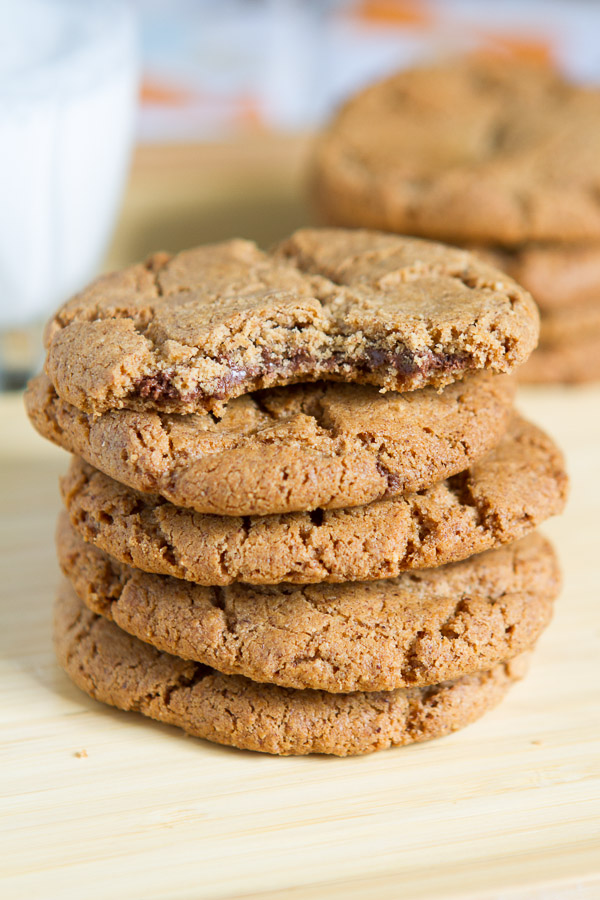 Ingredients
1 cup Almond Butter
1/4 cup maple sugar, coconut sugar, or brown sugar
1/2 cup Organic Cane Sugar or white granulated sugar
1 large egg
1/2 tsp. baking soda
1/4 tsp. sea salt
1/3 cup Chocolate Hazelnut Butter or Nutella
Process
Preheat oven to 350 degrees (F). Line two large baking sheets with parchment.
In a large bowl, stir together the almond butter, both sugars, egg, baking soda and salt until well blended.
Scoop out a rounded tablespoon of cookie dough (I used a 1 1/2 tbsp. cookie scoop), gently flatten the dough to about 1/4″ thick (be careful not to make it too thin or it will crack). Spoon 1 teaspoon of chocolate hazelnut spread in the middle. Gently fold the edges of the dough together and pinch closed, then (very) gently roll the whole thing into a ball. Repeat with remaining dough.
Place 6 to 8 cookies per baking sheet, at least 2 inches apart (these will spread out a lot). Bake for 12 to 13 minutes or until puffed and the edges are just starting to brown. Cool on baking sheet for 5 minutes, then transfer to a wire rack. Serve warm or at room temperature.