Back to the Cutting Board
King Cake
from About.com [1]
Dessert | Servings: 1 very large or 2 smaller king cakes
Prep time: 3 hours | Cook time: 25 min | Total time: 3 hour 30 min
Ingredients
1/2 cup

warm

water

, about 105 to 115 degrees

2 envelopes

active dry yeast

4 1/2 to 5 1/2 cups

sifted

flour

(I started with 4 1/2 and added more)

1/2 cup

sugar

1/2 tsp.

freshly grated

nutmeg

2 tsp.

salt

1 tsp.

grated

lemon zest

1/2 cup

lukewarm

milk

3

eggs

4

egg yolks

1/2 cup

butter

, softened

2 tbsp.

butter

1

egg

, lightly beaten

1 tbsp.

milk

A tiny doll or coin (optional)
Icing:
3 cups

confectioner's sugar

1/4 cup

lemon juice

, strained

3 to 5 tbsp.

water
Sugar Topping:
Food coloring

: purple (you can do two drops of red, one of blue), green, and yellow

3/4 cup

sugar
Process
Combine yeast and the warm water.
Combine flour, sugar, nutmeg and salt in a large mixing bowl. Stir in lemon peel. Make a well in center and add yeast and water mixture, along with milk. Lightly beat the 3 eggs and 4 egg yolks; add to liquid mixture. With a large wooden spoon, gradually incorporate dry ingredients into liquids in the center well.
Beat in 1/2 cup of the butter and continue beating until dough forms ball (I needed to add about 1/2 – 3/4 cup of flour to get the dough to form a ball). Use a food processor or dough hook for beating, if desired.
Place ball on floured surface and knead until smooth and elastic, incorporating more flour as necessary, a little at a time.
Butter the inside of a large bowl with 1 tablespoon of the butter. Place dough in bowl and turn so the entire surface will be buttered. Cover bowl and set aside for 1 to 1 1/2 hours, or until doubled in bulk.
Brush a large baking sheet with remaining butter. Punch dough down on lightly floured surface. Knead, then pat and shape dough into a cylinder about 14 inches long. Alternately, you can divide the dough into three 14 inch long cylinders and braid it together. Place on baking sheet and form into a ring. Press coin or doll well into dough so that it doesn't show. Set aside again to rise for about 45 to 60 minutes.
When ready to bake, beat together one egg and 1 tbsp. of milk and brush the top and sides of the ring. Bake in middle of oven at 375 degrees (F) for 25 to 30 minutes, or until golden brown (I only needed 20 minutes). Slide cake onto wire rack to cool.
Icing:
Combine the confectioners' sugar, lemon juice and 3 tablespoons of water in a deep bowl; stir until the icing smooth. If too stiff to spread, beat in 1 teaspoon water at a time, until desired consistency is reached. It should be thin enough to run slowly down the sides of the cake. Spread the icing over the top of the cake, letting it to run down the sides.
Sprinkle the colored sugars over the icing immediately, forming a row of purple, yellow, and green strips, on both sides of the ring.
Mardi Gras King Cake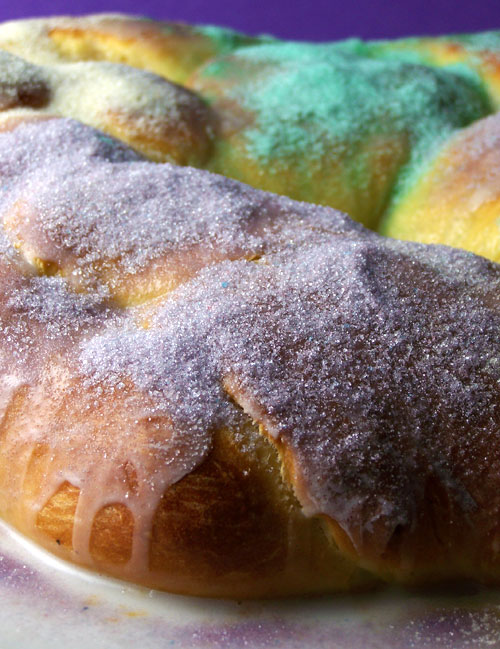 Ingredients
Process