Back to the Cutting Board
Magic Peanut Butter Middles
adapted from Allrecipes.com [1]
Dessert, Cookies | Servings: about 3 dozen
Prep time: 40 min | Cook time: 9 minutes | Total time: 1 hour
Ingredients
3 cups

flour

1 cup

unsweetened cocoa powder

1 tsp.

baking soda

1 cup

sugar

, plus more for dipping the top of the cookie into

1 cup

packed

brown sugar

1 cup

butter

, softened

1/2 cup

peanut butter

2 tsp.

vanilla

2

eggs
Filling:
3/4 cup

powdered sugar

3/4 cup

peanut butter
Process
Preheat oven to 375 degrees (F). Line a cookie sheet with parchment paper (or just use an ungreased sheet if you don't have parchment). Set aside.
In a medium bowl, blend together the powdered sugar and 3/4 cup peanut butter. Place in the fridge to chill while you make the cookie dough.
In medium bowl stir together the flour, cocoa and baking soda.
In large mixer bowl beat together both sugars, butter and 1/2 cup peanut butter until light and fluffy.
Add eggs one at time, beating well after each. Mix in vanilla.
Mix in flour mixture until blended.
Line everything up starting with your dough, then the peanut butter filling, then the cookie sheet. Fill a shallow dish with a couple of handfuls of sugar and place this by the cookie sheet. Lastly, get a glass with a wide bottom. If you're lazy like me, you can do all of this on your kitchen table so you can sit down!
Take a generous tablespoon of dough and roll it into a ball. If the dough is too sticky, flour your hands. Flatten the ball into a thin disc (about 1/4-inch thick). Take a big pinch (1/2 to 3/4 tsp.) of peanut butter filling and place it in the middle of disc. Fold the chocolate dough around the peanut butter and roll back into a ball. Dip the top of the dough ball into sugar. Place on the cookie sheet, sugar side up. Gently flatten the ball with the bottom of your glass. Each cookie should be about 1/2-inch thick. Repeat, spacing each cookie about 1-inch apart (after flattening) on the sheet.
Bake for 7-9 minutes. When cookies are done, they should be set and slightly cracked. Leave on the pan for a few minutes and then transfer to a rack to cool.
Magic Peanut Butter Middles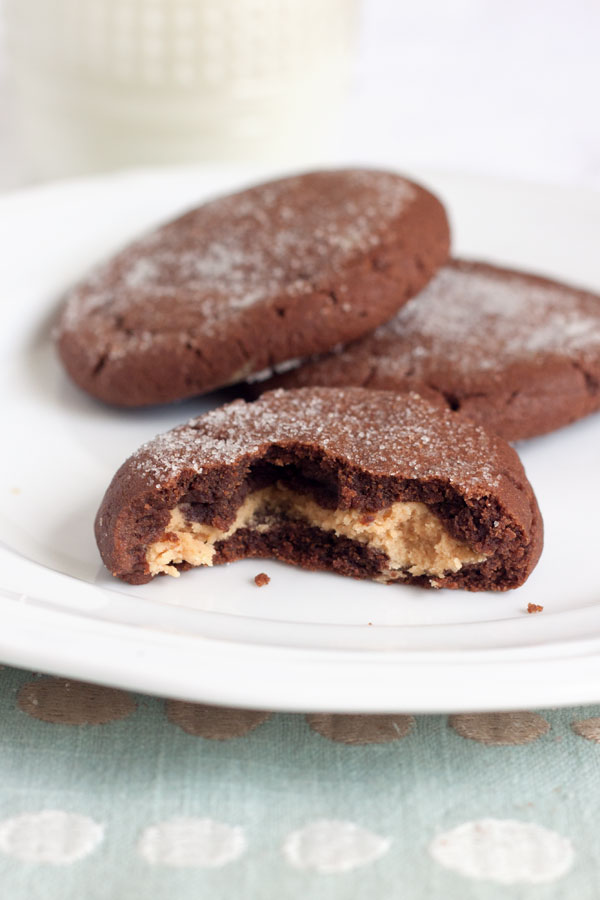 Ingredients
Process