Back to the Cutting Board
Lemon Mousse with Strawberry Compote
adapted from Bon Appétit [1], The Craving Chronicles [2] and David Lebovitz [3]
Dessert | Servings: 6-8
Prep time: 10 min | Cook time: 30 min | Total time: 40 min plus time to chill
This recipe works with great with both regular and Meyer lemons. If you using Meyer Lemons, reduce the amount of sugar in the lemon curd to 1 cup.
Ingredients
Berry Compote:
3 cups

trimmed and halved

strawberries

(or any berry)

1/3 cup

sugar
Lemon Curd:
1 1/2 cups

sugar

1 cup

fresh

lemon juice

(about 6-8 large lemons)

4

large

eggs

Zest of

4

lemons

Pinch

of

salt

1/2 cup

(4 oz.)

unsalted butter

, cut into small cubes
2 1/4 cups

heavy or

whipping cream

, divided
1 to

2 tsp

.

sugar

(optional)
Process
Place strawberries and sugar in a large saucepan over medium heat. Cook for about 10 minutes, stirring occasionally, until the mixture is syrupy. Remove pan from heat and let cool. Mash or puree the berries if you want a smoother consistency. Chill in the fridge completely before serving. This can be made a day or two ahead of time.
Place a mesh strainer over a bowl and set aside.
In a saucepan whisk together sugar, lemon juice, eggs and zest. Set the pan over low heat, add in butter and continue whisking until melted.

Increase heat slightly to medium-low*, continue cooking, whisking constantly, until the curd thickens and starts to look like jelly. It should be 160 degrees F. This will take about 15-20 minutes since this is a large batch of lemon curd. If you half the curd recipe it will take about half that time.

*Note: On my electric stove with a dial from 1 to 9, 5 being medium, I place the dial on 3 or 4. The traditional way to cook lemon curd is to keep it on low the whole time, but I prefer David Lebovitz's "dare-devil method" [3] which cooks the curd a bit faster. You HAVE to whisk constantly or else the eggs could start cooking too fast. If you start seeing small pieces of white stuff (eggs) in your curd adjust the heat down to low (those bits will be strained out later).

Remove from heat and immediately pour through the strainer. Cover and store in the fridge until chilled. This can also be made ahead of time since the curd will keep in the fridge for up to 1 week.
When ready to serve, whip 1 3/4 cups of cream in a chilled bowl until medium-firm peaks form. Gently fold 1/3 of the whipped cream into the lemon curd to lighten. Then fold in the rest of the whipped cream.
Whip remaining 1/2 cup of cream and sugar in a chilled bowl until stiff peaks form. Set aside.
In small glasses or bowls, spoon in the berry mixture and top it with the lemon mousse. (Aim for 2 parts mousse to 1 part berries.) Dollop with extra whipped cream. Serve immediately.
Recipe Notes:
* Using frozen berries for the compote is fine. They will take about 5-10 minutes longer to cook than fresh.
* To make a single serving, whip about 1/4 cup of cream and fold in 3-5 big spoonfuls of lemon curd or until it's lemony enough for you.
What I did on my Summer Vacation…plus Lemon Mousse with Strawberry Compote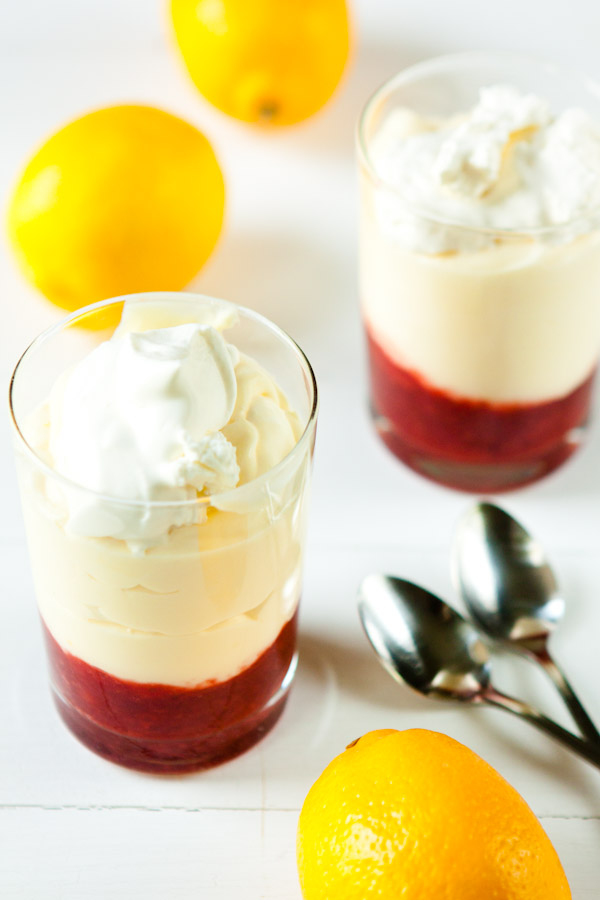 Ingredients
Process