Back to the Cutting Board
Glazed Lemon Cakes
adapted from Everyday Food: Great Food Fast from the kitchens of Martha Stewart Living [1]
Dessert | Servings: about 6 jumbo muffins or 12-14 regular-sized muffins
Prep time: 20 min | Cook time: 20 min | Total time: 45 min
Ingredients
1 1/2 cups

flour

2 tsp.

baking powder

1/2 tsp.

salt

1/2 cup

low-fat buttermilk

or plain low-fat yogurt

1 tsp.

vanilla

Finely grated zest and juice of

1

lemon

, plus 2 tbsp. of lemon juice for the glaze
1/2 cup (4 oz. – 1 stick )

butter

, room temperature

1 cup

sugar

2

large

eggs

1 1/2 cups

powdered sugar
Process
Preheat oven to 350 degrees (F). Butter and flour (or if you are lazy like me, just use non-stick spray) a muffin tin. The recipe recommends a 6-cup jumbo muffin tin, but I don't have one of those, so I just used a 12-cup regular sized muffin tin and had enough batter left over to make about 10 mini-muffins (I bought the mini muffin tin, I might as well get some use out of it).
In a medium bowl whisk together the flour, baking powder and salt.
In a small bowl whisk together the buttermilk (I used the yogurt instead), vanilla, lemon juice and zest. Set aside.
With an electric mixer cream the butter and sugar until light. Add the eggs, one at a time, beating after each addition. With the mixer on low speed, add the flour mixture in three batches, alternating with the buttermilk mixture.
Divide evenly among the muffin cups. Bake 20-25 minutes, until a toothpick inserted into the center comes out clean. Cool for 10 minutes in the tin, then cool completely on a wire rack.

Set the rack over wax or parchment paper. In a small bowl (or better yet, a measuring cup or something that will allow you to pour more easily) stir confectioners sugar and 2 tbsp. of lemon juice until smooth (I added about another tablespoon to make it easier to pour). Pour over cakes, spreading with knife. Let set 30 minutes before serving.
Glazed Lemon Cakes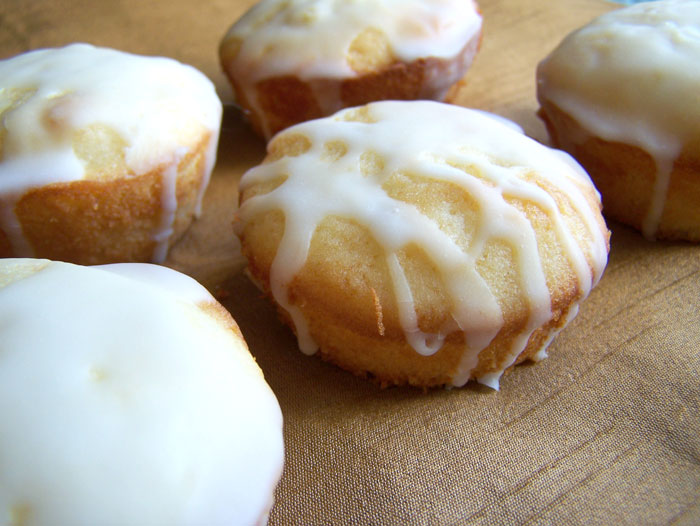 Ingredients
Process