Back to the Cutting Board
Cranberry and Apple Crisp
adapted from Allrecipes.com [1]
Dessert | Servings: 1 (10 oz.) ramekin
Prep time: 10 min | Cook time: 20 min | Total time: 30 min
Ingredients
1

small apple or 2/3 large

apple

, peeled, cored and chopped (Use a sweet apple like honeycrisp, golden delicious, gala, etc. No granny smiths!)
5-

10

fresh

cranberries

(thawed if frozen)

1 tbsp.

orange juice

(substitutions: apple juice or water)

2 tbsp.

flour

2 tbsp.

brown sugar

1 1/2 tbsp.

butter

1/8 tsp.

cinnamon
Process
Preheat oven to 350 degrees (F).
Mix the flour, brown sugar, and cinnamon. Mix in butter with your fingers until mixture resembles coarse crumbs.
Put half of the apples in layer in the bottom ramekin, top with cranberries and then the rest of the apples. Pour the juice over the fruit.
Top with sugar mixture.
Place on a baking sheet and bake for 15-20 minutes or until the apples are tender and bubbling and the topping is golden.
Snow Ice Cream
adapted from Back to the Cutting Board
Dessert | Servings: 2-4
Total time: 10 min
Ingredients
3-

4 quarts

fresh snow

1/2 cup

heavy cream

1 cup

superfine sugar

(process white sugar in the blender)

1 tsp.

vanilla

Milk
Process
In a large bowl whisk together cream, sugar and vanilla until smooth.
Fill another large bowl with snow. Pour about half into the bowl of cream and sugar. Carefully fold in the snow. Don't stir and whisk vigorously, just work through the bowl folding the snow into the cream until mixed together. Keep adding in the rest of the snow a little bit at a time until it's all mixed. Add milk, a tablespoon or two at time, if it's too dry, add more snow if it's too wet.
Scoop out and serve immediately.
Individual Cranberry Apple Crisp with Snow Ice Cream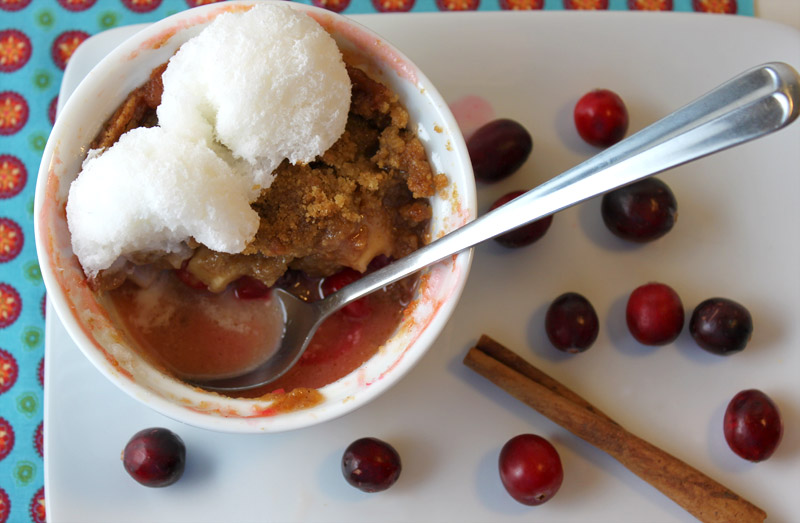 Ingredients
Process