Back to the Cutting Board
Christmas Tree Cookies
adapted from Betty Crocker's Cookbook
Cookies | Servings: 4 1/2 dozen
Prep time: 30 min | Cook time: 10 min | Total time: 5 hour 40 min
Ingredients
Cookies
1 cup

butter

, softened

1/2 cup

sugar

1/2 cup

packed

brown sugar

2

eggs

1/2 tsp.

vanilla

3 tsp.

cinnamon

3 cups

flour

1 tsp.

salt

1-

2 bottles

of

green sugar

(1 was sufficient, but I wished I had a little extra to fill in some "bald" spots)
Icing*
1 cup

powdered sugar

1/2 tsp.

vanilla

3-

6 tbsp.

half and half

(or however much you need to get it to spreading consistency, add a little at a time)
*Note: I cheated and bought icing at the store instead.
Process
In a large bowl, cream together butter and sugars until light. Mix in eggs and vanilla.
In a separate bowl, stir together flour, cinnamon and salt. Mix into butter mixture.
Divide the dough in half and wrap each half in plastic wrap. Refrigerate for about an hour.
Take one half and mold into a 14 inch long roll. Take the other half and remove 1/3 of it. Roll both pieces 14 inches long.

Pour out the green sugar on a large piece of wax paper or parchment and roll all three pieces back and forth until they are completely covered in sugar. Chill in the refrigerator for 4 hours or until firm enough to slice.

Heat oven to 400 degrees (F).
Take out one of the rolls and cut it into 1/4 inch slices. Place on a parchment lined baking sheet about 1/2 inch apart. Bake for 8-10 minutes or until light brown around the edges. Immediately remove from pan and place on a cooling rack. Repeat with remaining rolls/slices.
Once all the cookies are cooled make your icing. Stack a large, medium and small cookie together with the icing and top with candy or frosting of your choice.
Christmas Cookies!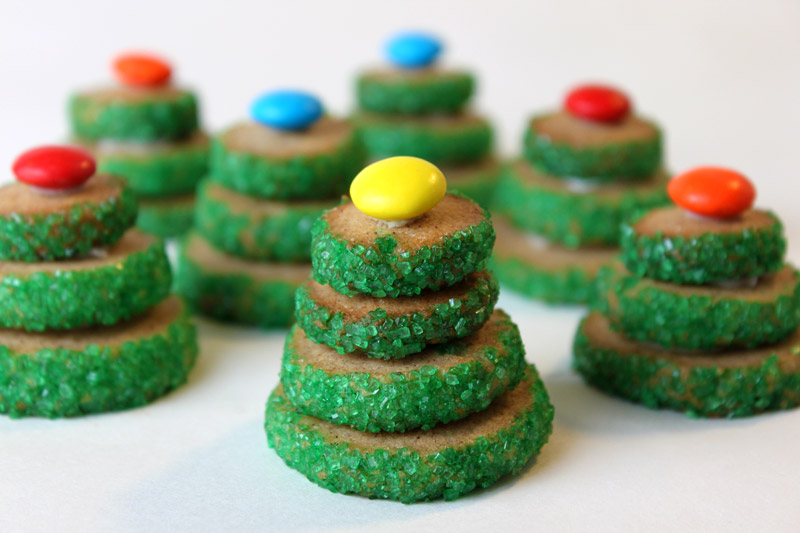 Ingredients
Process