Back to the Cutting Board
Tips:
1. For both recipes, use the best quality chocolate and cocoa that you can find. I promise it's worth the price! I used Scharffen Berger Semisweet chocolate and Ghirardelli cocoa for the cake and Ghirardelli Bittersweet chocolate and cocoa for the frosting.
2. These tutorials for assembling [1] and frosting [2] a layer cake were extremely helpful to me.
3. This recipe makes two 10″ layers. If you want to have enough cake leftover to make cake balls, use 9″ layer pans instead, filled only halfway. Don't try to fill them higher than that or they will be saggy in the middle. Make remaining batter in cupcake tins. You can crumble the cupcakes and combine them with trimmings from the two layers to use for the cake balls. (Recipe at the bottom.)
Ultimate Chocolate Cake
adapted from Gourmet, March 1999 via Epicurious [3]
Dessert | Servings: 10″ layer cake
Prep time: 20 min | Cook time: 1 hour 10 min | Total time: 1 hour 30 min
Ingredients
3 oz.

good-quality bittersweet or semisweet

chocolate

, finely chopped

1 1/2 cups

hot brewed

coffee

3 cups

sugar

2 1/2 cups

flour

1 1/2 cups

unsweetened cocoa powder

(not Dutch process)

2 tsp.

baking soda

3/4 tsp.

baking powder

1 1/4 tsp.

salt

3

large

eggs

3/4 cup

vegetable oil

1 1/2 cups

well-shaken

buttermilk

3/4 tsp.

vanilla
Process
Preheat oven to 300 degrees (F). Grease two 10″ cake pans. Line bottoms with rounds of wax or parchment paper. (See this great tip [4] for making perfect circles.) Grease paper.
Combine hot coffee and the chopped chocolate in a bowl and let stand, stirring occasionally, until chocolate is melted and mixture is smooth.
In a large bowl sift together sugar, flour, cocoa powder, baking soda, baking powder, and salt.
In a mixer bowl beat eggs until thickened slightly and lemon colored (about 3 minutes with a standing mixer or 5 minutes with a hand-held mixer).
Slowly add oil, buttermilk, vanilla, and melted chocolate mixture to eggs, beating until combined well.
Add sugar mixture and beat on medium speed until combined.
Divide batter between pans. A great way to ensure even layers is to weigh each pan on a kitchen scale and add or subtract batter until they are the same. Bake in middle of oven until a tester inserted in center comes out clean, 1 hour to 1 hour and 10 minutes.
Cool layers completely in pans on racks. Run a thin knife around edges of pans and invert layers onto racks. Carefully remove wax paper before frosting.
This is a very moist cake, to make it easier to frost, wrap the layers in plastic and place in freezer for 1 to 3 hours. Cake layers can be made 1 day ahead and kept, wrapped well in plastic wrap, at room temperature.
Chocolate-Orange Buttercream Frosting
adapted from Bon Appetit, March 2004 via Epicurious [5]
Dessert | Servings: about 3 cups
Prep time: 10 min | Total time: 20 min
Ingredients
8 oz.

good-quality bittersweet or semisweet

chocolate

, chopped

1/2 cup

unsweetened cocoa powder

7 tbsp.

– 10 (or more) tbsp.

water

1 1/2 cups

(3 sticks)

unsalted butter

, room temperature

3 1/3 cups

– 4 cups

powdered sugar

, divided (see instructions for details)

1 tbsp.

grated

orange peel

2 tsp.

vanilla

1/4 tsp.

orange extract

1/2 tsp.

coarse

kosher salt
Process
Stir 8 oz. chopped chocolate in a double broiler or pan over low heat until smooth. Cool until barely lukewarm but still pourable.
While chocolate is cooling, mix cocoa powder and 7-10 tablespoons water in heavy small saucepan. Stir over medium-low heat until smooth and thick but still pourable, adding more water by teaspoonfuls if necessary. Cool.
Beat butter, 1/3 cup powdered sugar and orange peel in large bowl to blend.
Beat in melted chocolate, vanilla, orange extract and salt until smooth.
Beat in cocoa mixture.
Gradually add remaining 3 to 3 2/3 cups* powdered sugar and beat until frosting is smooth.

*Note: I actually ran out of sugar after about 3 cups and the frosting tasted more than sweet enough to me (and I have a major sweet tooth), so I'm not sure the extra 2/3 cup is absolutely necessary.

Place 1 cake layer on platter. Spread frosting over top of cake. Top with second cake layer. Spread more frosting over top and sides of cake, swirling decoratively.
Don't use up all your frosting if you want to make cake balls, you'll need about 1/2 cup or more depending on how much cake you have leftover.
Can be made 1 day ahead. Cover with cake dome and refrigerate. Let cake stand at room temperature 2 hours before serving.
Chocolate-Orange Cake Balls
from Back to the Cutting Board
Dessert | Servings: about 2 dozen
Total time: 30 min
Ingredients
Leftover

cake

, crumbled
At least

1/2 cup

leftover

frosting

8 oz.

bittersweet or semisweet

chocolate

, chopped

4 oz.

white chocolate

, chopped

1/2 tsp.

– 3/4 tsp.

orange extract

(to taste)
Process
Crumble cupcakes and cake trimmings in a large bowl.
Add in the leftover frosting, a little at time, stirring until everything comes together.
Scoop out a heaping tablespoon at a time and roll into balls. Space evenly on a cookie sheet.
Place the cookie sheet into the freezer for 10-15 minutes.
Meanwhile, melt the chopped chocolates in a small pan over low heat, stirring until smooth.
Remove from heat and stir in orange extract. Cool slightly.
Using a toothpick, dip frozen cake balls into chocolate, making sure to cover well. Tap gently over the pan to remove excess chocolate. Place back on cookie sheet to let harden. Since the balls are frozen it will happen pretty fast. Pipe more frosting on top for decoration, if desired.
Note: If you have a lot of cake balls you may want to work in batches, to make sure the cake stays frozen and the chocolate stays melted. Gently reheat the chocolate if it starts getting too hard.
Ultimate Chocolate Cake with Chocolate-Orange Buttercream (And Cake Balls!)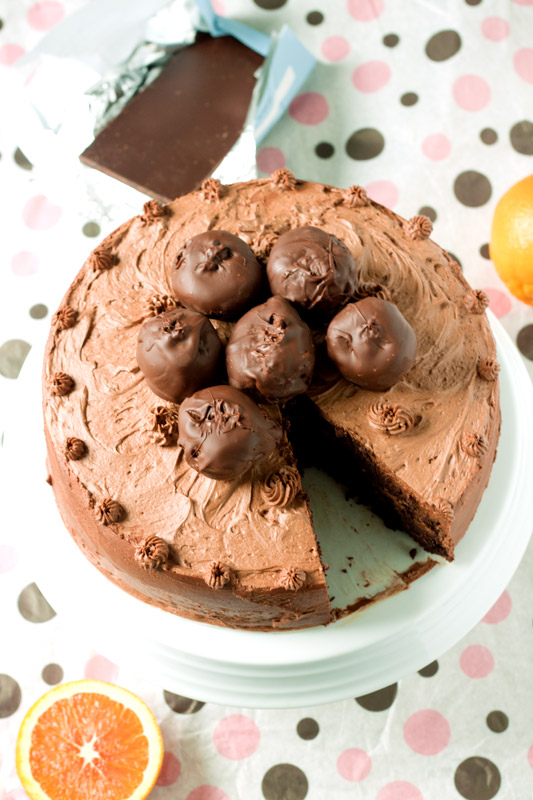 Ingredients
Process